First, A quick recap:
I have recently decided to rejoin the blogging community which means I'm taking a fresh look at everything – from blog software through content writing to marketing – while at the same time using my own insights, generated over 18 years of web publishing. You can read more about that here.
This week I'm looking into plugins. I'm not too keen about using too many plugins and you can read here why. That said, I'm entirely open to using the ones that –
Are secure.
Seem to have enough of a community around them to offer support in the long run.
Actually benefit a blog.
Are easy to remove.
I'm happy to say that I found them. Here's how I did it.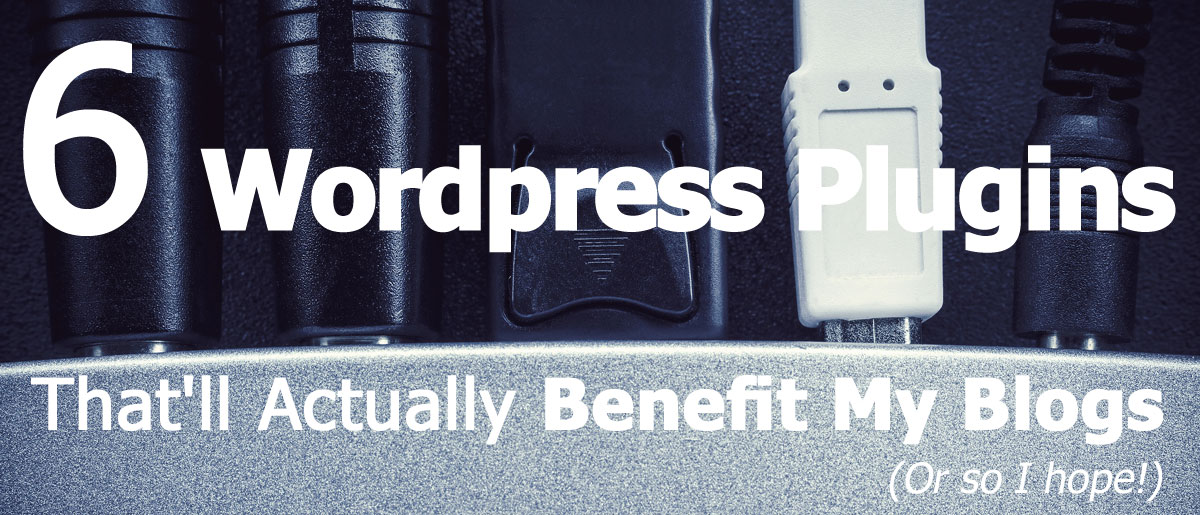 I began by asking the Mighty Google which WordPress plugins does she think are relevant in 2016. As expected, over 17 million search results were generated, with quite a few bloggers competing over the first spots with their beautifully-written, helpful, expert-curated, handpicked and absolutely must-have lists.
Almost all lists had more than 10 items in them, some over 20. Hmmm… did I mention I have reservations about using too many plugins? Time to narrow down the recommendations. I'm a firm believe in the Wisdom Of Crowds, so I figured I'd check and see which plugins everyone seems to recommend.
Rounding up lists of recommended plugins for 2016… here we go!
Step 1 – The Lists
First, I'm just going to go through every search result on the first two pages, check to see that it's indeed a list of plugins for 2016 and copy their list. Just the names of the plugins. Nothing more. I'm not even going to check what the plugins are or what they do.
1. OptinMonster
2. WPForms
3. Google Analytics
4. MailChimp
5. Sucuri
6. BackupBuddy
7. Yoast SEO
8. W3 Total Cache
9. MaxCDN
10. Envira Gallery
11. Soliloquy
12. Buffer
13. IFTTT
14. Quick and Easy FAQs
15. Insert Headers and Footers
16. CSS Hero
17. Beaver Builder
18. Google Apps for Work
19. Freshbooks
20. SEMRush
21. All in One Schema.org Rich Snippets
22. BirchPress
23. Testimonials Widget
24. Slack
1. Page Builder by SiteOrigin
2. Shortcodes Ultimate
3. Disqus Comment System
4. Easy Content Types
5. TablePress
6. Envira Gallery
7. Max Mega Menu
8. Rapidology
9. Leadin
10. W3 Total Cache
11. WP Smush
12. P3 (Plugin Performance Profiler)
13. WP-Sweep
14. Wordfence Security
15. Sucuri Security – Auditing, Malware Scanner
16. WordPress Backup to Dropbox
17. Yoast SEO
18. Linker
19. Simple 301 Redirects
20. Broken Link Checker
21. All In One Schema.org Rich Snippets
22. Revive Old Post
23. Social Metrics Tracker
24. SumoMe
25. WPtouch Mobile Plugin
26. WP Slimstat
27. Jetpack
1. WordPress SEO by Yoast
2. W3 Total Cache
3. Jetpack
4. Monarch
5. Google XML Sitemaps
6. iThemes Security
7. WP-Optimize
8. Contact Form 7
9. WP Smush.it
10. Bloom
11. WP Notification Bar Pro
12. BJ Lazy Load
13. Broken Link Checker
14. My WP Backup Pro
15. WordPress Subscribe Pro
16. BuddyPress
17. PubSubHubbub
18. Redirection
19. P3 Profiler
20. I couldn't find his #20. The post title says 20 but I counted only 19 (twice).
1. W3 Total Cache
2. Yoast SEO
3. Ninjas Forms
4. WooCommerce
5. Redirection
6. Co-Schedule
7. Updraft Plus
8. Wordfence Security
9. Social Warfare
10. OptinMonster
11. Advanced Custom Fields
12. Google Analytics by Yoast
1. SEO by Yoast
2. Floating Social Bar
3. Contact Form 7
4. Updraft Plus
5. Sucuri Security
6. Page Builder by SiteOrigin
7. WP Smush
8. Yuzo – Related Posts
9. W3 Total Cache
1. BackupBuddy
2. Yoast SEO
3. Gravity Forms
4. Disqus Plugin
5. OptinMonster
6. ShortPixel
7. Sucuri Plugin
8. AdSanity Plugin
9. Display Widgets
10. Envira Gallery
11. ThirstyAffiliates
12. Limit Login
13. Soliloquy
14. Edit Flow
15. Term Management Tools
16. Compact Archives
1. WordPress SEO Yoast
2. Akismet
3. Intergeo Maps Lite
4. Editorial Calendar
5. Floating Social Bar
6. UpDraftPlus
7. Sucuri Security
8. WooCommerce
9. W3 Total Cache
10. Yet Another Related Post Plugin(YARPP)
11. Google Analytics Dashboard for WP
12. Redirection
13. WP-Optimize
14. MailChimp
15. WP Smush
16. PolyLang
17. AdSanity
1. Akismet
2. Jetpack
3. Wordfence Security
4. UpdraftPlus Backup and Restoration
5. Breadcrumb NavXT
6. WooCommerce
7. Yoast SEO
8. Google Analytics Dashboard for WP
9. YouTube Embed
10. BuddyPress
11. W3 Total Cache
12. Polylang
13. Floating Social Bar
14. SumoMe
1. Wordfence
2. UpdraftPlus
3. WordPress SEO by Yoast
4. Simple Share Buttons Adder
5. WP Super Cache
6. Contact Form 7
7. Akismet
1. Jetpack
2. SEO by Yoast
3. YARPP: Yet Another related post plugin
4. SEO friendly Images
5. WPTouch Mobile
6. W3 Total cache
7. WPForms
8. WP Db manager
9. WP Optimize plugin
10. Digg Digg WordPress plugin
11. WP Smush.it
1. WordPress SEO by Yoast
2. W3 Total Cache
3. Disqus
4. Google XML Sitemaps
5. EWWW Image Optimizer
6. Google Analytics by Yoast
7. Mailchimp Newsletter Signup
8. Optin Forms
9. BackWPup
10. BackupBuddy
11. WordPress Backup for Dropbox
12. Wordfence
13. Sucuri Security
14. Brute Force Login Protection
1. WP Super Cache
2. W3 Total Cache
3. WP Optimize Speed By xTraffic
4. Use Google Libraries
5. P3 Plugin Performance Profiler
6. EWWW Image Optimizer
7. Yoast SEO
8. All in one SEO
9. Google XML Sitemaps
10. XML Sitemap & Google News feeds
11. Better WordPress Google XML Sitemaps
12. Google Video Sitemap Feed
13. YouTube Video Sitemap generator
14. Udinra All Image Sitemap
15. Image Sitemap
16. SEO Smart Link
17. WP Optimize By xTraffic
18. 404 To 301 Re-direct
19. Broken Link Checker
20. Jetpack
21. Sucuri Security
22. Wordfence Security
23. SumoMe
24. Shareaholic
25. AddToAny Share Buttons
1. WooCommerce – Excelling eCommerce
2. Memberships for WooCommerce
3. Stripe
4. Duplicate Post
5. HTML SEO Sitemap
6. Google Analytics Yoast
7. WP Smush.it
8. Redirection
9. Manage WP
10. Gravity Forms
11. Imsanity
12. Bloom
13. Monarch
14. Business Profile
15. Google Places Reviews
16. Yelp Widget Pro
17. Event Calendar Pro
18. Cue Music Player
19. WP Rocket
20. Foo Gallery
1. W3 Total Cache
2. WP Super Cache
3. iThemes Security
4. Wordfence
5. BackupBuddy
6. BackWPup
7. Redirection
8. All in One SEO Pack
9. Yoast SEO
10. Google Analyticator
11. Clicky by Yoast
12. Edit Flow
13. Editorial Calendar
14. Thrive Leads
15. SumoMe
16. LeadPages
17. OptimizePress
18. Thrive Content Builder
19. Social Warfare
20. Share by SumoMe
21. Akismet
22. Disqus
1. Scroll Triggered Box
2. W3 Total Cache
3. WordPress SEO by Yoast
4. Disqus Comments
5. The Hello Bar
6. WP Super Cache
7. 404 Redirection
8. Buffer
9. Jetpack
10. BackupBuddy
11. Edit Flow
12. LeadPages
13. Thrive Content Builder
14. Share by Sumo Me
15. Growmap Anti Spambot Plugin (G.A.S.P)
16. Wordfence
17. WP Rocket
18. GetResponse
19. Hybrid Connect
20. iThemes Security
* I ignored the section for e-commerce. Too specific for my need.
1. Akismet
2. BackUpWordPress
3. All in One SEO Pack
4. WordPress SEO by Yoast
5. Google XML Sitemaps
6. All In One WP Security & Firewall
7. BulletProof Security
8. Wordfence Security
9. Google Analytics Dashboard for WP
10. Google Analytics
11. WP Statistics
12. W3 Total Cache
13. FeedBurner FeedSmith
14. Add to Any: Subscribe Button
15. Category Specific RSS Menu
16. Contact Form 7
17. Contact Form
18. Gravity Forms
19. Social Media and Share Icons
20. Share This
21. Fat Free WordPress Social Share Buttons Plugin
22. Simple Google Adsense insertion
23. Google Adsense Plugin
24. Google Adsense
25. NextGen Gallery
26. Simple Photo Gallery
27. Yet Another Related Posts Plugin
28. Download Monitor
29. Executable PHP Widget
30. Crayon Syntax Highlighter
31. Mailpoet Newsletters
32. WP-Polls
33. EWWW Image Optimizer
34. WP Video Lightbox
Step 2 – Crunching The Numbers
Whew!
That was a total of 16 sources, based on the top Google search results which should hopefully reflect a decent mix of relevance and authority. There were a few results I chose not to use because they were too niche-specific or overly self-promotional.
Total votes counted: 291
Total number of plugins mentioned: 149
And The Top Recommended Plugins for 2016 Are…
1. Yoast SEO – 15 Votes
2. W3 Total Cache – 13 Votes
3. Wordfence – 7 votes
4. Sucuri – 7 votes
Places 5 through 8:
Jetpack, SumoMe, Smush & BackupBuddy – 6 votes each.
Places 9 through 14:
Akismet, Disqus, OptimizeSpeed, Redirection, Updraft Plus, XML Sitemap – 5 votes each
Step 3 – Considering The Top Choices
Googling and counting is relatively easy. Now for some actual thinking.
My criteria for plugins were security, a strong community of users, significant benefit to my blogs and ease of removal (in case there are any issues with them in the future).
All of these plugins seem to have a fairly large number of users. Which means it's unlikely they will be discontinued in the coming years. Fingers crossed, if the original developers decide to move on, there will be others taking their place.
I'm not a security expert so I can't check the code of any of these plugins for security loopholes. That's ok though. They are used by so many bloggers that we can assume there are actual coders and security experts among them. Security issues will hopefully be addressed with quick patches, should they arise.
The actual benefit to the blog is an interesting point. I think the full list brings up a few aspects that appear to be lacking in the original WordPress installation. Looks like most bloggers think there's a real need for the following –
1. Tighter security – Wordfence and Sucuri appear to be the leaders. All in all, almost every list included a security plugin. Jetpack offers security features as well.
2. Improved SEO – Yoast, yoast, yoast… everyone wants it, apparently. A few other SEO plugins have been mentioned as well.
3. Faster loading times – W3 Cache is the hands-down winner but other plugins have been mentioned abundantly, so this seems to be a very real issue.
4. Automatic backups – WordPress has a built-in backup option of sorts. It generates an XML file which you can download to your own computer. Backups are important and I know it's something I'm not too good about. I think a backup plugin may be a good idea for me.
5. Social Sharing – Can't have a post without those social share buttons, now can we. SumoMe seems to be the popular choice. Jetpack offers social shares too.
Step 4 – Decision Time
And the winners are…
1. Jetpack –
It's a semi-official plugin, designed and maintained by the same people that maintain WordPress. This means it's here to stay for the very long run and shouldn't have any compatibility issues during software upgrades. It offers so many features, there's going to be a learning curve but hopefully it's worth it.
2. Yoast –
Because 15 out of 16 bloggers can't be all wrong. Am I giving in to peer pressure? Maybe. And maybe that's not a bad idea.
3. W3 Total Cache –
There is always a need for speed. Always. Looks like everyone agrees WordPress needs a cache plugin to do that and this one got the most votes.
4. Wordfence –
I've had plenty of blogs hacked in the past (unmaintained ones), so I can appreciate the need. There was a tie between Sucuri and Wordfence in the voting stage, so I checked their stats in the WordPress Plugin Directory.
Sucuri:
Compatible up to: 4.4.3
Last Updated: 5 months ago
Active Installs: 200,000+
Wordfence:
Compatible up to: 4.5.2
Last Updated: 3 weeks ago
Active Installs: 1+ million
That pretty much sealed the deal. If I'm going to install a security plugin, I want it to be kept up-to-date and at the very least updated with the latest WP version. Wordfence it is.
5. BackupBuddy –
I need some help with backups. This one had six votes and came in first out of several backup plugins, so I'll give it a try. Backups are completely "behind the scenes" and should not affect the way users experience my blogs so if I ever want to stop using BackupBuddy, it wouldn't be a problem.
6. Akismet –
Yes. Good old Akismet. I know what happens when you don't use it. I'm not seeing any other anti-spam plugin so I can only assume that the bloggers who didn't mention just take it for granted. After all, you don't actually have to install Akismet. It's the one plug-in important enough to be pre-installed for you.
So, that's it. These will be my five plugins of choice for the new and renewed projects. All's that left to do is actually install them, tweak and see how they do. In fact, I'm going to turn this into a little experiment.
Step 5 – Testing
Right now I have 7 wordpress blogs in various niches. All of them with aged domains and 100% original content. For the past couple of months I've been updating all of them with 4-10 posts a month but I've done zero promotion. As in zero. They get hardly any traffic as a result.
Akismet is already installed on all of them and it's staying there. Wordfence shouldn't have any affect on traffic, so why not install it on all blogs. The same goes for BackupBuddy.
The other three plugins: Yoast SEO, Jetpack and W3 Total Cache are supposed to have at least some effect on traffic, so I'm going to install them only on three of my blogs. The other three will remain yoast-less, jetpack-less and W3TC-less.
I'm not ready to reveal my portfolio at this point so I'll just say what my blogs are about, along with their current stats for the past 30 days. That's May 14th, 2016-June 12th 2016.
#1 A blog sharing photos of cats along with some cat care tips.
Uniques: 118 Pageviews: 165
#2 A shopping blog about cat-related products.
Uniques: 147 Pageviews: 212
#3 A shopping blog about gifts for kids.
Uniques: 33 Pageviews: 44
#4 A shopping & advice blog about home decor.
Uniques: 345 Pageviews: 519.
#5 A travel blog with trip reports, tips and destination guides.
Uniques: 144 Pageviews: 144 (weird, I know. I suspect there may have been reporting issues with this one for a few days).
#6 A blog about my current web publishing projects. Oh, wait, I can actually reveal the domain name in this case. It's Yeys.com.
Uniques: 181 Pageviews: 263
I'm going to install the plugins on blogs #2, #4 and #6. In one month from now, we'll see if these three benefit in terms of traffic.
My task for July 13th is to review the plugins I chose and check whether there's a significant effect to adding the three additional plugins: Yoast SEO, Jetpack and W3 Total Cache.