There are many excellent blog posts about how to put together an expert roundup post. They cover all aspects of the project but seem to focus on marketing and promotion. After reading dozens of these posts, I've tried to distill the essence of one particular aspect: Asking the right question.
After all, it's always important to get the foundations of the post right and only then worry about promotion. In the case of expert roundup posts, the cornerstone of your foundation is that brilliant question that readers crave reading the answers to and experts can't resist answering.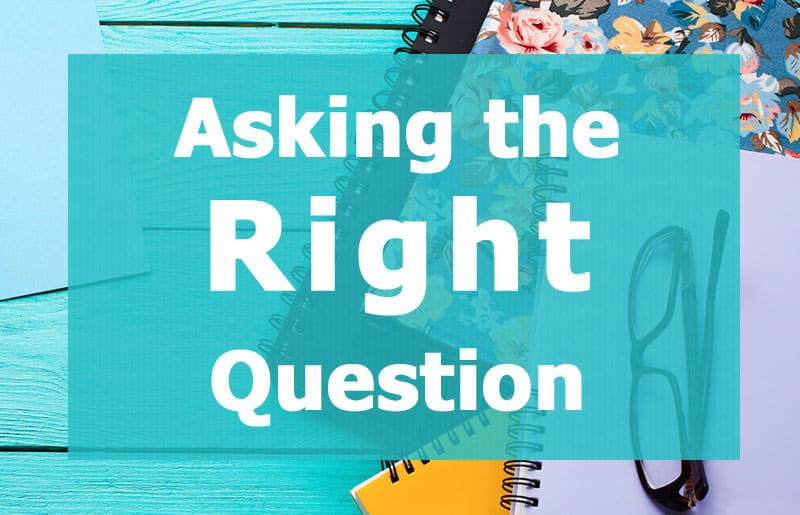 Unless you've been living under a rock, you already know what an expert roundup is. In fact, with this being a blog about blogging, I think I can safely assume you're probably sick and tired of expert roundup posts by now. Fair enough. There have been way too many of them in the blogging and SEO niches. If that's your niche, you may as well stop reading here and go find something more interesting to do. Maybe go read my post about the blog revival project and leave me a comment there?
So why would I be doing an expert roundup post now?
Expert roundup posts can still be very valuable.
I believe it all comes down to the value you're providing for your audience. People are always looking for authoritative answers to their problems. Basing the answers on the opinions of actual experts in the field is a good way to lend authority to whatever it is your post or article are saying. Believe it or not, it's not been done to death in other niches. Readers are still interested and experts are eager to participate.
With that in mind, I've read a couple of dozens of posts and guides about how to create the perfect expert roundup post. I've sifted through a lot of advice and come up with the golden nuggets of guidelines for asking the right question.
What an expert roundup post is truly all about
An expert roundup post is a transaction.
The product is solutions to problems. The potential sellers are the experts. The buyers are your readers. You're the mediator. The real estate agent that's taking your readers to view various possible homes in the hope that one of them would be just the perfect fit for their need.
As the mediator, you are the expert on finding experts in your niche. That means you have to know your market and know which assets (experts) are best fitted for your home seeker's needs. In the end, it's why you get paid for your efforts in that precious currency of blog traffic.
That metaphor oversimplifies things a little but the principle is true. And just like a real estate agent, the key for putting together a good deal is by understanding the needs of both parties – buyer and seller – and creating the best possible real estate tour in a single blog post. No need to go anywhere else but to your blog because all possible quality solutions are there for your reader to look at. No need for experts to list their solutions elsewhere because your blog is where things are happening and where their potential buyers will be!
Asking the right question gets you two things –
It entices the experts in your niche to participate and show their goods on your blog.
It promises (and delivers) real solutions for your readers.
When you're asking the right question, readers feel they must keep on reading and find out the answer and experts feel they can easily provide that answer based on their experience and expertise. It's all about transferring information from expert to layman. Make your article the vehicle for a successful transfer and your post will become invaluable to your readers and have the potential to go viral.
11 guidelines that guarantee asking the right question
1. Cover a problem that your readers are actually struggling with and the solution can save them time, money or aggravation.
2. Target a problem where professional authority matters and expert knowledge is needed for the solution.
3. Address a problem that can actually have answers in the form of general advice. If they need individually tailored advice to solve a problem then you're not asking the right question.
4. Ask about something the answer to isn't too obvious.
5. Find a question with diverse possible answers. If there are only three possible answers to the question, it could get dull after the 5th expert's answer.
6. Choose a topic that's not too controversial. If experts end up providing conflicting answers, you'll end up frustrating your readers. Ideally, your readers should come out with a clear conclusion and a solution to their problem.
7. Where applicable, consider a question where experts reveal their own personal way of handling the problem. "Monkey see, monkey do" is a legitimate – and highly attractive – decision making tool for all of us.
8. Formulate a specific and concrete question. Avoid questions that are too vague or general. Asking for their favorite tool for task X or a list of top three items helps focus the question.
9. Find a question that an expert can answer almost effortlessly. It should be something they can answer from their own experience and expertise without having to look up data.
10. Look for a topic that's original and interesting for the expert to write about.
11. Pinpoint your topic to a question that can actually be answered within a specific length. Something that they can elaborate about for no more than a paragraph or two and still get the message across to your audience.
Putting it all together
You know your niche and your audience. If you're blogging about it, you are very likely somewhat of an expert yourself. Which means no one is better situated than you to come up with topics.
Find your topic – that problem that your readers are always asking about – and write down at least 10 different questions about it. Now, go over your questions and review them in light of these 11 guidelines.
Good? Bad? Awesome? Just horrible? No question will ever be 100% perfect but some will shine out like beacons of quality roundup questions while others will very clearly not answer most of the criteria and can be crossed from your list.
Once you hit that sweet spot where your expert can provide a concrete question about a topic in a couple of paragraphs on a topic your audience really needs a solution for, then you're asking the right question. That's the question that can help get you the best answers to your expert roundup, creating a resource so invaluable in your niche that it has the potential to go viral.