"If you are failing to plan, you are planning to fail."
I spent a couple of hours today planning future posts for three of my blogs. The plans runs for 1-2 months (depending on the blog).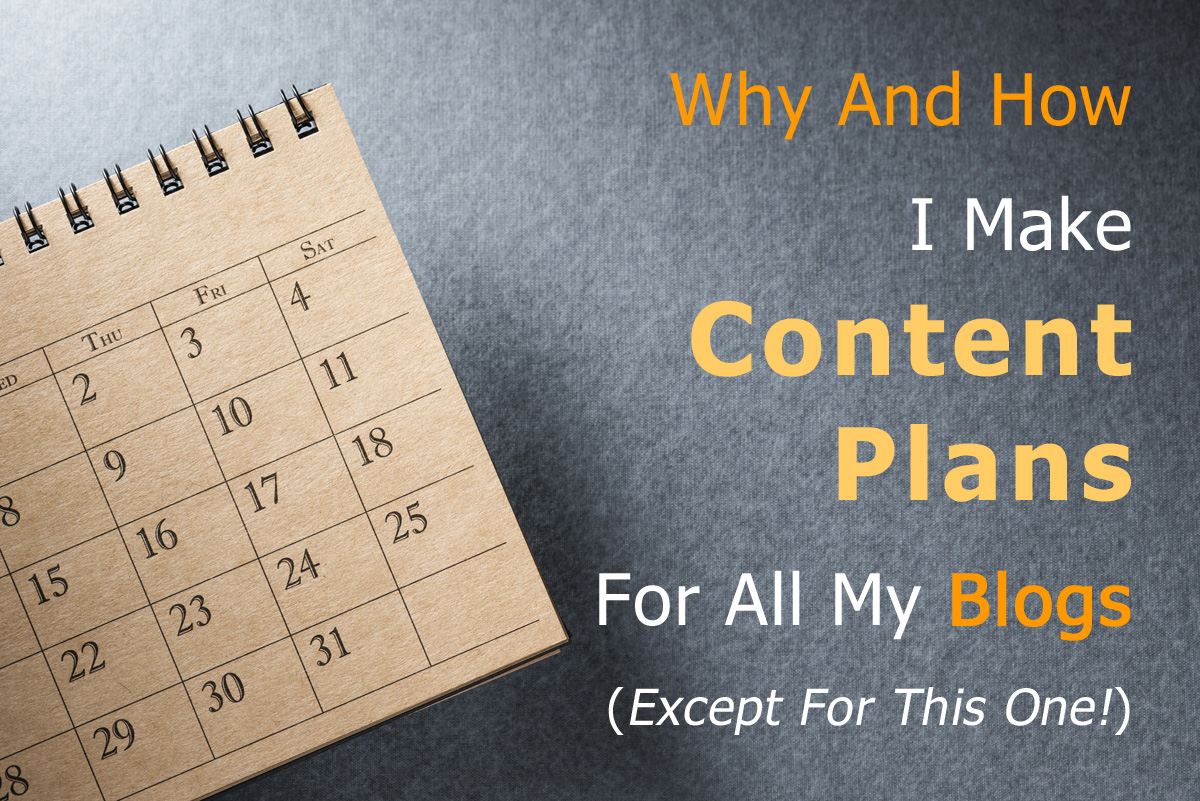 Why create a content plan for a blog?
The answer isn't just a simple, "Why not?"
After all, creating a content plan is time-consuming. I'll share my method in a minute, but for now suffice to say it takes me about an hour to prepare a solid content plan for one month. That's an hour I could have been spending on actually writing content and promoting it.
There are several reasons why I choose to lay out my content plan in advance –
1. Applying my content strategy: Balancing types of content.
Depending on the topic of the blog, I have various types of content items. They can be recipe posts, inspirational quotes, blog links roundups or photo posts.
A content plan helps me put turn these into action items, spacing them out as needed and making sure the overall balance is what I wanted to have on that particular blog.
2. Applying my content strategy: Staying on theme.
With some of my websites I have monthly themes. A content plan helps me focus on that month's theme, making sure I have enough on-theme content items of different types.
3. Avoiding Writer's Block.
Writer's block is rarely a problem for me. However, most days it's just easier to get my next writing topic from a pre-made task list. It allows me to start hitting the keyboard right away.
4. Getting my research done in time.
If I know I need to research a topic in advance, I can schedule the research as a separate task for the previous week or even longer. If it's a difficult topic requiring reaching out to experts or surveying my readers, planning ahead is key.
5. Buying illustration photos in bulk.
I like to get the bulk discount when buying stock photos. Knowing in advance what I might be needing on several websites helps me do that.
Jotting down ideas
When I get an idea for a post, however vague it may be, I put it down in writing. I keep a document for each one of my websites/blogs where I just type in all of these ideas. Good, bad, stupid, awesome, it doesn't matter. I just write them down and then forget about them.
Ideas for posts can show up at odd times and strange places, so if I'm not by my desk, I use my phone to enter them. If I don't even have my phone by me, well, in that case, it must be the apocalypse. Forget about blogging, I need to focus on zombie-smashing techniques instead.
Planning to plan: Setting up a content planning task
I try to plan my content for at least 2 months in advance. For some websites, it's a quarterly plan. Whatever the time span, I have a task scheduled every two or three months, respectively, to start working on the next content plan ahead of time.
The spreadsheet.
I use a Google Docs spreadsheet for my content plans. I don't think the medium is that important and I guess you could even use a notebook. I like the digital format because it allows me to easily shift things around as I work. I use the same spreadsheet for all content plans, one tab per website. I hide rows of past months so they don't distract me.
Each item on my plan takes up one row in the spreadsheet. There are 3 columns: Title, Date and Post Type.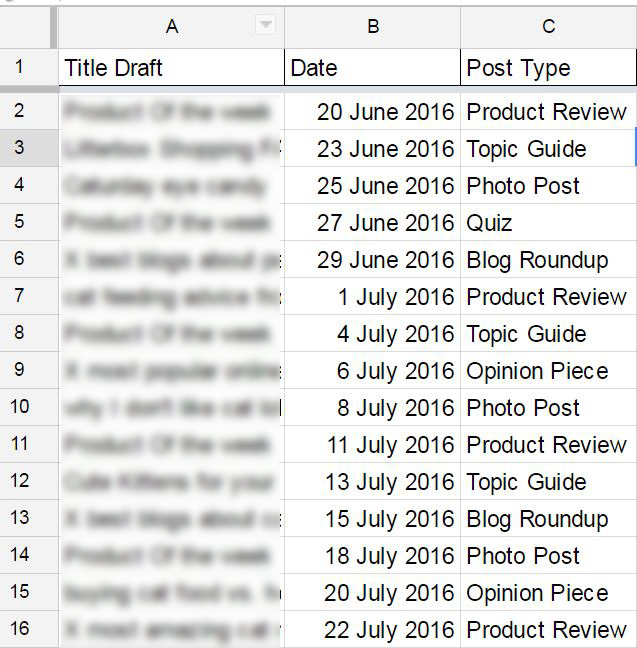 The Title
I deliberately use a temporary title. It's short and descriptive and not yet optimized for readers or search engines. It's just there to provide me with the general scope of the piece.
The Date
I have different publication frequencies for each website/blog.  Usually it's 2-3 times a week. For one blog it's currently a daily post schedule and for another it's weekly posts.
Post Type
These are often niche-specific. They can be things like product reviews, trip reports, recipes or special reports. They can be recurrent weekly or monthly features, or maybe a type of content I want to have occasionally and not on a specific schedule.
Populating the spreadsheet
The first column to be populated is the date column. I may mark special dates there (holidays etc.) Otherwise, I simply insert publication dates, as per the blog's updating frequency.
Next, it's the "post type" column. If there are weekly features that are supposed to be attached to specific dates, I enter them. Next, I fill in the remaining cells in the column with the types of posts I want to have on the blog. My focus in this stage is on balancing various types of posts. I tend to throw in more "easy" posts and fewer posts that need a lot of research, always keeping what the readers want and need in mind.
Only then do I start filling in the actual items, or title drafts. First, I use my notes where I have stored my post ideas. When I run out of these (it certainly can happen), I focus on the type of content I want and that helps me come up with more ideas. If I use content-themes for the site, I draw on these and beef up the plan with on-theme pieces, sorted out by the different post types.
I continue the process until the table if all filled up.
A good plan forms the basis for changes
"It's not the plan that's important, it's the planning."
My content plans are anything but perfect. That's one reason why I blurred the actual titles in the image above. These temporary title drafts are not meant for public consumption. They're a tool I use and as long as I understand myself, they work 😉
I write my content plans knowing they're flexible.
I do mostly stick to the plans. I use them to create my monthly, weekly and daily task lists. I'd be lost without them.
That said, I will sometimes add, change, swap, mix and delete items. If a topic comes up which I need to address in a timely manner (like a news item), one of the existing items will be re-shuffled to the following available slot. And if I start writing about a topic and absolutely hate the result, then the post gets trashed and I pull up the next one from the list, again reshuffling things around a little.  After all, that's one huge benefit independent bloggers have: We don't have to report back to anyone and we'll only be held accountable by ourselves and our readers.
My content plans achieve their goals, even if I implement them in a somewhat flexible way. They help me create a good balance of content on my blogs and churn out quality content quickly and efficiently.
So far, I haven't made a content plan for this blog. I'm sure it shows too. I basically use Yeys.com as an outlet for my own notes and thougths about work processes, so for now, I just blog on whatever comes to mind. I hope you'll still find this post helpful!