Actually, more than doubled! For the past few weeks I focused promoting my travel blog on Pinterest. The good news is that I more than doubled the traffic for that blog! While my Pinterest strategy included several components, I am pretty sure I know which one made the greatest difference: Tailwindapp. Let me tell you what happened with that.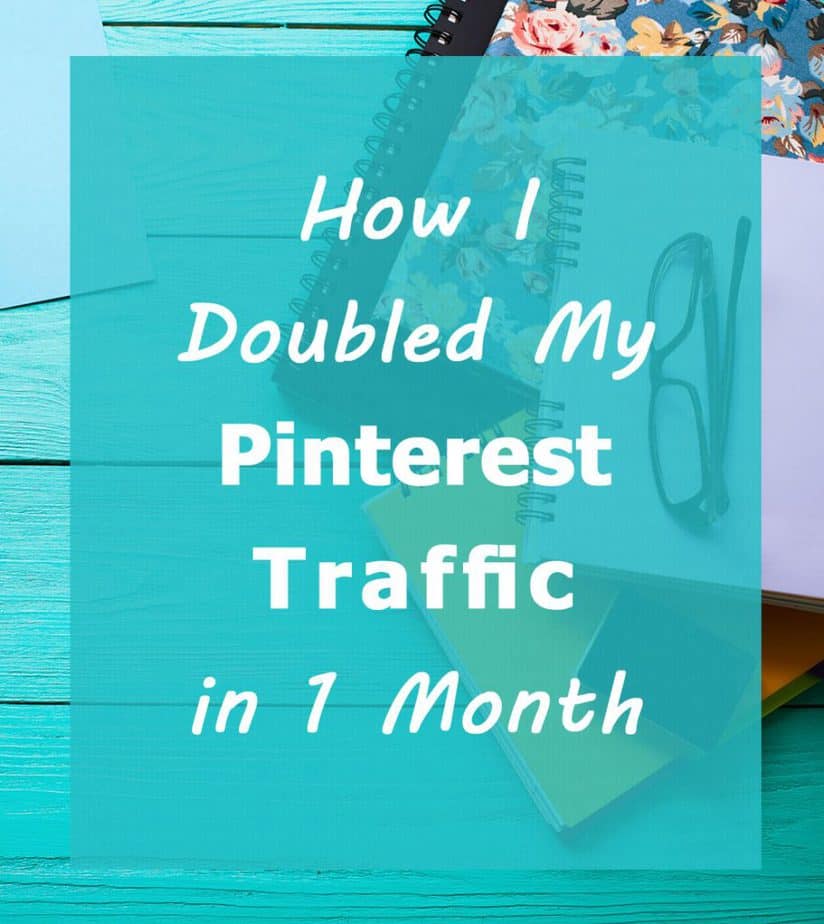 My Pinterest strategy
In early September I came up with my Pinterest strategy for that blog. To recap, it included several components –
Set up templates for pins
Add long SEO-oriented descriptions to all pins
Make sure pinnable images have appropriate file names and ALT tags.
Experiment with a variety of pins
Join Pinterest group boards for even more exposure
Later that month, I had to deal some more with the question of how exactly to join these Pinterest group boards.
I'm happy to say that I have indeed been "Pinteresting" quite a bit these past few weeks! I spent a few hours coming up with templates for my pins (which were later adjusted, based on performance). Fortunately, there were only 35 blog posts in the blog which is quite a manageable number for re-doing images. So, I went over each and every blog post and created new vertical graphics. ALT tags and descriptions were also added, not a problem.
Group boards proved to be more of a challenge but I think I may have cracked it eventually. I now collaborate on 7 good group boards and hope to join more in the future.
Do you know what the main challenge was though?
I had to actually pin stuff. Regularly. Several times a day, every day. Now, this was a problem. I have ADHD and there's only so many times I can repeat a task without getting so bored I just give up on it.
That name – Tailwind – kept popping up in blog posts about successful Pinterest promotion. With a free trial, there wasn't much to lose, so eventually, on the 11th of September, I signed up for an account.
What Tailwind does
Simple enough, really. It's a pin scheduler. I've been using Hootsuite for Twitter for awhile now, so the concept wasn't new. Sit down and enter a batch of pins along ahead of time, then let the software pin them for you at pre-scheduled intervals.
The trial version allows for 100 pins and suggests pinning 4 times a day, so that you'll see the effect over twenty-something days. Well, I could see the results within a week. This is what the traffic looked like on Google Analytics.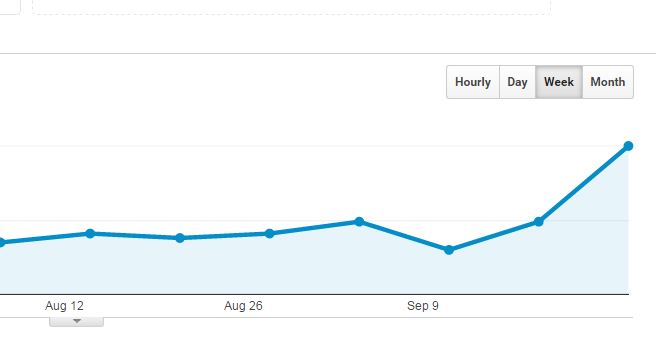 I upgraded to the paid version
It was obvious that regular pinning was paying off. I saw an immediate increase in all parameters: The number of followers, number of re-pins and – as you can see above – actual traffic to the site.
With a monthly plan costing only $15, it made no sense to wait. If it ended up not working, I could just not renew for an additional month.
Once I upgraded the account, I boosted the schedule to 8-10 pins a day. This is what has happened since –

My Pinterest account for that blog skyrocketed. I keep getting likes, repins and followers.
In the last screenshot, I added search traffic as a parameter, just to show you how this is not Google traffic. Google traffic stays as before. This is purely Pinterest traffic.
Granted, some of this is due to other aspects of my Pinterest strategy. More quality pins to share is a cornerstone of Pinterest success, no doubt. But these pins need to be put out there, in front of people's eyes, in order to get people to click. And this is where Tailwind brings home the bacon.
Why I enjoy working with Tailwind so much
I thought I'd mention why I enjoy this product so much.
1. It has an awesome interface
As I said, I'm used to scheduling tweets using Hootsuite. It certainly makes life a whole lot easier. That said, Tailwind's interface – which does essentially the same thing – is way better.
It's a very intuitive and user-friendly drag-and-drop interface. There are tons of features there but they manage to keep the essence simple and effective. All you have to know is how to use the following three elements:
The Time Table:
This is where you can see all of the daily time slots. Just drag-and-drop and click and play around with it to easily set up the time slots you want your pins to show up on.
Once you've set up your time slots, you're done with them. Any image that you add to the pinning queue will simply get the next allotted time slot. No need to start specifying the date of publication for each specific pin, like you do with other schedulers.
Sometimes I want to pin 10-15 images from a single post but I don't want to flood my feed with that post. Not a problem with Tailwindapp. I can re-shuffle all of the pins in my queue at any given time.
Of course, you can also manually set a time and date for a pin. You can also "lock" down specific pins, to keep them on date when re-shuffling your pins. Easy does it.
The Tailwind publishing extension:
I'm used to the Pinterest Chrome extension, so switching to the Tailwind one was a breeze. Basically, you install an extension for your browser which creates a small icon in your toolbar.
If you see an image that you want to add to your pinning queue, you hover above it with your mouse and click the Tailwind icon which shows up. You can also click the icon in your toolbar, which will bring up all of the images on the page. Just choose the ones you want to pin to add them to your queue. Easy as pie.
If that's not enough, Tailwind works with the Pinterest interface, so the blue Tailwind button shows up on pins. Can't get any easier than that.
The Tailwind queue:
Finally, the pin queue is where everything's at. If you want to change, delete, edit, re-position or do anything else with a scheduled pin, it's right there. Again, drag-and-drop! You have a mini-version in the right side where it's easier to re-arrange pins by dragging them around, or you can use the main column for more information and functions.
Oh, and if you're wondering how I can find 10+ new pins every day for a blog with only 35 posts? In a nutshell, I pin good stuff and not just my own.
2. Proactive support
I'm not sure how large Tailwind is but it feels small. And I mean that in the best possible way.
A friendly welcome email was there when I signed up. Then again when I upgraded the account. It offered video tutorials and a general invitation to ask for help. Obviously, these emails are automated but when I replied with a question, I received a fast, helpful and friendly reply. In addition to video tutorials, they also offer articles, seminars and pretty much everything you need to get going.
3. They're a Pinterest Marketing Developer Partner
That means Pinterest approved Tailwind and approves of Tailwind. To me, that's huge. For one thing, it means I won't be getting into trouble for using it. There's nothing shady or "under the table" about Tailwind, so no risk of a penalty, now or in the future. It also means they have inside information on how the platform work and they probably generally know what they're doing…
There you have it.
If you're using Pinterest at all – give Tailwind a go. It's completely free to try. Just sign up for your free account and schedule your first 100 pins and see just how awesome their system is!
And yes, I haven't mentioned this before but these are in fact affiliate links in this post, so thanks in advance for using them!
Questions? Comments? Bring them on! I'd love to hear about our own experiences with Tailwind and/or with other schedulers, so do leave me a note in the comment section!