The problem with the longtail keyword strategy
Here's why the longtail keyword strategy may be facing new challenges.
I'm a long-tail content publisher.
Every month, my team publishes 900+ articles targeting long-tail queries.
Going after longtail keywords is a viable strategy, but it has its drawbacks. If you're in the process of committing to this strategy, you should keep them in mind. I need to be reminded of them every once in a while.
What's more, I think that as our industry matures, the longtail keywords strategy may be facing new challenges. Let me try and explain why.
Table of Contents
What does "long tail keywords" mean in SEO
If you already know what longtail means, feel free to skip to the next section. I just wanted to put the basics out there for those who aren't sure.
I've seen people who think that "long tail" means very long queries.
While there can be some correlation between the number of words in a query and whether or not it's long tail, this isn't about the length of the search phrase.
Here's the idea behind the term "longtail keywords."
Let's say you put all of the Google search terms on a chart. A small number of phrases gets a high search volume. As you keep exploring terms with lower search volume, you'll find that the number of terms increases.
In terms of sites, a niche could look something like this –
20 search terms with 20-50K searches per month each
50 search terms with 10-20K searches per month
200 search terms with 5-10K searches per month
1,000 search terms with 1-5K searches per month
5,000 search terms with 100-1000 searches per month
20,000 search terms with 20-100 searches per month
100,000 search terms with 1-20 searches per month
If you placed them all on a chart, you'd have a high spike at the beginning, gradually flattening out to a very long "tail" of additional queries with low search volume.
Ahrefs created a nice infographic about this –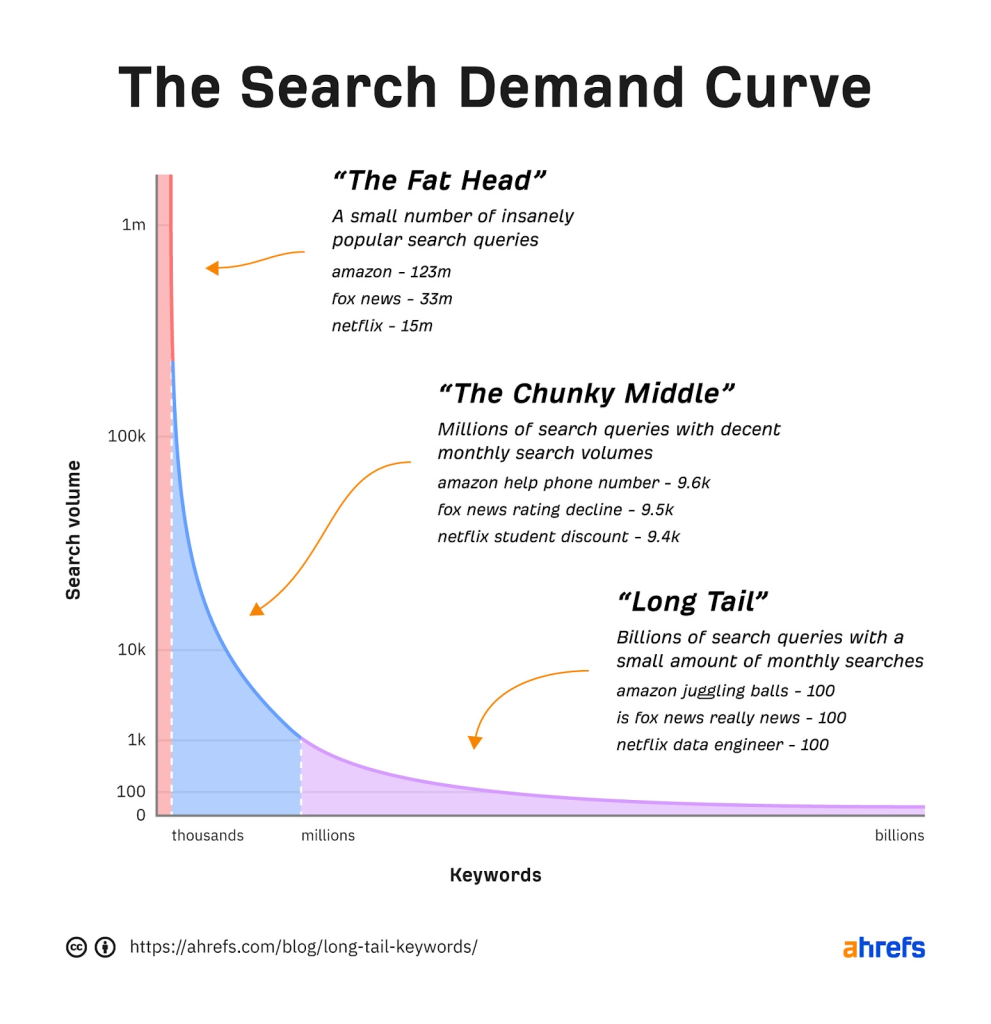 Longtail keyword examples
Let's say you're an affiliate of a furniture brand.
You could try and rank for terms such as –
Couch
Dining chair
Coffee table
Tens of thousands of people search for these every month.
Good luck ranking for them, though. The competition would be super high.
You could go after phrases that are more specific and unique, such as –
Black leather couches
A set of wood dining chairs
Midcentury modern coffee tables
There should be fewer pages out there competing after these exact terms, so your chances of ranking are higher. But they're still not very high.
So you could go even more longtail than this, and look for queries that fewer people search for –
black leather couch with pull-out bed
cherry wood dining chairs set of 4
mid-century modern round coffee table with storage
It may seem strange to pursue phrases with less traffic, but you would have fewer pages competing over these exact terms, increasing your chances of winning the SERPs.
I'm not an affiliate marketer, so let me switch to examples of longtail queries for informational websites, aka content sites, niche sites, or blogs.
Let's look at the dog niche, for example.
High traffic/high competition search terms could be –
What to feed my dog
How to train a dog
What dog breed should I get
Each of these would probably get you tens of thousands of visitors per month – if you were to rank high on Google.
Of course, you're not likely to rank high on Google for any of these questions. Not unless you have an established site with huge authority.
So you might think you could try these queries instead –
how much food to feed a dog
How to trim my dog's nails
How often should I take my dog to the vet
Unfortunately, these are not longtail queries at all. The search volume is still high, and more importantly, the competition is very high.
Unless you have a beast of a site in terms of authority, or you're willing to invest a large amount in promotion (including link building), you'll have to dig in much further into the longtail.
Examples of longtail queries in the dog niche could be –
How often should you bathe a dog with dry skin
Can you feed your dog raw meat right after thawing
how to wash a poodle with dawn dish soap
(Note that I am not in the dog niche. The above examples are based on my hunches about potential search volumes and competition for these queries.)
The longtail search term strategy
The longtail strategy is about ignoring those lucrative high-volume/high-competition phrases. Instead, you look for those very specific queries that have fewer searches, but also less competition.
The longtail SEO approach is based on several assumptions –
There is enough traffic in a longtail query to make publishing a post around it profitable
Other publishers are more likely to go after more lucrative phrases so longtail queries are easier to rank for
There are so many longtail queries (hence why the tail is long), again meaning less competition for each query – simply because there's "more to go around".
This is the strategy that I employ with my sites. It's working well so far.
It's also the strategy taught in several courses, including the ones I recommend on my resources page.
Long tail keywords benefits
Clearly, the main advantage of following the longtail strategy is that you can find queries with little competition.
Sometimes zero competition. I.e. no other site has targeted the same question (in terms of user intent).
When Google can't find another page that addresses the same search intent, it's very likely to rank your page. Even if your site has little authority. There's just nothing better to serve the people.
That's why longtail is such an appealing strategy for people who are just starting out.
All you have to do is find those low-competition queries. And I mean really low competition. As in: no one has answered the question before.
If you find those, then all you have to do is right a semi-decent post. No need to build links. No need to come up with a unique angle. Your post is very likely to rank up high there anyway.
You can now move on and create a page around the next longtail query and win that over too.
Eventually, your site ranks for multiple longtail queries and the accumulated traction takes its effect. People link to some of the pages, your site authority begins to grow, and you can start competing over more lucrative keywords.
Bonus points: "longtail" queries aren't really that long tail
I've seen supposedly longtail queries bring in thousands of monthly pageviews. Even tens of thousands.
These queries are so specific that people assume the traffic will be low. Which again, means low competition. In that sense, they are still longtail.
The problem with the longtail approach
Nothing is ever simple, is it? And may I also add, nothing lasts forever.
There are a couple of problems with the longtail keywords strategy.
The competition is getting worse
As time goes on, more and more people enter the web publishing industry. Many of those already within the industry are scaling up (yup, that includes me).
More longtail content is being published every day.
What's more – publishers generally use the same techniques to find longtail queries. They either employ online tools or use the Google auto-complete method. The same crowd going after the same queries…
The bottom line is –
Finding underserved low-competition longtail queries is getting harder by the day.
Going too far into the long tail
When you're going after hyper-specific queries, you run into a new risk:
After ranking at number one on Google… you find that only 5-10 people search for this term every month.
You end up with a dud.
Too many of those and your site won't be getting enough traffic to be profitable.
Of course, the two problems are related.
The more competition out there, the more likely will you be to try hyper-longtail queries with a new site. Otherwise, your chances of ranking are very slim.
I'm seeing this with the new sites we create.
Finding decent queries (very low competition yet enough potential traffic) is getting harder. Still doable – the queries are out there – but I have to spend more time looking for them.
What's the future of the longtail strategy?
Growing competition is neither bad nor is it good. It's just the natural progression of this industry.
This industry (still) has very high-profit margins.
High-profit margins attract more people. In turn, the increased competition lowers profit margins.
I'm not an economist but I think that's normal market behavior as the industry matures.
In other words –
The longtail strategy is becoming less lucrative
You have to spend more time finding low-competition (or zero competition) queries.
These queries will likely have lower search volume, as we're digging deeper into the barrel (even if we're not scratching the bottom just yet).
Also, once you find a good zero-competition query, it won't last for long.
Three, four, or five years ago, I could count on the low competition for a few years. Nowadays? we're lucky if we get six months of zero competition. Sooner or later someone will track down "our" query using an online tool. Typically, more than one site would do that.
Here's an example: A couple of years ago I found a juicy longtail query with zero competition. We ranked #1 on Google and it brought in thousands of pageviews. Two years later, there are 20 sites going after the same search term. My site is stuck at #4 and no amount of content improvement helps push it back up.
Crunching some numbers
The formula that I've been using for the longtail strategy looks like this –
300 monthly pageviews per post X $30 RPM = Monthly revenue per post: $9
Months of revenue: 60
$9 monthly revenue X 60 months = $540
Cost to produce a post = $100
Profit per post (over time) = $440
That's an extremely high-profit margin but it worked out well so far.
Future numbers
I don't have a crystal ball, but following the line of thought in this post, I think we'll see a decrease in average pageviews per post with the longtail strategy. We could also see a decline in the number of months of revenue.
It's going to take a long while before longtail becomes unprofitable, but I can see the profit margins going down.
Within a few years, the formula might look like this –
100 monthly pageviews per post X $30 RPM = Monthly revenue per post: $3
Months of revenue: 45
$3 monthly revenue X 45 months = $135
Cost to produce a post = $100
Profit per post (over time) = $35
Ouch!
When will this happen? I have no idea. If it's even going to happen.
Oh, no! Is the Sky Falling?
Absolutely not.
This is not meant to be a "doom and gloom" post by any stretch.
All I'm doing is pointing out a trend that is already affecting publishers – such as myself – who rely mostly on longtail search traffic.
I'm pursuing my longtail publishing efforts. For two reasons –
1. As shown above, the profit margin is high right now. I think it's going to take a few more years before going after longtail becomes significantly less profitable.
2. As the world around us changes and evolves, people search for new things. Those new topics have their longtail questions. There will always be more and more longtail queries to pursue.
If anything, I'm doubling down on longtail content production.
Exploring other strategies
While continuing our large-scale longtail publishing, I'm also exploring additional traffic strategies.
I consider this a form of hedging strategy.
Should longtail traffic dwindle faster than I thought, I want to have a solid stream of traffic from other sources.
Staying mean, lean and effective
As long as the profit margins are very high, businesses can get away with being inefficient.
In our industry, this could take on one of two forms –
A huge company that throws away money on frills, thus pushing up the overall cost per article
A small publisher that gets into a rut, allowing a site to deteriorate in scope as the competitors take over
With just over 50 full-time employees and about a hundred freelancers, I think our web publishing business currently counts as a medium-size company.
I'm hoping that we can avoid the pitfalls listed above. We try very hard to stay efficient and effective. It's an ongoing challenge.
I hope you found my ramblings to be of some interest.
I'd love to hear what others think about the future of the longtail publishing strategy. Leave me a comment and let me know your thoughts!