September 2020 Traffic & Revenue report (Last one for a while)
September was yet another crazy month here. Lots of work, and an overall increase in revenue by 13% to over $27K! Read the full report here, and also see why this is probably the last report for a while.
The past few weeks have been insane here. Not only have we been busily working on expanding our blogging empire and increasing the number of monthly posts that we publish, but we've also dealt with three different offers to buy sites from us. That has been quite the adventure in its own right. We're not selling anything yet, for various reasons, but it was fascinating to learn more about that aspect of the business.
So, yeah, busy is the key phrase around here these days! And it's "we" more than ever. The business is doing so well that my husband has finally quit his day job and is now working with me full-time! I am immensely grateful for that, and mostly for the fact that we get along so well together, sharing our home office for 10-12 hours a day here, seven days a week.
In fact, things are becoming so serious that I barely had time to put together this report. Unfortunately, it's probably going to be the last report for a while. Not just because we're super busy, but that definitely was the deciding factor—more about that after the report.
What is this report about?
Recap: We have a portfolio of content/niche sites. This blog – Yeys.com – is where I document my progress in detailed traffic and revenue reports. I started doing this in 2019. You can find the previous reports here.
Note: I have another large site that isn't covered in these reports because it's a community (forum) site. I try to keep Yeys.com dedicated to my content sites venture. Keep in mind that I am an experienced web publisher and have a constant stream of revenue, which allows me to invest in new websites. This kind of investment is not something I recommend doing if you have no reliable source of income.
Web Publishing Strategy And Our Team
Our strategy is simple –
Find underserved queries on the Internet.
Publish the best possible answer to the query.
Monetize.
Multiply this by dozens of posts a month, across several niches, scaling up by outsourcing.
We currently employ four VA's and three part-time editors. In addition to that, we work with 60+ freelancers that write a total of around 250-300 posts per month. (If you're curious about how we manage to produce so many content items, you can read here about my workflow).
Our Portfolio
In this report, I've been covering nine of our sites so far, so I'm going to continue with the same sites here. We've actually launched four new sites last month, but they're not covered here.
These sites cover large niches, so they have a lot of growth potential. Some are already fulfilling that potential, having 500+ posts, and growing. Others are still at the sandbox phase.
Travel
Automotive
Home Improvement
Gardening
Finance
Style and fashion
Kitchen
Small niche sites
These were "carried over" from previous years before we devised the current strategy. These sites are small and will remain small simply because of the scope of the niche.
Pet Accessories blog (a specific type of accessories)
Pets blog (specific small pet)
Traffic and Revenue for September 2020
Taking into account our entire portfolio, we had a total of 825,217 pageviews in September. Compared to 824,563  pageviews in August, that's about the same amount. You can barely see the overall increase in this chart.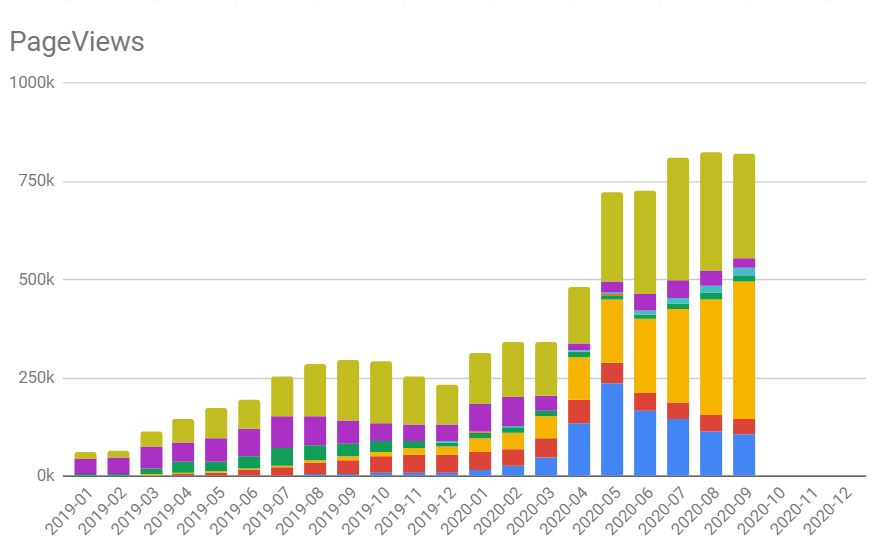 The colors in the chart represent the sites we have. As you can see, we have three major traffic sites, in yellow, orange, and blue. Two of them are seasonal to some extent, so their relative share has shrunk. One isn't seasonal, so it's still growing. More on that later in this report, as we break down the numbers for each site.
As for revenue, we made a total of $27,595 in revenue, compared to $24,268 in July. That's an increase of about 13%, so pretty sweet! How come revenue is going up while traffic stays steady? That's because the site that has grown the most has good RPM rates, which further improved during September.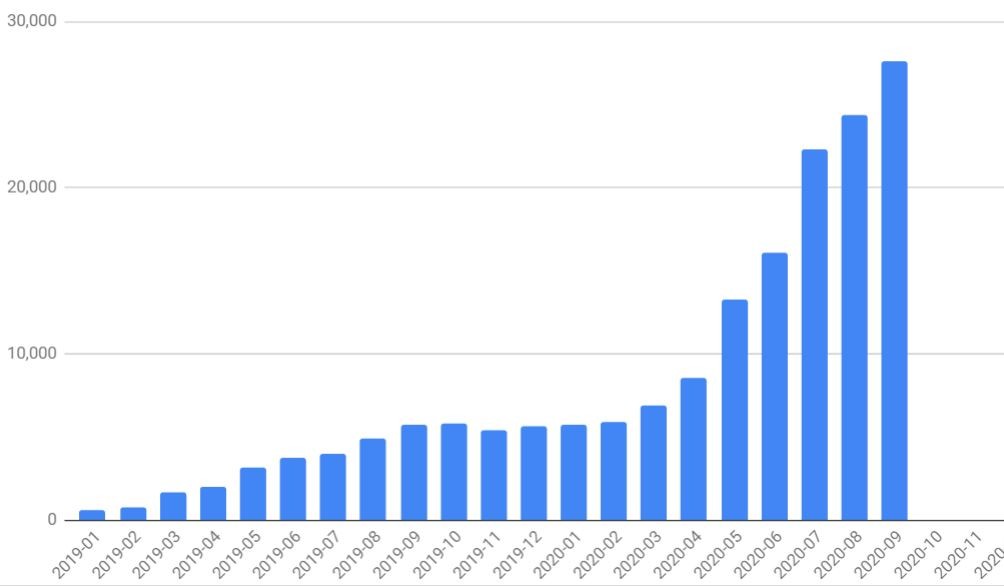 So, what happened here?
Let's take a look at the numbers for September per blog.
The Travel Blog
Site history: We launched this site in June 2016. I try to keep a personal tone in this blog. While outsourcing the bulk of the writing, I'm the one writing the outlines, intros, and summaries for most of the posts.
Monetization: About 75% of revenue comes from display ads via Ezoic. The rest is a combination of Amazon and Booking.com affiliation fees.
The blog currently has a total of 248 posts. We haven't added any content since July.

Basically, this blog has been "on hold" since the COVID situation started. Travel traffic began to partially recover from COVID in June, but then seasonality kicked in by late August, and traffic went down even further in September.
The Automotive Blog
Site history: We started this blog in April 2018. The niche covers vehicles of various types. The content is mostly informational with a few "best X of Y" product lists.
Monetization: The site makes about 85% of its revenue from display ads via Mediavine and 15% from Amazon affiliate links.
This blog had 899 posts by the end of September, making it the largest in our portfolio in terms of content.

Seasonality in some silos for this blog keeps having its effect. We went down from 298,453 monthly pageviews to 266,769, but we're not too worried because new content is ranking well. We just have some very successful posts that are doing better in summer and are now losing traffic even though their rankings stayed the same.
The good news is that RPM rates with Mediavine went up so that we ended up with $10,570 in revenue, despite the loss of traffic.
The Home Improvement Blog
Site history: We launched the site in early 2019. The posts are a mix of informational and "how-to" posts, with inspirational picture posts and a few "X of Y" shopping guides.
Monetization: About 80% display ads via Mediavine and 20% Amazon affiliate revenue.
The site had a total of 795 posts by the end of September 2020.

Traffic went up by 25%, from 294,338 pageviews in August to 350,824 in September. We've been pushing a lot of content into this site, and it seems to be paying off. Revenue went up too, from $9,306. to $12,289.
The Gardening Site
Site history: This site was technically launched in September 2018 as a micro-niche site but was moved to a new domain in April 2019 when we decided to cast a wider net and turn it into an authority site. So far, the content has been a mix of informational posts, inspirational photo posts, and some "Best X for Y" product posts.
Monetization: About 90% from display ads, and the rest is Amazon affiliate fees.
The blog had 523 posts by the end of September.

This niche is very seasonal, so traffic is going down, and we expect it to go down even more until early spring. We went from 115,183 pageviews in August to 106,451 in September. RPM's went up a little, so overall revenue went up to a total of $3,096, from $2,849 in August.
The Finance Blog
Site history: Launched in August 2019, this is an experiment in the YMYL field.
Monetization: None. The site is too small, and the traffic is too low. It does have some Amazon links in posts but not enough traffic for generating commissions.
The total number of posts remained 91.

Interesting to see that search traffic is very gradually growing on the site. Nothing else to say about this one.
The Style and Fashion Blog
Site history: This site was launched in September 2019 (a few weeks after the finance site). The content is a mix of response posts, guides, and lists of inspirational images.
Monetization: Ezoic display ads. Amazon links on some pages.
The site had 188 by the end of September.

The site had 20,614 pageviews in September, compared to 19,098 in August. It seems to be slowing down, and we're not sure why. Since this is a new niche for us, we can't tell if this is a seasonal fluctuation, or maybe something else is holding the site back.
RPM rates are lower for this blog. We're about to test video monetization there to see if we can bring it up with Ezoic.
The Pet Accessories Blog
Site history: This site was launched in March 2018. It includes high-quality guides relating to the topic (how to choose, how often to clean, etc.). We also have some "X for Y" lists.
Monetization: Display ads by Ezoic account for about half of the revenue, with Amazon bringing in the other half.
The site currently has 80 posts.

Traffic went down for this site some more. If we can, we'll inject some more content into it and see how it does. It's not high on our list of priorities at this point, though. A backburner sort of site, if you like.
The small pets blog
Site history: Launched in October 2018, we built this site up to 100 posts (with the last posts added in April 2019). The type of content is mostly response posts, but there are some tip lists and "best X of Y" posts.
Monetization: The site is monetized with a combination of display ads via Mediavine and Amazon links. About 50% of the revenue comes from each of these channels.
The site has 100 posts.

Another drop in traffic in September: from 41,803 pageviews to 38,670. However, Mediavine came through with RPM's, so the site actually increased a little in revenue, ending up with $874. Not bad for a 100% passive site that has already paid for itself. We plan on adding more content to this site as well.
The Kitchen Blog
Site history: The newest site in this bunch was launched in March 2020. The original plan was to build it up to 100 posts, going after long-tail response posts, with some tip lists and "best X of Y" posts.
Monetization: There are Amazon links in some posts but nothing else (it's brand new).
The site had 184 posts by the end of September.

Still sandbox numbers, in traffic and revenue. Nice growth curve, though. We expect this site to start bringing in more traffic in a few months. Until then, we are taking the leap of faith and keep investing in content.
Expenses in September
Here's a breakdown of our expenses in September. By expenses, I mean the things that we would keep on paying, even if we stopped producing or promoting content altogether. We consider the production and promotion costs to be an investment that we can choose to make – or to avoid – each month. We've also invested more money in posting ads to recruit more writers, so that's another long-term investment. Another costly expense went into fees for lawyers and CPA's as we're looking into incorporating down the road. I'll put these under misc.
$100 – hosting expenses
$400 – Software (plugins, templates, task management, SEO tools, etc.)
$800 – VA cost for essential business management (I would keep this even if we stopped creating content).
Misc. – $1,500
That comes to a total of $2,800
Content Investment in September
Here's how much we decided to invest back into creating more content. If we stopped creating and promoting content altogether, this would be money in the bank.
We produced 258 posts in September. That means payment for 345,018 words and increased hours for our part-time editors (three of them).
$300 – Stock photos
$1,800 – VA fees (VA hours that go directly into content production and promotion)
$2400 – Editor fees
$10,350 – writers (overall number of words that we published multiplied by 3 cents).
Total of content investment: $14,850 (compared to $10,143 in August).
The fiscal bottom line for September
We had a total of $27,595 in revenue and $2,800 in expenses.
That means we made $24,795 in profit in September.
We then invested $14,850 in content.
That leaves us with $9,945 "in the bank" by the end of the month.
Overall, more revenue but hardly any change in profit from last month, and re-investing most of the money, we're left with less in our pockets. We're absolutely fine with that. In fact, we were hoping to invest even more and probably will next month, regardless of the revenue.
What's next?
We're still expecting monthly revenue to grow by at least $1,500 on average over the coming months. Keeping the latest trend in mind, it could be much higher. We're still working on expanding the business. We reached 285 posts in September, and we're aiming for 300 posts per month throughout Q4. 
Expanding the business translates into a LOT of work. I've been working 7 days a week, with 50-60 hours a week, on average, for several months now. Fortunately, I enjoy the work, but it does feel hectic. I would love nothing more than to take a vacation, but with the covid situation here where we live, that's not an option anyway. We're just not willing to take the risk. And since we're staying at home, we might as well work and grow our business, right?
However, this growth spurt also means I don't have much time to dedicate to Yeys. Even publishing this monthly report proved to be a major challenge. I just couldn't get around to it for days on end, and I feel like this is a rushed version. What's more, we've launched four new websites last month, and the thought of documenting them here from scratch is daunting, considering I barely manage to provide timely updates on the nine that already covered in this report.
With that in mind, I'm afraid future updates won't come at monthly intervals if they get published at all. To be honest, I don't think they matter anymore. If you're reading this blog because you're looking for inspiration, I think where we got to within two years should be enough.
If you're looking to learn how we do things, you'd be better served with posts about actual things that we do, such as how we set up our Clickup system or this post about monetizing with video.
More monthly reports don't really teach anyone anything. Although I've enjoyed sharing the progress and getting feedback, at this point, they are too time-consuming and come at the expense of the multitude of other tasks that I have. If and when I get some time to blog here, I prefer to talk about things that I've learned and thoughts that I have re web publishing, rather than keep sharing numbers.
See you around!
I'm not going anywhere just yet. I'm still happy to answer comments here on this blog, so by all means, leave me a comment. If you're looking to interact more, I make a point of frequenting The Fat Stacks forums at least 2-3 times a week. There are many successful web publishers there, and the discussions are fascinating and many times important too.
That forum is actually for members only, and to become a member, you need to buy one of Jon's courses. A worthwhile investment in its own right, if you're serious about web publishing. Jon is a great teacher, and he teaches pretty much what I practice in my business: How to produce awesome content that ranks well without any link building.
And who knows, if things settle down here for a bit, I may just have time to post some more. I enjoy blogging on Yeys and hope to keep adding more posts in the future. There are several questions from readers that I want to write about. There is actually a list that I have on Clickup with these topics, and eventually, I will get to do that.
If you want to make sure you'll know when the next post comes out, please subscribe to the site mailing list (the link for that should be showing up at the bottom of the page here).