Pinterest can be an excellent source of traffic for blogs. I know because I'm getting a nice amount of Pinterest traffic to a couple of my websites without even trying! Or at least without trying too hard.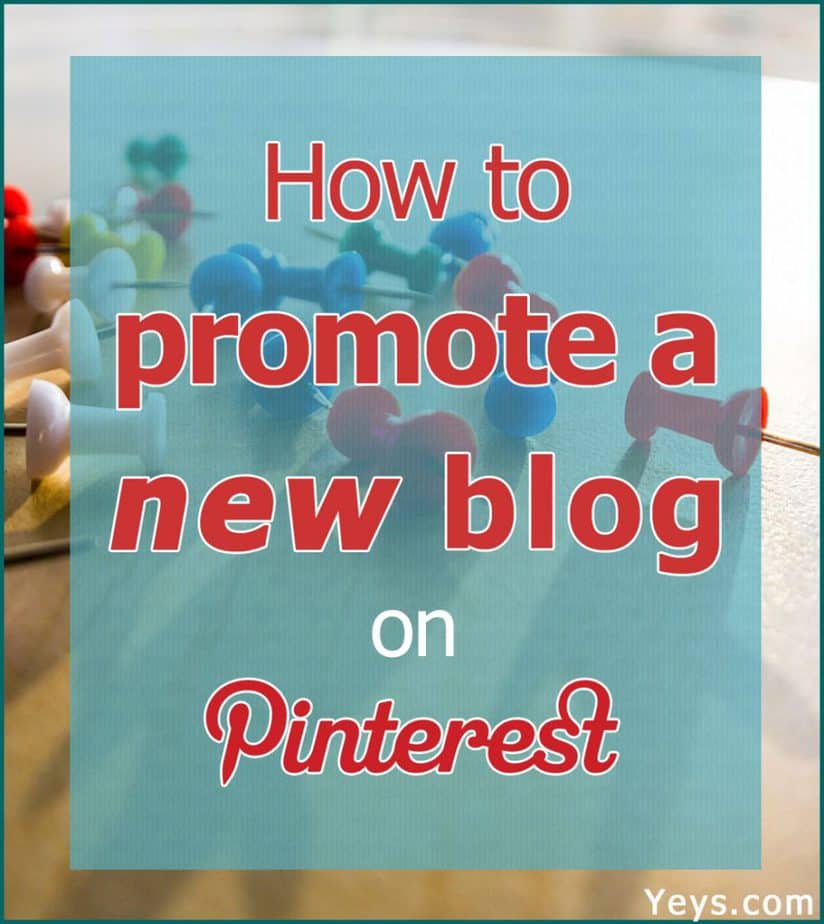 This month my focus is on promoting my travel blog. Traveling is a great topic for visuals. They're prime Pinterest material. The conclusion almost begs itself: Pinterest should be at the core of my social media strategy for this blog.
The challenge: How to promote a new blog on Pinterest?
My travel blog is a new(ish) blog with a new Pinterest account. If you have an established account with thousands of followers, Pinterest is easier. Post lots of awesome pins and let your followers spread the love around. With any luck, at least some of these pins will become at least somewhat viral.
So, what about a new blog promoted through a new Pinterest account? How do you jumpstart your Pinterest traffic with that? I gave this question a lot of thought and done quite a bit of research. Let me share the key points of what I came up with.
Pinterest traffic comes through pins that link back to your content. For your blog to get traffic, two things need to happen –
A user needs to see a nice image that was pinned from your blog.
Said user should be intrigued enough to click through to your content.
Virality happens when your pin is awesome enough to be re-pinned and get even more eyeballs seeing it and hopefully clicking through. But first, you have to reach those initial users who can – hopefully – ignite the magic of social sharing.
First things first, you need to get people to see your pin.
If you're an established pinner with thousands (or more) followers, you can just pin your image and it will show up in their Pinterest feed. If you don't have a good-sized following yet, you have two other ways to get people to see your pin –
Join a large group board on your topic.
If you manage to do that, you'll be able to pin your content and get it in front of all of the board's followers right away.
Get your pins to show up on Pinterest searches.
It's a bit like Google SEO. You want to craft your pins in ways that will increase their chances of coming up when people look for specific keywords or key phrases within Pinterest.
Joining group boards on Pinterest
These are Pinterest boards where the owner gives other Pinners permission to pin directly to the board. If you find established group boards with a large following, you could potentially get a lot of exposure at once.
Of course, nothing is ever that easy. You can't expect someone else to do the hard work of growing a quality board for you to just waltz in and essentially spam the board with your pins. If this is a quality group board with real human (not fake) followers then the owners are probably quite discriminate as to who they let in as a pinner.
Which is why I don't consider Pinterest group boards to be "easy traffic". It's going to take time and effort to establish a presence in quality group boards by commenting and interacting first, and then pinning quality content from various sources, not just my own blog. I still think it's a channel that's worth pursuing for a new blog with a new pinterest account. I'm just saying it's not a source for instant traffic.
"SEO'ing" for Pinterest
Pinterest isn't just a visual bookmarking service. It's also a visual search engine. Many people turn to Pinterest when they're looking for a recipe, or inspiration for their latest crafts project. When your pin that comes up in the first row of images in the search results, that could mean traffic to your blog.
Pinterest keeps changing its algorithm but that should not deter you. As long as you're not trying to manipulate search engines (be them Google or Pinterest's internal search engine), you should be ok. The general idea is to provide Pinterest with the right amount of textual information about each pin. I'll elaborate on the techniques in a minute, when I get to the actual list of tips and ideas.
Don't forget to have awesome pins!
Awesome content always comes before promotion.
Pinning on group boards and optimizing your pins are simply ways to gain some initial exposure.
In the end, everything needs to come together. The harmony of promoting on Pinterest is made of excellent graphics, optimized pins and good pinning channels. Mix well, season with a bit of luck and use regularly.
And now, it's time to wrap everything up into a list of actionable items.
Promoting a new blog on Pinterest: Action Items
1. Get a "Pinterest for Business" account
Anyone can do that and it's even free. A business account adds Pinterest Analytics to your account so you can track your pins and see how they perform.
2. Set up Pinterest templates
Each one of your blog posts should include at least one "very pinnable" image. Getting a good pinnable image is crucial. Everyone knows that it should be vertical (and it should) but there are other elements you have to consider. I'm going to blog about that in a separate future post.
3. Add descriptions to pins
Every pin can come with its own description. Most experts agree these description play a large role in pin optimization for internal Pinterest searches, so it's important to include your target key phrase in there. Pinterest shows users the first 10 words or so of the description so you can use that to get people curious enough to click through.
4. Use appropriate image file names and ALT tags for all images
You never know which one of the images in your post will get pinned. When pinned using the Pinterest browser extension to pin, that image's ALT text will show up as the description. The text for your ALT tags should aim at three targets: Pinterest user experience, Pinterest algorithm rankings and your overall onpage SEO.
If there is no ALT description, Pinterest will try and grab your page's description or even the first few lines of text in the article. That may or may not work for your needs so usually, optimizing the ALT tag is best.
Image file names should also be optimized as Pinterest seems to be drawing on that for its search results as well.
Overall, do your SEO and keep Pinterest in mind too. User experience is key for Pinterest as much as it is for Google. Abide by the 11th commandment of 'Thou shalt not spam' and optimize your page and each one of your images and you should be fine.
5. Experiment with a variety of pins
There are many graphic formats you can use. Yes, visuals are key here but there's so much you can do with those. Off the top of my head, I've had success with the following as pins –
A single image with no text
An image with overlaying text
Collages of images
Infographics
A lot depends on what you're trying to achieve too. Infographics can help with brand awareness but won't necessarily get people to click through as you're already giving them the information in the pin. Collages may work for some types of images, such as long product lists, but not for others. You should really experiment to find out what works best for your niche and for your type of posts.
Applying this strategy
Going back to promoting my travel blog on Pinterest this month. Here's the short version of my plan –
Prepare Pinterest templates.
Optimize existing blog posts for Pinterest.
Join 4 group boards this month.
What do you think? Have I left out anything crucial?
How's your Pinterest traffic doing? I'd love to hear more tips and ideas about what works for other bloggers, so do share in the comments!