Finding a good host for your blogs is one of the first things every new web publisher has to deal with.
So, which host do I use? The company is called Vision108 and I'm very happy with them.
Never heard of them before? Only heard of Hostgator and Blue Host?
When you look for recommendations, you'll see two names that keep coming up: Hostgator and Blue Host.
Why?
Not because they're that great. In fact, I've tried both and wasn't very happy with either.
The fact is, both of these hosts have huge bounties offered to affiliates for new signups. Combine that with a "discounted deal" and you get an almost irresistible product for affiliates: A product that's easy to sell AND pays a lot of money.
Dig in, and you might just find out that the bloggers who recommend Blue Host or Hostgator are not using them for their main blogs. They've tried them, sure, and they may think they're a decent option for beginners, for a variety of reasons. Not the best option, but a decent one.
And one that ends up showing high up on their income reports, if they happen to be sharing those.
You get the picture.
So, I'm here today to recommend another host. One that I actually use for hosting all of my blogs myself. One that I've been using for several years now and I'm very happy with.
They're called Vision108.
Why I'm happy with Vision108 hosting solutions
At this point, I'm using a virtual server with Visual108 but in the past I've used their reseller packages as well, which offer a great solution for those with more than one website.
Here's why I can whole-heartedly recommend Vision108 –
A great hosting experience
Close to 100% uptime and fast loading times – which is what I look for.
As for how fast the site loads. Well, this blog here is, of course, also hosted with Vision108, so you can judge for yourself. On Google's site speed tools, I'm getting a nice score of 71, which falls nicely within the average.
I'm happy with that. I also know the choice of host only goes so far where it comes to loading speed. A lot depends on how your site is setup. In this case, I'm not using any speed optimization measures on Yeys.com so I'm happy with the current site speed.
As far as uptime is concerned, I haven't seen any unplanned downtime with Vision108 yet.
Once in a while the server needs to be rebooted for software updates to take place. I get to determine when I want that to happen and then the sites are down for no longer than a minute or two.
Fast and effective support
Support requests are handled via email or the ticket-based helpdesk.
This is by far my favorite aspect of working with Vision108. Not only are they fast and effective, they often help me with issues that turn out to be not really related to the hosting itself.
I've lost count of the times where I managed to break something in WordPress and Vision108's awesome support team fixed it for me within minutes.
That isn't to say that they provide support for WordPress installations or maintenance – they don't, as far as I'm aware of. It's just that when I approach them with something that may or may not related to the server itself, they will work with me all the way to an actual resolution of the issue.
And they don't just tell me how to fix it. I provide them with admin login credentials to my WordPress installations and that usually ends with the issue being resolved with a few minutes.
And did I mention they're fast?
I usually get the initial reply within minutes, often with a solution to the issue. Otherwise, we just work on the problem together with a few back and forth exchanges until everything is fixed.
It's this level of support that made me stick with Vision108 for the long run.
As I mentioned before, I have tried Blue Host and Hostgator and they never got anywhere near this kind of personal one-on-one quality support level.
Competitive Pricing
Don't be fooled by those $2.95 a month unlimited plans.
Take hostgator for example.
Their main deal these days is hosting for $2.75 a month!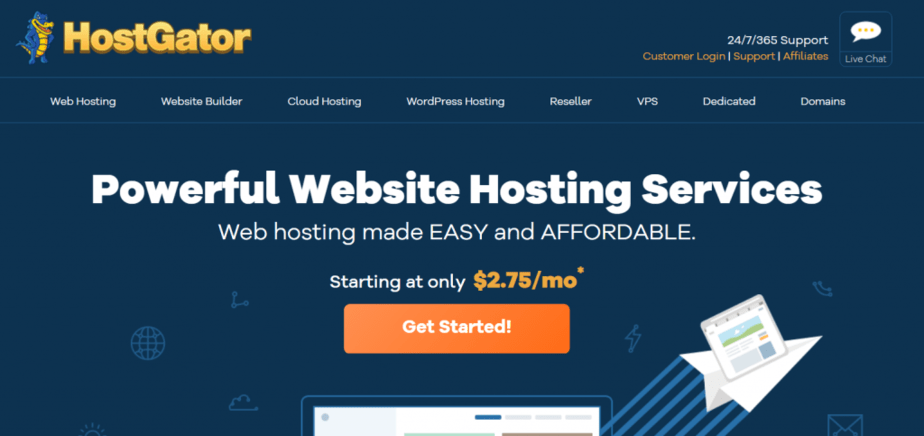 Sounds like a sweet deal, right?
So you click through and get to the actual payment page and only then will you see the HUGE caveats –

Hmmm so it's $2.75 but only if you pay for 36 months! Which would be great if you know you'll be happy with them – and with the same plan! – for three years.
As a blogger, if you think your blog would still be able to be kept on such a small hosting package three years from now, why even bother with it?
As you can see, the real rate for a month-to-month hosting package is actually $10.95. Fair enough. Those really are the going rates in the industry.
(And don't get me started on the "unlimited" and "unmetered" verbiage in Hostgator's and Blue Host's offer. Clearly, that doesn't make sense and can't work. )
Back to Vision108's offer.
No tricks or schticks here. You get an actual offer at a solid monthly price that's actually lower than that of either Hostgator or Blue host offer you.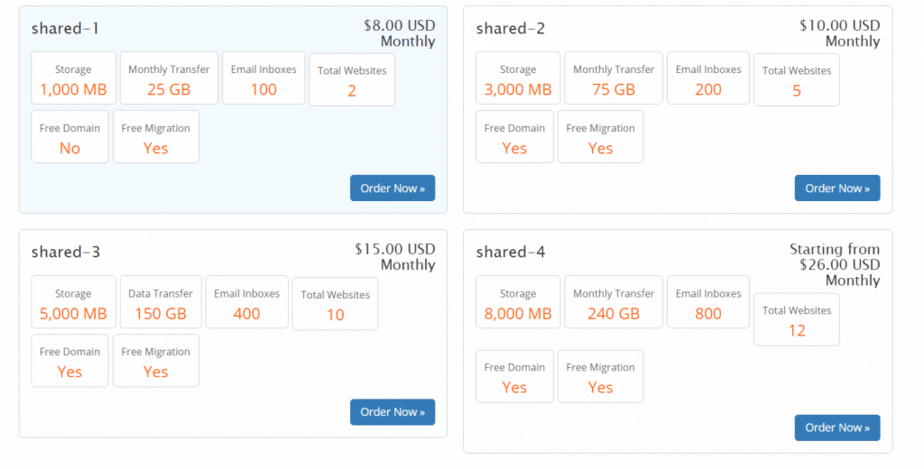 And as I see it, these are sustainable hosting plans that allow a host to actually provide you with great support for that price.
What about the cons?
There are two things that I see here which might make you want to keep looking for a different host.
First, there's no phone support. For me, that's a non-issue as I prefer to work with an efficient ticket system instead. However, if you're the kind of person who for some reason prefers to spend time holding the line and then talking to a rep, then this isn't the right host for you.
Secondly, as far as I know, they don't offer any one-click WordPress installation, like Hostgator and Bluehost do.
If you're a newbie who can't install WordPress on her/his own, then this could be an issue for you. IMHO, if you're serious about this, you need to learn how to install a blog. Otherwise, you can find someone on Fiverr who will get the blog installed and probably do a better job at it then any automated solution.
Last, but not least, I am 100% positive that Vision108's awesome support team can help you install WordPress, so if you've never done that before, just follow a decent tutorial and know that they have you covered.
Here's a link to the WordPress installation tutorial. And yes, it really does only take 5 minutes.
Give Vision108 a try
If you found this review helpful, here's my affiliate link to sign up –
Visit Vision108.com and sign up for an account
To be honest, I have no idea what kind of commission they even give affiliates. And I don't really care! I honestly would have recommended them even without an affiliate link!