The Amazon Commision Slash – What to do?
Like most website owners, Amazon revenue makes a significant part of my income.
The recent cuts in commissions hurt. A lot.
There are a lot of blog posts out there about this "slasher movie" Amazon produced. I wasn't sure if it's a good idea to write another one. I'm basically writing to clear my head, vent about the damage, and review the options. So, here goes.
What's changed with Amazon
If you're an Amazon affiliate, you already know what I'm talking about because they emailed affiliates about this on April 14th. That email started with –
We hope you are staying well during this time.
(Sweet, isn't it? We were actually doing ok until their email came along.)
Clicking on the link to the update where we were told that some niches will now have reduced commission rates –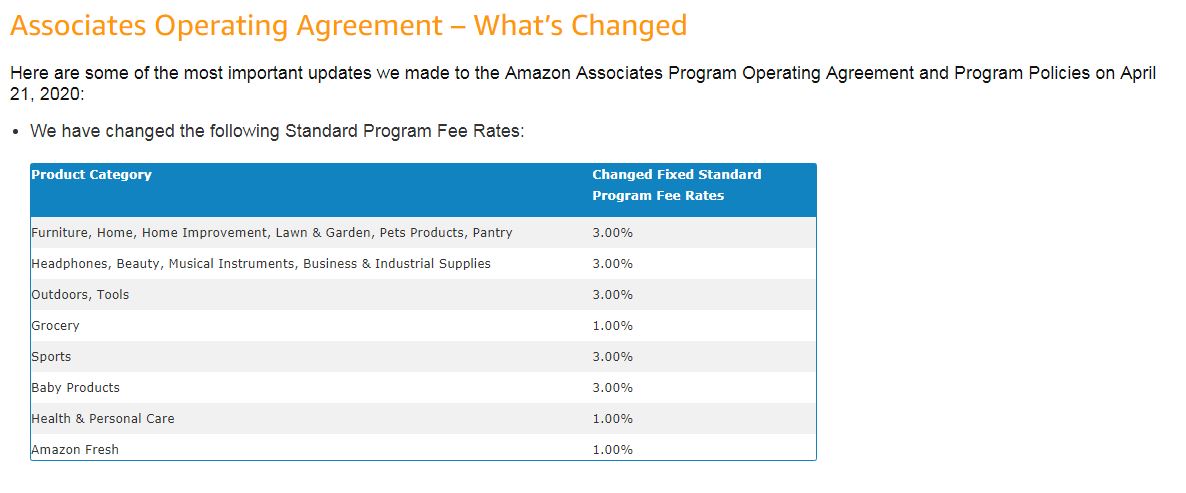 Short and to the point. Some of these niches used to offer 8% commissions. That's a drastic cut.
So many influencers are saying now that the move didn't take them by surprise. Sure, on that level, it didn't surprise me either. I even mentioned Amazon in my recent post about the need to diversify. It was still a small shock to see that in my inbox.
Why did Amazon do that?
Lots of theories out there. Honestly? I don't really care.
It makes no difference to me why Amazon decided to cut down commissions. Whether they have additional expenses having to transition their warehouses to operate in a corona-mode, or they're simply greedy – it doesn't matter. The fact is, they did it. And they did it now.
How the Amazon commission drop affected my sites
For the past three weeks, traffic has skyrocketed for two of my sites. The home improvement site and the gardening one. Along with traffic, came Amazon sales. Our monthly revenue from Amazon doubled. It was a very welcome trend, considering the decline in display ad rates. I was happy.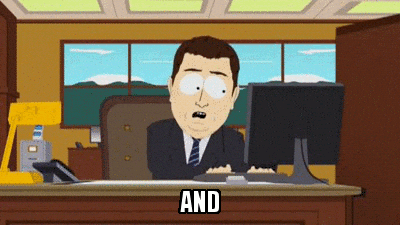 Amazon slashed the commission rate for these niches from 8% to 3%. For every $1,000 we make now from these sites, we're due to earn only $375.
Considering we were on our way to making $4,000 a month from Amazon, we're looking into losing over $2,000 of that (some of the revenue is from other sites in other niches where commissions won't change).
If you've been following my monthly reports, you know that we're still in the red. I was looking forward to turning a profit sometime in Q2. Then Covid-19 came and set us back at least a month or two (we'll see how things go). And now, with the recent Amazon fiasco, it's probably going to take longer. We'll be lucky to reach the breakeven point in Q3.
So, what to do?
After I was done cursing Jeff B., I headed over to my favorite forums.
The following day, I started checking my favorite bloggers and YouTubers to see what they're saying.
Then I spent some time thinking things over. I think I'm finally beginning to re-focus on solutions. Here's what I have in mind so far.
1. I won't be removing Amazon links
Jim & Ricky from Income School published this angry video about the recent Amazon commission cuts –
While they're saying that they saw this coming, they're very upset about the timing. Their response – and the one they recommend for their followers – is to remove every Amazon link from their website.
They do present some kind of business logic for the decision, saying that 1-3% of commission rates are too low and that you can do better with other affiliate programs. On the other hand, like their video thumbnail clearly shows: They are ANGRY. And I don't think that's a good place to be when you're making business decisions.
(And I do get it. Everyone is super upset about Amazon's move. I am too.)
But I won't be removing my Amazon links.
I don't think that we have a better alternative to Amazon right now. Not for my sites anyway. I have been testing lately, and nothing converts like Amazon. Nothing. Not even close.
I've been trying Walmart.com this year. Same posts as the Amazon links, same websites, same kind of traffic, and same call-to-action. Walmart.com converts at just over one percent. I've tried others from Shareasale as well, and conversion rates were about the same.
Amazon converts at just over 10% for me in the same setup.
For Walmart to get me more money per click, they would have to offer a commission of 30% per sale. They offer 4%. So, switching all of my links from Amazon to Walmart, or any other affiliate, I would be shooting myself in the foot.
Here's a simple calculation.
Let's say my site sends out 10,000 clicks per month to the e-commerce site. Let's say each product costs $20.
Amazon converts 10% of that into sales with a commission of 3%.
So, Amazon will make 1,000 sales and make $20,000. They then give me 3% of that, and I make $600 in revenue.
Now, let's see what happens if I remove the Amazon links and send the same 10,000 clicks to Walmart.com (or any other affiliate program).
Walmart.com converts 1% of those clicks into sales with a commission of 4%.
They make only 100 sales at $20 each, so only $2,000. They will then give me 4% of that I and I end up with $80.
$600 vs. $80? I'm sticking with Amazon!
Sure, it would have been pretty awesome to enjoy the 8% rates for longer. I could have made $1,600 instead of $600. But that's out of my hands. I can only decide if I want to keep sending my traffic to Amazon or not, and to me, the answer is clear.
Debbie Gartner, AKA The Flooring Girl, shared similar calculations in her latest newsletter here. It's a good read on the topic, and she seems to be having the same conversion rates.
Also, keep in mind that there are still quite a few niches where the Amazon percentage is still 4% and even higher. Some niches retain 7% commissions, and some still go as high up as 10%! If you're interested, Jon Gillham of AuthorityWebsiteIncome.com has a pretty good analysis of the new rates here.
And that's before we even get into the cost of replacing the links. I have close to 3,000 posts on my sites. Probably half of them contain Amazon links – some up to 20 such links in a post. Manually replacing these links with those of another affiliate would probably take thousands of hours. That's many thousands of dollars in VA time.
2. I'll Continue Promoting Amazon moving forward
Clearly, Amazon will still be my affiliate network of choice, thanks to their high conversion rates. That's not the only reason, though.
Amazon has easy tools for embedding affiliate links and images. Amazon actually provides me with content – in the form of images – as well as revenue.
Some affiliate programs also provide images. Walmart does, for example. They even offer larger versions than the small 300-pixel-wide thumbs that Amazon has. However, working with their tools is much more complicated.
When we need to embed a product's image from Walmart or from a Shareasale affiliate, I need a VA to log into our affiliate dashboard, look up the product, grab the code and then place it in the post.
Compare that to an Amazon plug-in that's so easy to use that our writers can do it themselves. They do that, covered in our usual 3-cents-per-word payment. So, it costs me nothing to add Amazon products, but it requires additional VA hours to add images from Walmart.
And many affiliate programs don't offer you any images to work with (I do ask).
So yeah, thanks to the combined value of Amazon's tools and the high conversion rates, I'll keep promoting them moving forward.
3. I'll work on improving monetization
Put together, the sites in our portfolio generate over 300,000 pageviews a month. Our CPM across the network is at the $20 range, including all revenue sources. Once Amazon adjusts their rates, it'll probably go down to around $16-$17.
$20 CPM isn't a lot, considering it combines affiliate and display ads revenue. That's why improving monetization has been on my mind a lot this month. Before the email from Amazon.
I am well aware of the fact that we are probably leaving money on the table. The question is, how to pick up that money and increase our overall CPM rates. At this point, these are my options –
Adding video to our display ads
Optimizing affiliate links revenue
Looking into new monetization options
And again, this isn't something I'm doing because of Amazon. This is simply a good time for me to work on improving monetization, now that sites are finally maturing and traffic is increasing. So far, I focused on setting up a system for routine content production while waiting for traffic to grow. At 300,000 pageviews a month, every additional $1 in overall CPM rates means $300 at the end of the month. Adding $10 to our overall CPM rates could mean an additional $3,000 a month now – and much more down the road. So yes, I'm motivated.
Let me elaborate a little bit on each of these three options. I'd LOVE to get comments from people who monetize their sites better than I do (I'm sure there are many of you out there!), so I do want to share my thoughts and get some feedback.
Adding video display ads
Two of our sites are now with Mediavine. Mediavine offers an exciting way to add both content and revenue to a website. This how their video ads work –
Take a popular post on your site.
Create a short (around 1 minute) video that adds some content to that post in a visually-entertaining way.
Upload that video to Mediavine.
Embed the video into that post using their player.
Mediavine will then add video ads to your video. When the user scrolls down the page, the video will pop out and move into the corner of the screen and keep running there. Many people keep watching these videos and see even more ads.
These videos can be as simple as a slideshow. They engage users, keeping them on the page for longer, thus helping your SEO. And the revenue from these is said to be much higher than what YouTube generates.
Optimizing affiliate links revenue
In a recent online "chat" with a fellow web publisher, Marty McLeod, we got to talking about CRO (conversation rate optimization) and Amazon links. This was something that he was doing successfully. I definitely can do better in that department.
My current strategy is to simply plaster products in relevant posts. I don't pay much attention to which call to action we use, for example. I also don't have fancy colorful buttons, and I definitely don't have comparison tables.
Done right, these can all increase conversion rates. If I could double my Amazon conversion rates, I could easily make up for the cut in commissions.
This will be a major project. First, going through the learning curve, using a/b testing to see what works, and finally applying everything to existing posts. However, IF I can find changes that work well for a site and raise the conversion rate, it will be worth it.
Another approach is to optimize affiliate revenue by auditing our current links. This would include –
Finding dead links (products that have been removed) and replacing them.
Discovering the best selling products in our posts and then checking to see if there happens to be another affiliate program with better commissions for them. Then adding that in addition to the Amazon links.
Pinpointing the products that sell well through our sites without being actually mentioned in them. If they apply to the niche, these could be good products to create new posts around.
I came up with the list after watching the Auditing & Optimizing existing Amazon links free webinar by Valerie. She created it as part of her course a few weeks ago and turned it into a free webinar to help people deal with the recent changes. If you're going to apply her methods, you should also check out this post about Amazon Affiliate Alternatives by Jon Dykstra.
Looking into new monetization options
Adding video units and optimizing affiliate links is something I should have been doing a long while ago. It's part of my existing long-term monetization strategy. Now that the traffic is there, I need to work on that.
But there are other ways to generate revenue that I could explore.
Taking the E-commerce route
My traffic is mostly US-based, and I don't live in the US. That means that I'm less likely to keep stock and handle shipping. Frankly, even if I were living in the US, I probably still wouldn't do it.
Dropshipping provides a way to get into the E-commerce game without having to run a warehouse.
The principle sounds simple enough: Get the orders and move them along to the supplier who then ships them out. There are no commissions in dropshipping. Instead, there's the price that the supplier charges, and then you can price the products on your site as you like. Whatever you decide to have as your profit margin, that's your "commission."
Typically, margin profits in dropshipping are 30-50%. That's a whole lot more than even the 8% that Amazon gave us. However, I think there's more work involved in setting up the e-commerce system and handling clients.
Selling Our Own Info Products
Info products come in many shapes and forms –
Ebooks
A written course
A video course
Any combination of the above
The idea is to sell your visitor a digital product that they can download from your website. There is an initial cost involved in creating the product, but once you have it, you can sell it as many times as you want.
You do need to provide a way for people to buy the product (a shopping cart of sorts) and some form of customer service for post-purchase issues.
Avoiding the Shiny New Object Syndrome
While I am aware of the options, I'm very wary of the "shiny new object syndrome." I'm not too thrilled with the high- profit margins of E-commerce and info products. They are nice, but I am painfully aware of the learning curve that I would have to go through.
I'm also mindful of the risk of failing. This is part of being an online entrepreneur. Even if you follow a great course and do everything right, you may still fail because your traffic, or even niche, weren't a good match for what you were doing.
That's why I mentioned the above as "options to look into." I need to be doing that at some point, to try and push my CPM rates even higher and diversify, but it's certainly not something to rush into just because Amazon slashed their affiliate commissions.
Letting Amazon know how you feel
Before I sign off, I wanted to share a couple of interesting links, in case you're still steaming and want to give Jeff Bezos a piece of your mind.
First, there's a petition on Change.org asking Amazon to reconsider the change in light of the financial crisis we're all going through. Thousands of affiliates already signed it.
There's also this initiative of emailing Mr. Bezos personally. Apparently, you can do that by shooting an email to [email protected]. And according to this page about emailing Jeff Bezos, he has people going over each one of these emails. Some of them make it through to him, and you may just hear back. The publisher who organizes this says that she has access to a senior VP in Amazon who's going to make sure that Jeff Bezos sees the emails. She believes this was not a top-level decision, so it may still be overturned.
I'm reserving my judgment on that. I honestly don't know if it can help, but I can't see how it could hurt you either. So I thought I'd mention it, in case anyone feels like sharing their plight with Jeff Bezos himself.
We'll get past this additional Amazon bump too. Just keep at it and don't lose track of your end goals. And don't forget to stay safe! That's the most important thing!