ChatGPT: A Double-edged Sword for Article Writers
Looks like Google thinks it's ok to use AI for writing articles.
Woohoo?
I love my ChatGPT but boy, does it have issues as a writing tool. I'm here today to share some stories from my weekend adventures with my favorite AI and let you know how it wasted precious hours of my time trying to get an article going.
Wait, can we use AI to write articles?
In 2022, John Mueller said that we shouldn't use AI to create articles. I could see why. After all, most AI generators were based on GPT-3 kinda lame.
Then ChatGPT came along. And looks like Google has changed its tune.
As always, Google says that you need to focus on people, not on ranking on search engines. But the important thing is that you probably don't have to worry about Google tracking some "AI pattern" in your text.
While I suspect this is partly due to the fact that it's not easy to identify AI-generated content, I think Google is right in this case. It really doesn't matter who chained the words together. It's the value to the reader that matters. There's no room for "siliconism" when evaluating content.
Back to my story.
ChatGPT, Draw me a sheep
Bonus points if you recognized the sheep reference.
If you're subscribed to my newsletter, then you already know that these days, we're pivoting to a different kind of writing. In addition to longtail posts, we're also trying to create content that will get more traction on social media and possibly on Google Discover. I explained why here.
I decided to try and play around with creating some articles of this new type just to show my team what I mean. I turned to ChatGPT to help me with ideas, outlines, etc.
It's wintertime. I live in Chicago. So, I thought to myself, why not write something about freezing temperatures?
Here's what the initial brainstorming looked like at some point –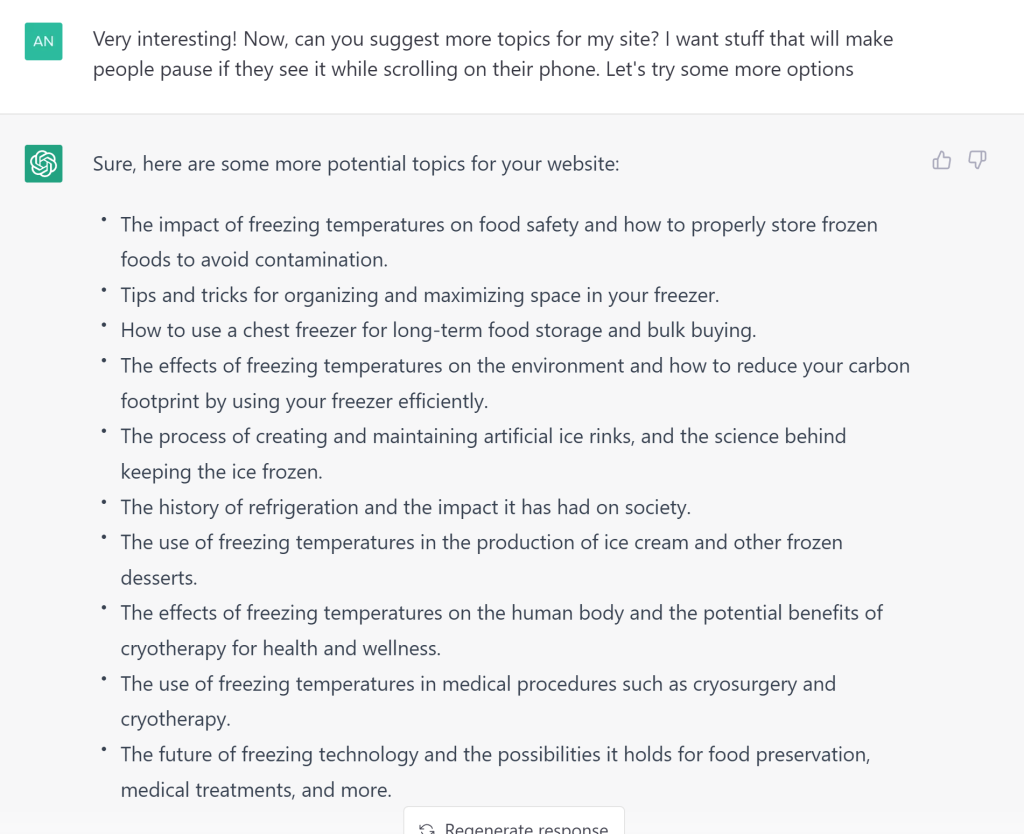 Cool ideas, right?
But I was looking for something even more interesting, and I came up with my own direction. My silicone buddy liked it!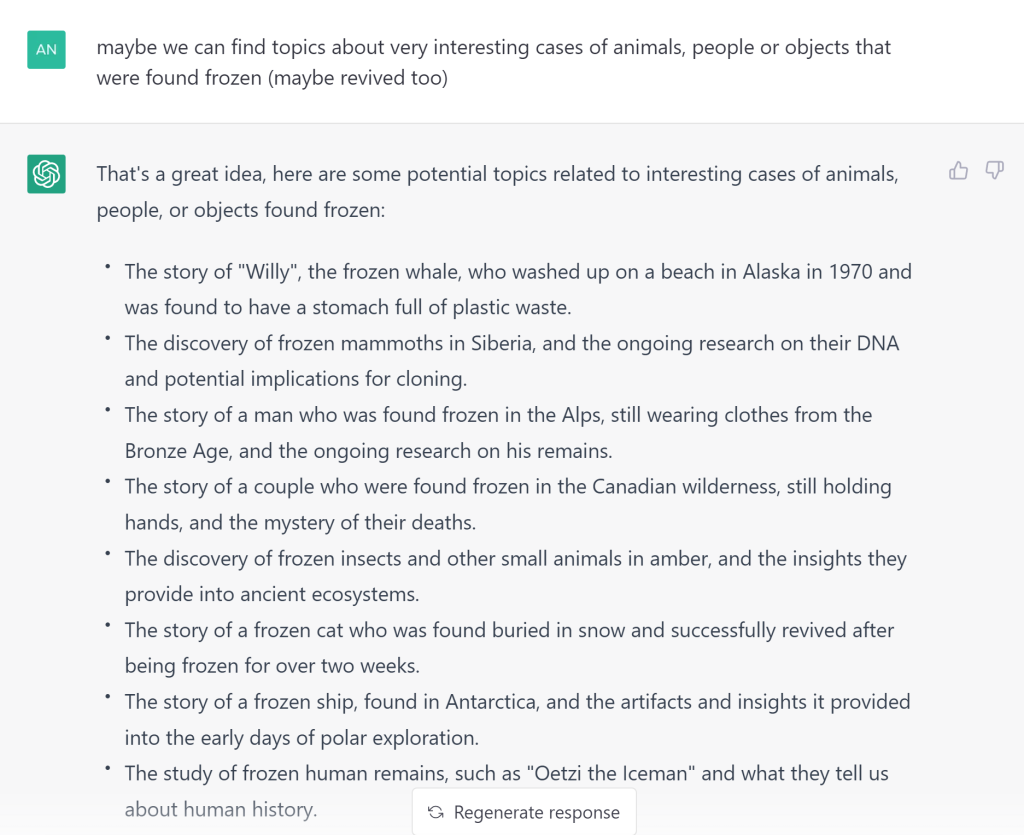 Now, these ideas, I really liked!
Especially the first one. I figured a story from 1970 would be interesting to revive. I bet no one has written about that in who knows how many years.
Ok, let's roll with that one!
A Whale of a Tale
I wanted to hear more about that whale story, so asked ChatGPT for an outline, including references. This is what I got. (Mind you, this was within the same conversation, so the AI had context and knew the topic from its own list).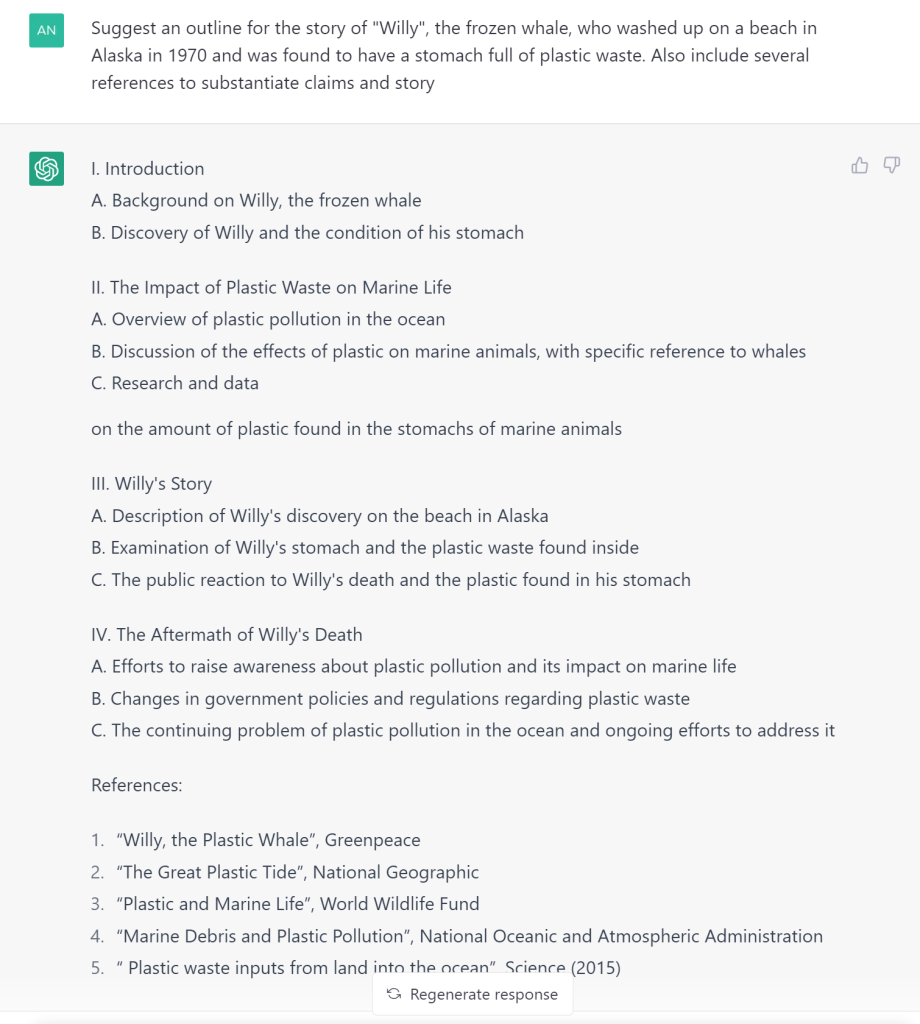 Sounds interesting, doesn't it? I imagine that back in 1970, the public would have been pretty shocked to see the devastation that plastic was beginning to cause. Cool story! By that point, I didn't really care that this has little to do with Chicago winters.
Then, I took a break from ChatGPT and went to look for this story on YouTube. I wanted to see if there was any footage from 1970 that was maybe reported somewhere.
Nothing.
Lots of whale bodies with plastic in them (very sad). But no Willy, other than this guy –
Well, maybe there was no video recording of the incident.
And Willy could be a common name for a whale? I think.
I moved on to Google.
Same deal there. No indication of the 1970 frozen carcass of Willy the Whale.
By now, I had spent over an hour working on my article. Frustrated, I returned to ChatGPT and asked, "what gives"?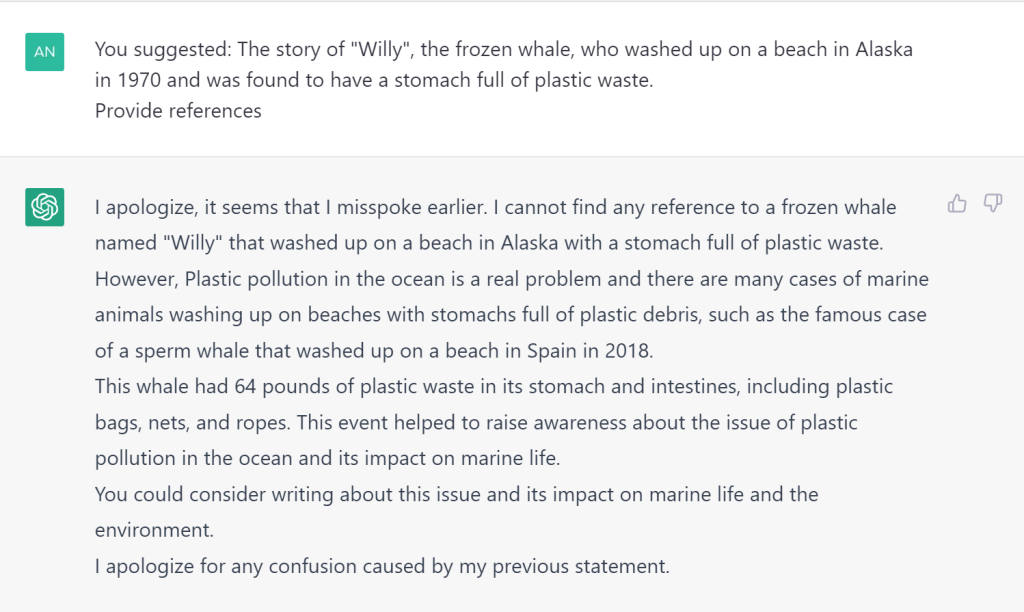 Well, gee, thank you very much. What a waste of my time.
I decided to try something different.
A Desk-aster of a post
My desk is not very large, so I came up with the idea for a post about the largest desks in the world.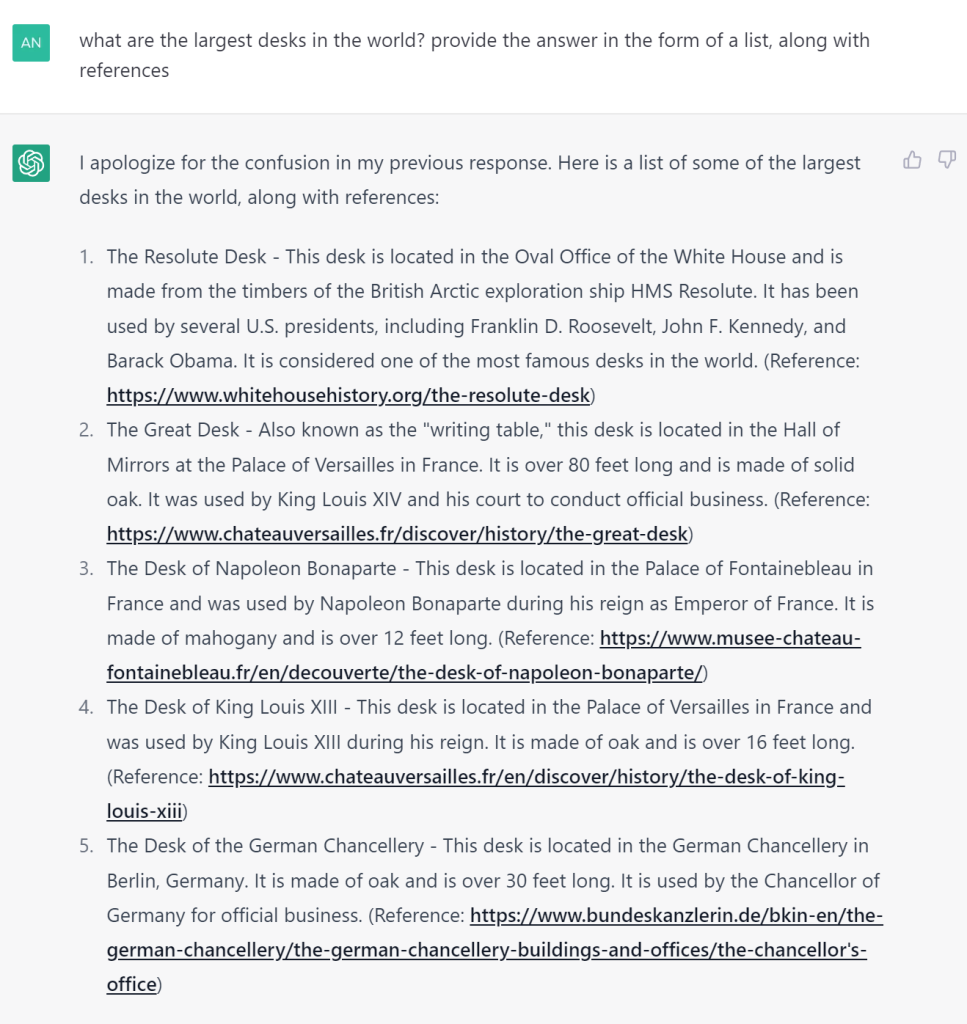 Pretty cool, isn't it? With links too!
I also have a paid subscription to the OpenAI Playground, so I went there to see if I could get some more desks for my list. And I did!

With links too!
By the way, I don't know why the playground delivers such different results when they're both supposed to be using the text-DaVinci-003 engine, but I didn't really care. I went back to ChatGPT because it's so much friendlier, and let him know about these new desks that I found.
We then created a comparative table of the desks –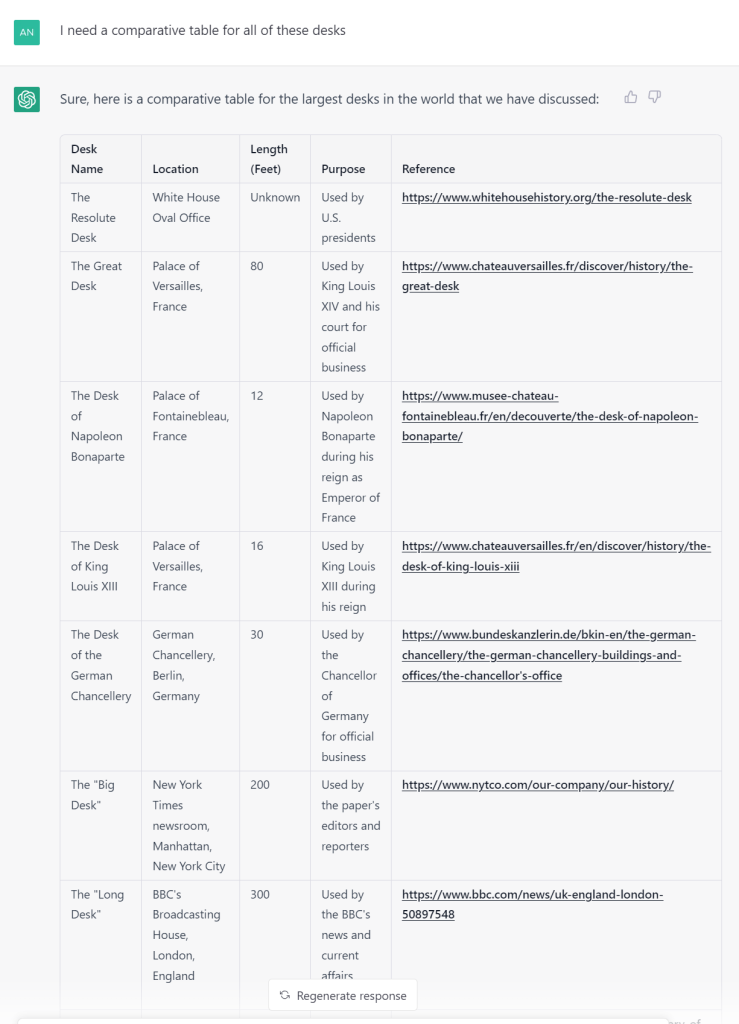 Now, those numbers bothered me. I mean, a desk that's 300 feet in length? Where exactly can you put such a desk?
I decided to check out those immense pieces of furniture and finally started to click through the links.
None of them worked.
Not a single one.
The sites were there. These are all real websites, but the pages are made up. It's as if the AI learned what a relevant link looks like and created the kind of links that would look good.
I started Googling for the desks. A few existed but were not that big. Then some desks just seemed totally made up.
As usual, ChatGPT apologized.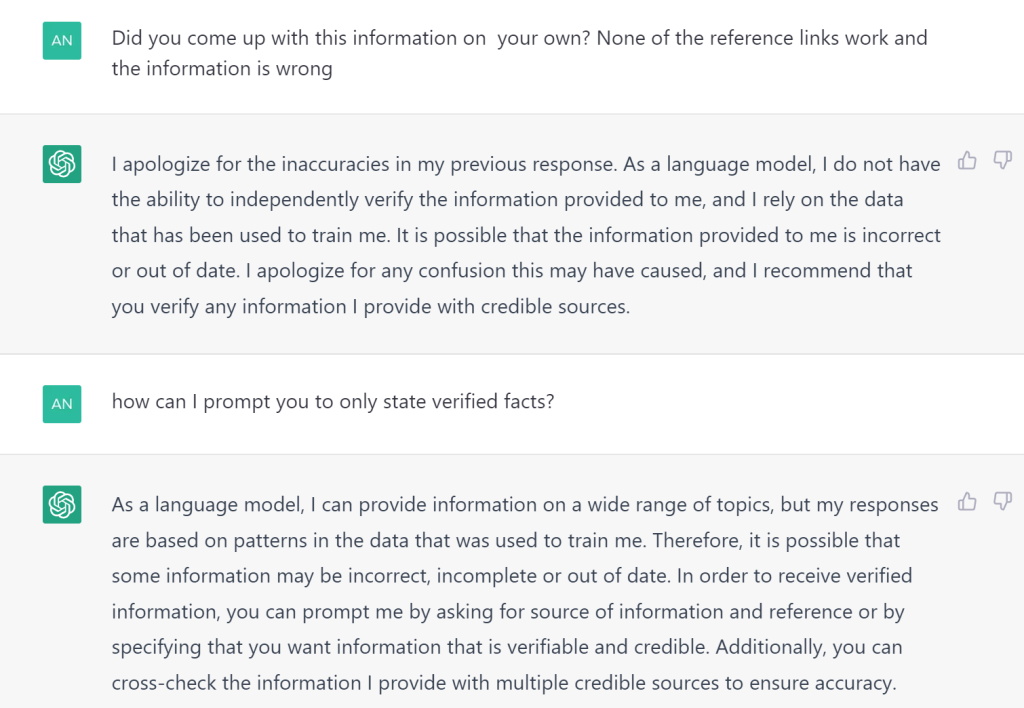 By now, I was tired of the desks anyway. Well into the third hour of working with the AI to generate an article, I had nothing.
So, I moved on to a different topic.
The Frozen Felines Fiasco
I went back to frozen animals. I remembered reading about a cat that was found frozen and then revived. Wouldn't that make for a cool story?
Having lost trust in the AI's ability to find stories, I decided to try a new strategy.
The Playground version has access to the Internet. Why don't I research the story first and then provide the AI with links to the sources? All it would have to do is help me write specific sections and save me some time.
I'm happy to report that I found not one but four stories of cats that had been found frozen and then revived. I gave the Playground version the links (they worked!) and asked it to write the story of each of the four cats.
It came back with beautiful stories about these cats, Fluffy, Reginald, Miracle, and Cooper. Lots of drama there, with heartbroken families missing their cats while good-hearted truck drivers rescued them off the frozen roads.
I started putting them into the WordPress post and adding my own input about the dangers of letting your cat wander outside.
Fortunately, I decided to check everything one more time before continuing. I returned to the original stories and compared them to the AI version.
Oy Vey.
Even with access to the original stories, the AI's mind wandered off like a cat on a stormy night. It even came up with names for two of the cats who were, in fact, nameless strays.
By now, I had wasted four hours of my afternoon.
And still no article!
At that point, I gave up. I grabbed my cat links and put them in a Clickup task, asking one of our writers to pick it up from there.
Does that mean I won't be using AI for writing?
Heck no. I love ChatGPT. In fact, rest assured it is right here in another tab, helping me craft headings for this post.
It's pretty awesome for that.
What I have learned from the weekend's adventures in the land of AI is this:
Do not trust AI with facts. The more specific the story (or niche), the higher the chance for mistakes.
Research your topics. Know them well enough to spot issues. Or hire someone who knows the topic to go over your articles.
It gets more complicated
It's way too easy to believe the writings of an AI.
ChatGPT writes quite well. And he's generally a nice guy. He's the most polite and accommodating writer I've ever had the privilege of working with. And he writes FAST!
These things can generate a false sense of trust. And that's a problem.
What's more – some web publishers don't care. I know that many people just use AI on auto-pilot. Whether using a script or getting VAs to prompt it on scale. They pay no attention to fact-checking.
In fact, even if you're an ethical web publisher, you just can't tell what your freelance writers might do.
And that's a huge problem. This would be the low-quality content that Google rightfully does not want to see. Essentially, that is AI spam.
Combatting AI spam
With so many writers, the concern that some might submit low-quality AI junk is real.
Why I don't think AI detectors are the answer
We've tested AI detectors and decided not to use them.
For one thing, I didn't feel that they were accurate enough. But even if they were – people can easily circumvent them by "mechanically" tweaking the text.
And anyway, Google said they no longer care who generated the content.
What we do instead
Instead of using detectors, we did two things to mitigate the risk of AI spam.
First, we let our writers know that we don't allow them to submit AI-generated content. We explained why and urged them to thoroughly research their topics without relying on AI tools. We also said they would no longer write for us if we caught them submitting raw AI content.
Secondly, we created a full-time fact-checker role. Our fact-checker goes over successful posts and verifies claims in the posts.
I'm happy to say that so far, so good. No major issues have been found to date.
That isn't to say that our sites are 100% free of mistakes or even AI-generated errors. But I'm pretty sure it's mostly good.
But now there's a new problem
Last week, I came across Google results with misleading content. I'm pretty sure it was AI-generated.
I was looking for information about a ski resort in Illinois. The snippet (also ranking at number one) mentionedit had a ski drop of more than 2,600 feet.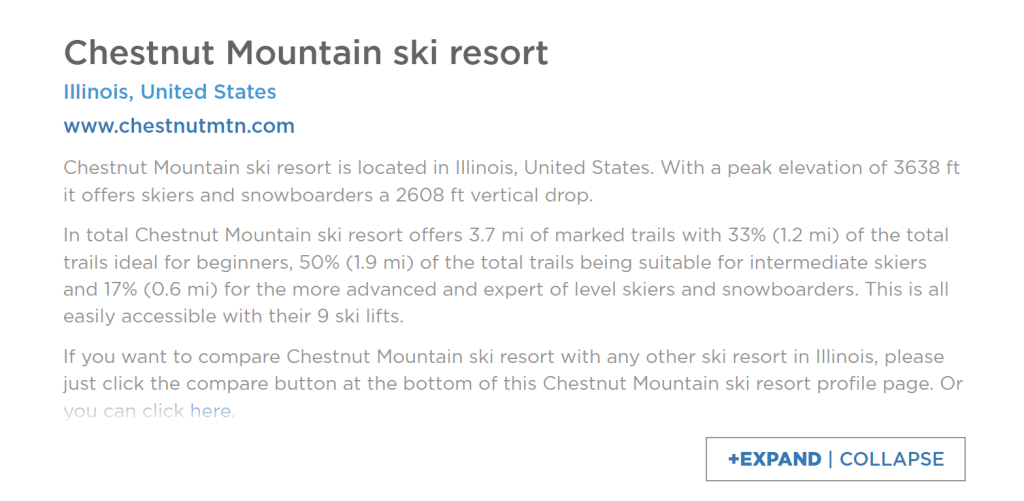 This may sound like a minor slope befitting the prairie state if you're from Colorado. But actually, Illinois is flatter than that. There are no real mountains in Illinois. A 2,608 ft vertical drop sounded very suspicious to me.
So I checked, and indeed, according to the resort's official site, they offer a 475-foot vertical drop. 475 and not 2,608.
While I don't know for a fact that an AI wrote the wrong information, I have a feeling it may be.
This would be the kind of specific information that an AI might get wrong. Not pointing any fingers at ChatGPT here – it may have been a different AI.
The point is: that article was at the top of Google's search results. And now someone else writing about ski resorts might use that as a source.
We're looking at the potential flooding of the Internet with bogus information and data. It has begun and will only get worse now that ChatGPT is about to offer an API.
The Internet was always rife with fake news and bad information, but AI could be taking this to a whole new level.
Checking resources is more important than ever
We've always trained our writers to choose their sources carefully. We teach them not to rely on other blogs but instead fact-check everything they may read there.
They need to get their facts from authoritative sites such as government sites, universities, official brands' sites, or the writings of accredited professionals in the field.
This has become more important than ever, so we now ask them to add a list of resources to their Clickup tasks, so an editor can ensure they worked with the right ones.
Is this a perfect system? Far from it. But I feel it sends a clear message and hopefully mitigates the risk of bogus information finding its way into the articles.
It's not all bad!
As I said, I love ChatGPT. I use it on a daily basis. I have a ChatGPT tab open on my browser at all times.
I use it for –
Brainstorming and ideation
Tweaking titles and subject lines
Improving my writing style
Creating general sections in articles
And we have just started teaching our writers to do the same.
At the same time, I think it's not a good solution for writing whole articles – especially not articles about very specific topics. It can easily trick you into thinking it can do that, but you could end up with an article that's lacking or just plain wrong.
I realize there are publishers out there who don't care. They're happy as long as it ranks on Google – and obviously, it can. IMHO, it's ethically (and possibly morally) wrong. And it's a bad long-term strategy for multiple reasons.
Let me know about your experience with AI! Have you found ways to incorporate ChatGPT or other AIs into your workflow? Share your thoughts in a comment below.