April 2020 update: Over the past couple of years, I've been using Ezoic for several of my sites. The post has been updated to reflect my views so far in 2020.
If you're looking to monetize your traffic, you're probably looking for a reliable ad network too. I've been using Ezoic on some of my sites for a while now, so I hope my opinion could help you see if it may be a good fit for you.
If you find this interesting enough to give Ezoic a shot, I'd appreciate it if you could sign up using my affiliate link here. Thank you!
What Ezoic does
Ezoic prides itself on using AI to determine which ad setup will achieve these two goals –
Make your users happy (keeping them on your site for longer) and
Make you more money
The way this works is that you allocate places on your web page using a Chrome extension. The AI then tests a gazillion possible combinations based on these spots that you marked. Once it's tested enough pageviews, it knows what kind of ad combination it should display for a particular user based on that user's demographics.
What this means for you as a website owner is that over time, the system should be getting you better ad rates while keeping your users happy and reducing things like bounce rate. At least, that's the general idea.
What I like about Ezoic
Good personal support (at least for some publishers)
I have worked with many advertising networks over the years. None offered the kind of personal support Ezoic does. Especially during the setup process. I will say this, though. When I joined Ezoic, they were actively trying to get me to sign up with them for my flagship site (2.5 million pageviews at the time). This probably affected the level of personalized attention that they provided me.
The name of the Ezoic rep, which helped me board my sites, is Danijel. He was there for me every step of the way, including over Skype calls. Not only did he answer my questions, but he also did a lot of the setup for me when I didn't have the time to deal with it.
Danijel has moved on to a more senior position in Ezoic, and we keep in touch. He's a terrific guy all around, and a lot of the positive feelings that I have for Ezoic can be credited to him personally.
Good CPM rates
I think the benchmark for ad revenue is Adsense on its own. Simply because that's one of the easiest programs to get into, and once you're enrolled, you can slap Adsense codes on any of your sites. Adsense doesn't require you to have a certain amount of visitors, so even small sites can get a bite of the Adsense cake, albeit a tiny bite.
Revealing my exact Adsense rates goes against their TOS, so I won't do that here. Those rates don't matter that much anyway because they may vary by niche, ad placement, etc.
I will say this though –
For me, switching from Adsense alone to Ezoic resulted in doubling site revenue per 1000 visitors.
I am not sure how much of this is due to ad placement, and how much is due to the simple fact that Ezoic offers you header bidding and access to the Google Ad Exchange environment. Possibly a mix of both.
Compared to other networks, Ezoic's rates are still excellent. At this point, I'm using Mediavine and Monumetric on some of the sites. These sites were with Ezoic first, so that allows me to compare RPM's. From what I see, in the pet niche, Mediavine got me better RPM's but not by much. In the automotive niche, Monumetric and Ezoic got me the same RPM's. For my home improvement site, the RPM's are so good with Ezoic that I prefer not to rock the boat at this point.
If you're interested in seeing my actual numbers, I share them in my monthly traffic and revenue reports here.
You can start with a smaller website
While Adsense generally allows you to place their code on tiny sites with very little traffic, most networks require a minimal number of pageviews or sessions. To get into a system that applies header bidding and has access to the Google Ad Exchange, you usually need at least 100,000 pageviews.
Officially, Ezoic wants you to have 25,000 sessions to apply. If you talk to their reps and they like your site, you could get in with a much smaller number, though.
Ezoic accepted my first site with just over 25K sessions and my second site with just over 10K because we already have an established relationship.
You can make $10+ with every 1,000 pageviews, which means Ezoic can help you monetize a site with 10-30K pageviews and get you an extra $200-$600 a month, long before you can apply to other networks.
A variety of features and products
It's easy to tell that Ezoic is a geeky kind of company. They offer partners tons of features and apps.
Once you log into your Ezoic dashboard, you can access Ezoic's App Store.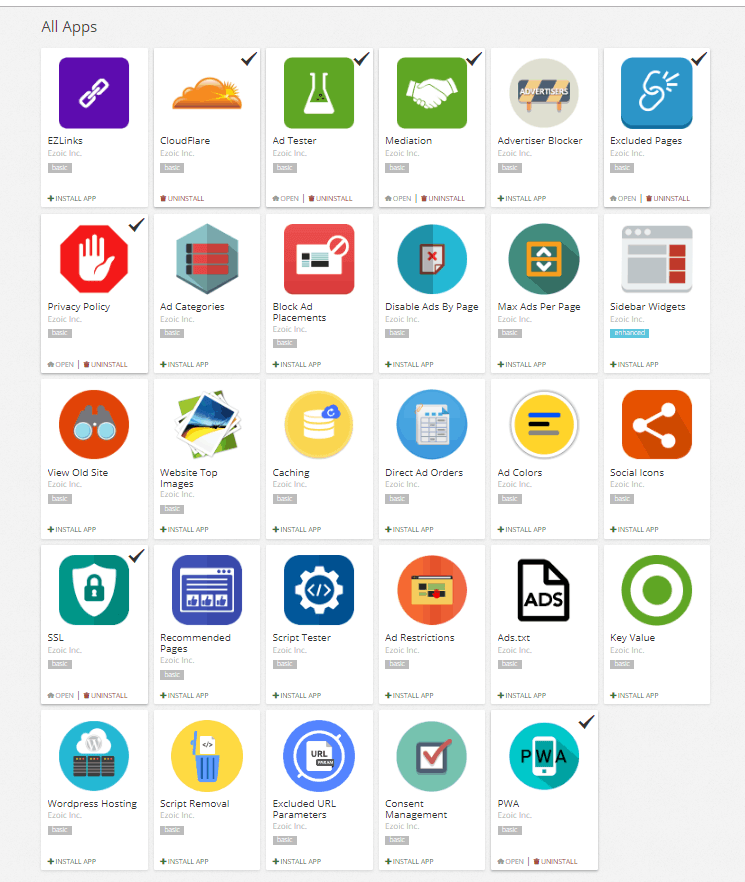 Essentially, this is Ezoic's way of letting you incorporate various features into your account.
If you're tech-savvy, you might find this more useful than I do. If you're not very tech-savvy, don't worry about it. Neither am I. Fortunately, that's why you have an Ezoic account manager who can guide you through using the right app if and when you want to add a new feature.
What I don't like about Ezoic
While I'm generally happy with Ezoic, there are a couple of things that I need to mention here.
Ezoic is not free of bugs
That probably comes with the territory of being so technologically advanced, but it's worth mentioning. I have had several issues with properly implementing Ezoic in the past. They included –
Having to whitelist all of Ezoic's IP's to get the site to work correctly (I had to upgrade to a virtual server to do that as my host wouldn't allow it on a shared account).
Problems with using Ezoic's Chrome extension to deploy ads.
Both issues were solved with the help of my account manager, but they did happen, so I need to mention them here.
Update: I've had some problems with Ezoic bringing down my sites. More than once, due to a Cloudflare issue with Ezoic's DNS. I integrate the sites using DNS, so when that happened, the sites were down. I wasn't happy with the time it took Ezoic to let me know about the issue, let alone fix it.
Another update: This hasn't happened again in the last several months.
Site Speed
There's all kind of ways to measure your site's loading speed. My websites are hosted with DigitalOcean and are very well tweaked. With no ads, the sites get a score of 97-99 in any of the popular testing tools.
Ads always slow down a site to some extent. There's no way around that. Fortunately, technologies such as lazy load and caching help. In my experience, websites that have Ezoic ads have slower loading times compared to sites that only have Adsense, or ads by Mediavine. Monumetric seems to be about the same as Ezoic.
Since my sites are well-tweaked, I don't think having Ezoic or Monumetric affects user experience. The sites don't feel sluggish. When I tested and switched off Ezoic, I didn't notice any change in user behavior. That's why I'm not overly concerned about the issue.
I will say this, though. If your sites aren't set up correctly and are already slower than average, to begin with, then adding Ezoic could potentially slow them down further to the point of affecting user behavior. That would be the case with other ad networks as well.
The Site Speed Accelerator
Ezoic now offers a unique site speed accelerator, at an additional cost. The accelerator helps you optimize the site by applying things like caching and lazy load. They charge a monthly fee for this service.
When I tried the service, it didn't do anything for my sites. That's probably because the websites are already optimized for speed at the server level. If you don't know how to do that, you could pay Ezoic for the service. Personally, if you're serious about web publishing, I would suggest taking the time to learn how to optimize your sites or find someone who can do that for you for a one-time fee.
Ezoic Premium
I'm putting Ezoic premium under "things I don't like about  Ezoic" because – like many others – I just don't like the concept. The way I see it – since we have a revenue share model, ad providers should do everything they can to get the best possible rates. It's mutually beneficial for us to make money off the site.
Ezoic's model is slightly different. They offer a basic "free" service where you use their platform and AI abilities. Then, if you want access to better-paying campaigns, you need to pay a premium fee.
Either way, it's their business model, so the bottom line is: Does it work for me?
At this point, I'm paying $288 a month for the premium service. It only gets me an additional $299 (I just checked). I'm not losing money, but it's nothing to write home about. It used to be better, but with ad rates going down, I'm still paying the same.
In Summary
I'm happy with Ezoic at this point. I have a bunch of youngish sites that are only now beginning to crawl into the 10-40K monthly pageviews range. Ezoic allows me to monetize them with relatively high rates, so I can make a few hundreds of dollars a month more than I would have by sticking only to Adsense.
Once one of these sites mature beyond the 100,000 monthly pageviews point, I may want to experiment with a different network, such as Adthrive, just to see how they perform. For now, Ezoic is my first choice.
I'd love to hear from other people's experiences, so do leave me a comment. And if you need me to hook you up with my account manager, just drop me a line in the comments section, and I'll get back to you via email.
And one last time, my affiliate link! If you've decided to sign up with Ezoic and give them a go, I'd appreciate it if you could use it –
Sign up for Ezoic