Web publishing woes (and the May Report)
How we were kicked off Amazon and lost 21K in revenue (and the recent revenue report)
If you've read my previous post, you know that things were quite hectic over here in May. Well, they're becoming even more hectic these days, with the date of our relocation getting closer. In fact, I wasn't even sure that I'll get around to posting anything on Yeys.com this month.
But I couldn't resist the temptation to share at least some of what's going on with our sites and our lives here. So here I am at 6 AM, up and about earlier than usual and trying to squeeze a blog post in.
In this post, I'll share a couple of stories that rocked our little world here over the past weeks. One has a good ending, the other not so much. I think there's value in sharing both.
Table of Contents
Amazon kicked us out
Yup. Amazon terminated our affiliate account.
A week and a half ago, I was sitting by my desk late on a Saturday night, just taking one final look at my inbox, and there it was. An email from Amazon saying –
Effective today, Amazon is terminating your Associates account as well as the Operating Agreement that governs it (link below). Why? We reviewed your account as part of our ongoing monitoring of the Amazon Associates Program. During our review, we determined that you are not in compliance with the Operating Agreement.
The email went on to say that "An account belonging to you (or a person or entity connected or affiliated with you) has previously been rejected/closed for violations of the Operating Agreement or one of the other Amazon marketing programs."
Oh, and they'd be keeping any commissions we had on record.
Amazon accounts for around 10% of our revenue. Around $7,000 a month. The sudden termination would have meant a huge loss. What's more, it felt very unfair. I knew for a fact that –
We only have one account.
We've never had that account rejected or closed.
I checked our account and sure enough, we lost access to our dashboard. This was real.
Using the contact form, I tried to appeal the decision and waited for a response.
I kept trying the dashboard every day, hoping against hope that maybe someone there would revoke Amazon's decision without emailing us.
That didn't happen.
The thought of losing a major revenue stream was quite upsetting. It wouldn't have ended the business, but $7K a month is a lot of money and would have been a setback.
Four days later, two days into the week, I tried again. I emailed back with another plea, and this time cc'ed [email protected]. I owe that idea to Shawna Newman from Skipblast.com. Shawna is an inspiring web publisher who's been in this business for many years. Check out her blog when you can, it's pretty awesome.
Two days later, I got an email saying –
Jeff Bezos received your email, and I'm replying on his behalf

This message is to advise you that your Associate account and your previous commissions have been reinstated. Please accept our apologies for the closure error. We appreciate your patience and understanding in this matter.
Whew!
What a relief! Plus, I now get to tell all my friends that Jeff Bezos read my email and took action personally *wink*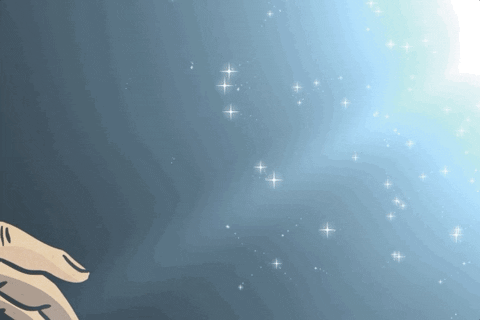 But it's mostly the relief. More than just the loss of funds, I was offended by the unfairness of it. I'm relieved things were sorted out like this. Thank you, Jeff!
We lost over $20,000 in revenue
Speaking of risks in web publishing, I wanted to share another story that affected us over the last couple of months. I'll try and keep it brief.
We used to monetize our forums site with a small agency. They basically do what Adthrive and Mediavine are doing but on a smaller scale. We chose to work with them because we knew the owner was a forum owner too and figured he would know how to monetize a community.
We've been with them for several years. We worked directly with H., the owner of the company. There have been occasional delays with payments. H. said that was because we were in Israel. He had to personally wire our payments to us each month and sometimes it would take him longer than necessary.
A few months ago, there was another delay. We were owed two months of payments instead of just one. When emailing H. about that, I mentioned that we're considering giving Adthrive a try. I figured giving him a heads up would be the fair thing to do.
I never heard back.
Additional emails didn't help. There was no response. By that point, we had reached the third month of uncollected payments, and nothing but ghosting.
So we switched to Adthrive.
Next, we sent out a letter from our lawyer detailing exactly how much we were owed, and backing that up with screenshots from the stats dashboard.
Still nothing. They never responded to the letter from the lawyer either.
At this point, we're considering a lawsuit. It's not as simple as it sounds and would mean traveling to their state, possibly more than once. We're still debating that option. For now, I wanted to share the story here.
Running a business can be frustrating this way. Fortunately, it doesn't happen often.
The May mini report
May was a great month. A nice boost in traffic lead to a marked increase in revenue.
Here's a quick review of the numbers.
Traffic on the niche/content sites went up by 14% from 1,499,438 pageviews to 1,720,245. We have an additional forums site that we're keeping out of this chart because it has different traffic patterns. That site brings in an additional 1.3 million pageviews every month.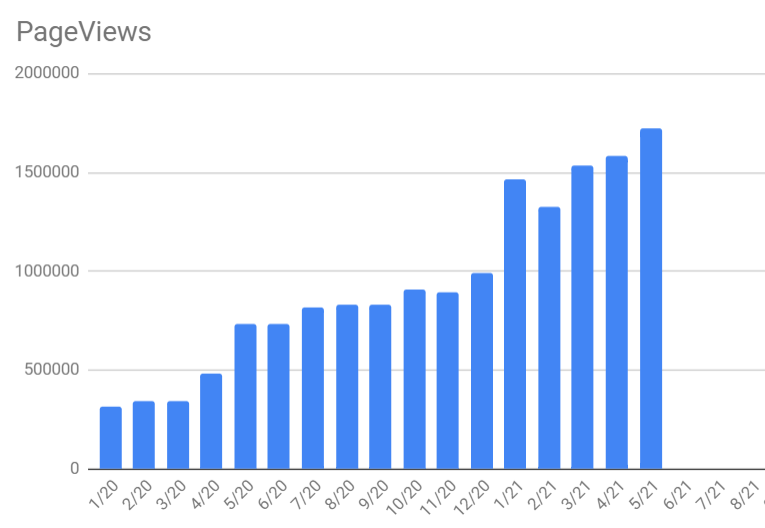 Revenue followed suit and increased by 18% from $58,885 to $69,986.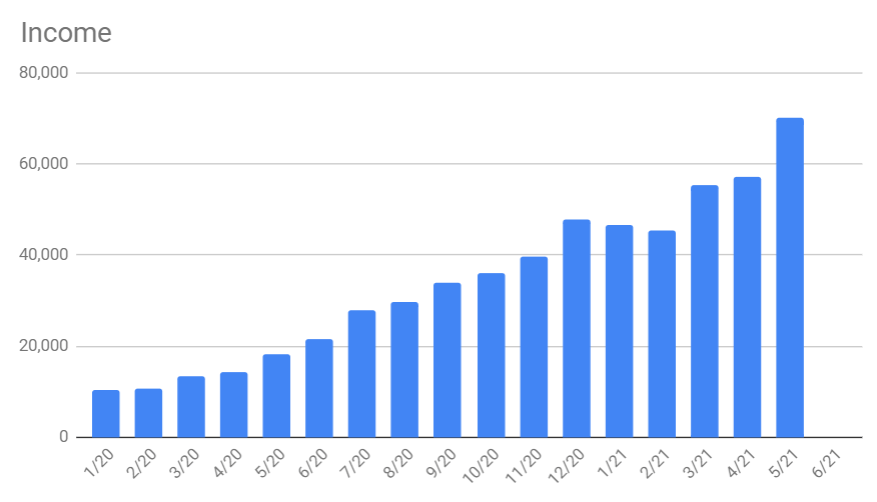 When we normalize revenue by 30 day increments, the chart becomes smoother. April too was a good month, albeit a short one. May was the best so far, for sure.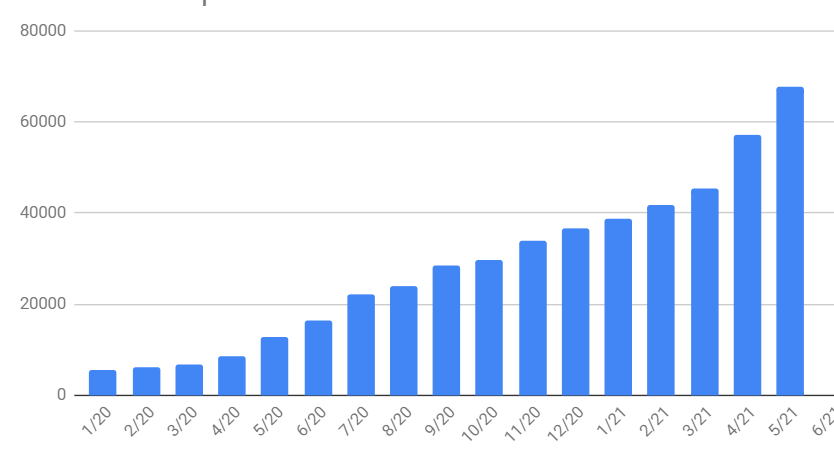 Our Expenses in May
I'm not very good at tracking our exact expenses. Instead, I just provide an estimate in these reports.
We put our production per post costs at $70 per post. That number includes writer fees, editing fees, and VA's fees. 
I'm happy to say that after struggling through March and April, we were back on track posting over 400 posts in May. The exact number was 440 and we're very happy with that. That's an investment of $30,800 in content.
As for ongoing expenses (hosting, software, and general business expenses), we estimate those at around $3K per month. That's the money we would be spending each month even without publishing new content.
Overall we paid out a total of $33,800.
The bottom line
We made $69,986 in revenue. If we were to stop investing in content, almost all of that would have been profit. Just take out the $3K for ongoing expenses and we are at a profit of about $67K.
Content investment was high this month (that's a good thing!).
After deducting the investment in new content we're left with $31,186.
Future Plans
I mentioned in my previous post just how hectic our life is at this point. Well, fortunately, that particular round of our local conflict is over and life is back to normal (at least in that respect). No more air raid sirens and explosions, woohoo!
Covid is over as well. Israel is down to zero new local cases per day. ZERO. We have under 5 new cases per day and they're imported and almost always properly quarantined. When one gets through the cracks, there can be a local outburst but it's short-lived. With more than 90% of people over 16 fully vaccinated, the virus is having a hard time spreading.
Let me tell you, it's a relief. No more masks required anywhere. No more limitations. You can see whoever you want, whenever you want, go to the cinema and generally live life without worrying about getting covid. The vaccines really do work and if you can get yours, do. You won't only be protecting yourself, you'll be helping your country get back on track.
And just as things are going well here (even the weather is perfect!), we're about to leave.
We have our visa interview at the embassy at the end of the month. If all goes well, we'll be leaving Israel and relocating to Florida in July. We're doing this to further grow our web publishing business, by getting "boots on the ground" in our target market.
Keep your fingers crossed for us for a successful interview!
If we get the green light, we'll be leaving within a couple of weeks. That's one month from today. And no, we haven't started packing yet.
I've been working hard on new topics for our blogs, and will be doing that for the rest of the month, alongside preparing for the move. My goal is to create a buffer of writing topics for our team to work on while we're busy moving and settling in.
Considering we're producing 400-500 posts per month and that I want to cover my bases until the end of August, I need one LONG list of topics.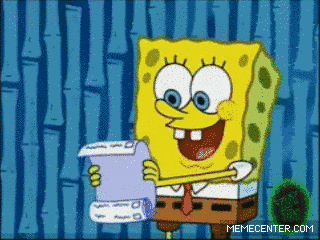 I'm close to the finish line though. Only about 300 more to go. Should get it all done by the end of June.
Then, assuming we're approved for the move, it's going to be a couple of weeks of sheer mayhem. The plan is to downsize and take only six suitcases with us. That's not a lot for a family. And we won't be leaving anything behind in storage.
Once we get there, it's going to be a new kind of mayhem, settling in.
So, no promises about an additional update in July.
And my apologies in advance if I don't get around to responding to comments on time. I do appreciate the comments! I love getting them! Your comments encourage me to keep blogging and I read and reply to each one, so don't be shy. Let me know how your sites are coming along, and just say hi.
See you on the other side of this summer upheaval!