How I Monetize Video Content [Via Mediavine and not YouTube]
I've increased my revenue by more than 15% on some sites by monetizing video content with Mediavine. I'm sharing what I've learned so far in this post, including tips and ideas on how to easily and quickly produce lots of quality video content.
This post contains affiliate links and I will be compensated if you make a purchase after clicking on my links.
If you've been following my reports, you may have noticed that I recently moved two of my sites over to Mediavine. While I'm generally happy with the revenue they generate for these sites, one element really boosted the overall RPM higher than ever:
Monetizing video content.
Reading through Mediavine's Facebook group, it looks like many people don't feel comfortable monetizing using video. Either because they think it's not a good user experience or they think creating videos is too tricky. Sometimes, they just don't know what kind of videos to create.
In this post, I'll be sharing my own experience, including how much money monetizing video content makes me, how I choose topics for videos, and how I quickly create videos using Animoto.
How to monetize video content
The steps to monetizing video content with Mediavine are simple enough.
Create video content.
Upload your clips to Mediavine
Embed the video code in specific posts
Run your playlist across all posts (where you haven't embedded specific videos)
Collect the revenue
Here is what it looks like on the site: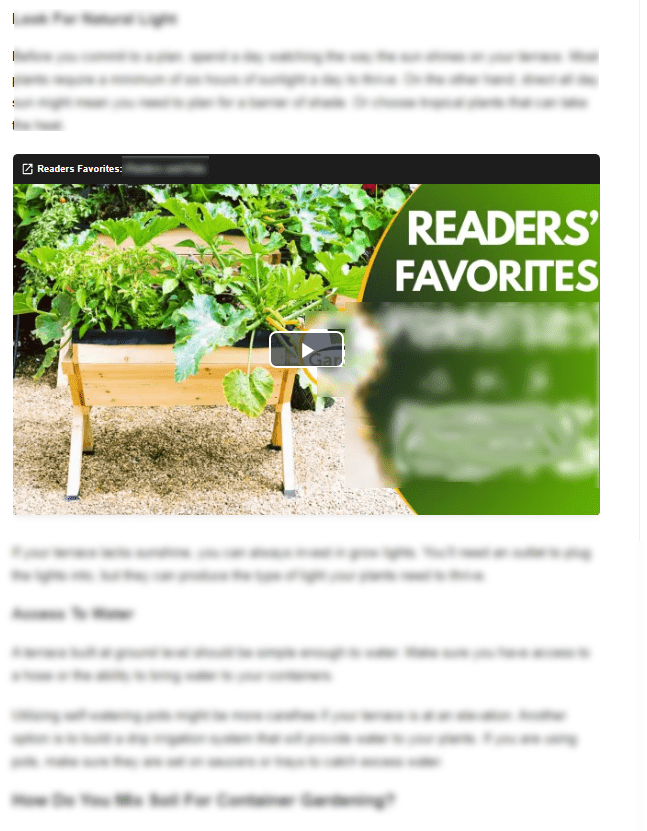 The video appears in the content. You can control the position by placing the code or let the system auto-place it for you. If the user scrolls down, the video pops-out and moves to the right bottom corner of the page. The video then keeps playing while the user keeps on reading your post.
You have the option to set it to auto-play, or not.
The ads show up right before the video plays. When your video ends, another ad shows up, followed by the next video in the playlist (assuming the visitor is still on the page).
Why monetize video content
Monetizing video content makes up at least %15 of the revenue from these sites. Here's a screenshot of where revenue is coming from for the larger site –

The RPM from video content is on the rise, though. It starts low and then goes up as more advertisers bid on your video content. Over the last three days, video ads made up 18-20% of overall revenue. That is a LOT of money.
Even though I prefer to diversify my ad networks, the added revenue from monetizing video is too high to ignore. With that in mind, I'm in the process of moving other sites to Mediavine.
Why not monetize with YouTube?
There are other ways to monetize using video ads. You could just add a piece of code by a network that specializes in video ads, and they'll similarly play ads – without any "content." And of course, you can create video content for YouTube, monetize on that content via YouTube's partner program and embed the videos in your posts for additional views.
While I do have YouTube channels for some of my sites, they are too small for participation in YouTube's partner program. These are the requirements for monetizing your video content on YouTube –
Follow all the YouTube monetization policies.

The YouTube monetization policies are a collection of policies that allow you to monetize on YouTube. If you're a YouTube partner, your agreement including the YouTube partner program policies require compliance with these monetization policies in order to potentially earn money on YouTube.
Live in a country or region where the YouTube Partner Program is available.
Have more than 4,000 valid public watch hours in the last 12 months.
Have more than 1,000 subscribers.
Have a linked AdSense account.
Also, from what I've heard, monetizing with YouTube gets you less revenue per view, compared to Mediavine.
Which ad networks offer this feature?
As far as I know, at the time of writing this post, Mediavine and Adthrive offer video content monetization.
Monumetric will soon offer now offers a similar feature. I have a site with Monumetric and I've already uploaded my video there. They say it should start showing up this week, but I haven't seen it in action just yet.
Ezoic says they'll be offering the same option to publishers, but they don't know when that will happen.
How I quickly create videos using Animoto
I followed Mediavine's recommendation and used Animoto to create videos. After a short learning curve, I managed to create decent videos at 15-20 minutes per video. I could easily outsource this task to a VA, but it's quite fun to do, so I did those myself.
One cool feature that Animoto offers is access to a library of stock photos and videos. This library isn't huge, but for some niches, it works very well. You can also upload your own video clips and images.
I've created a video for this post in Animoto and timed it. It's taken me half an hour to produce this one from scratch. That includes the time it's taken me to come up with the script. With my site videos, I work with my own templates, duplicating videos that I'm happy with. That cuts production time down to the 15-20 minute range.
Since Yeys.com isn't with Mediavine, I uploaded the clip to YouTube to embed it here. I even created a YouTube channel for Yeys for that! So, feel free to subscribe, like, etc. Who knows, maybe one day I'll be adding more video content there.
The media in that video is all from Animoto's library. The only additions are my screenshots of the site as illustrations for some points. The music is also courtesy of Animoto.
I was going to include a detailed and illustrated step-by-step guide to creating the videos. It was getting too elaborate so I decided to skip it. Honestly, this platform is so easy to operate.
Animoto uses a simple drag-and-drop block-based interface. It's difficult to go wrong. If you can use WordPress, you can certainly use Animoto.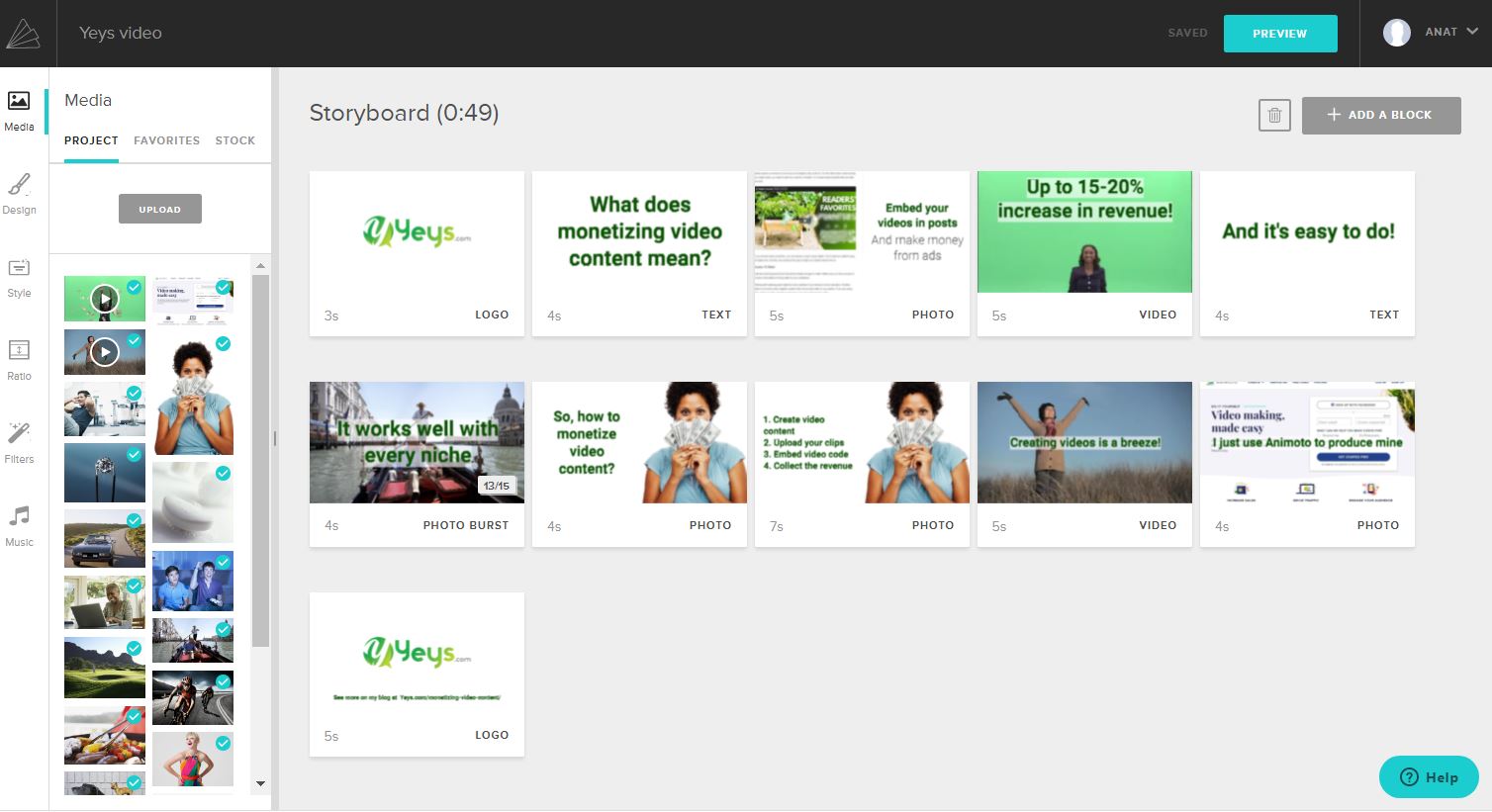 Here's why I like it so much –
A variety of blocks (photo, video, text, quote, collage, and photo burst).
An extensive library of videos and images you can use.
More than 3,000 music soundtracks.
Reasonable control over colors, layout, etc.
Easy to learn and use.
If you want to give it a try, here's my affiliate link again. And thanks!
How long should videos be
Mediavine suggests 30-60 seconds, but you can go longer or shorter.
Most of our videos are 45-55 seconds long. We're testing a few longer ones as well.
How many videos should you create?
You can embed a specific video in a particular post, or you could let Mediavine automatically embed your playlist on every page. I went with a mixed inventory. For some posts, we have specific videos that add to those very topics, but we also have the playlist playing across the site.
The way this works is that if you embed a video, then that's the one your visitors will see on that page. The "generic playlist" only shows up if you don't embed a video yourself. Once your video finishes playing, you can set it up so that another video will follow. The more time your visitor spends on the page, the more videos they can see – and the more ad revenue for you.
So, you can start with 1-2 videos, but I think 4-5 is a better idea. If you have quite a few super long posts or a lot of return visitors, I would go up to 10.
What types of videos work best
In my experience so far, they all work well. The CPM rates are very similar, regardless of the type of video.
A Mediavine rep told me early on that videos with text are better. They are more appealing to the advertisers who are bidding on videos because they offer added value in actual content. With that in mind, I created my videos with text captions, much like the Yeys.com demo video above.
Video Ideas and Themes
I spent a while looking at other people's videos, as they shared them in the Mediavine Facebook groups. I picked up some ideas from there and also came up with my own concepts. Not all of them work for every niche.
Readers Favorites
Mediavine recommends this as the primary and most natural format to produce. Essentially, this is a slideshow where you tell the viewer about your best and most popular content. Since you can't link from within the video, you add a screenshot showing viewers where the search function is on the site.
Guides
By guides, I mean taking a blog post and turning it into a short "slideshow" video. For example, if you have a post about "Do dogs see color?", you could turn that into a video that brings forward the most important points, with these headings for each block –
Your logo (possibly animated) – 4 seconds
Dogs do see in color? – video block with a cute dog looking around – 5 seconds
But they can't see these colors well: – photo block with a cute dog in glasses – 4 seconds
Red – photo block with a bright red object – 3 seconds
Purple – photo block with a shiny purple object – 3 seconds
Pink- photo block with a bright pink object – 3 seconds
Here's the canine color spectrum compared to that of a human [Collage block with the two images] – 6 seconds
Here's what the world looks like to a dog – text block – 4 seconds
Famous photos with overlaying filter to simulate dog vision – 5 photo blocks –  3 seconds each for a total of 15 seconds.
Read more on our site – a short clip showing your post scrolling on the screen – 4 seconds
Your logo again – 4 seconds
That's 56 seconds all in all. Perfect for monetization. You could get most of the media from Animoto, but you'd need to find or prepare the images of the spectrum, and those of the "dog vision" world view.
Tip List videos
If you have a post that's mostly a tip list, you can quickly turn that into a video. Just collect your best 7-8 tips and create a photo or video slide for each one. Try to get the text on each slide down to 8-12 words and give each slide around 5 seconds to play. Add your logo at the beginning and the end. That's it.
Recipe videos
Those are popular with food bloggers. If you can shoot your own cooking video, that's awesome. Otherwise, you can also just share the recipe and show the steps in photos. You could even just share lots of pictures of the dish (stock photos will do) and add some text about the ingredients, nutritional values, etc.
Craft videos
Same principle. Either take a video as you (or someone else) is creating the craft, or shoot photos to create a step-by-step slideshow video.
Destination videos
These would work great for travel blogs. Create a list of informational tidbits about the destination or work with a list of "top things to see." You can easily place them into photo and video blocks. Add a beautiful photo-burst block in the beginning or end, with more cool photos of the location and voila.
Photo inspiration videos
These could work well in the design, fashion, gardening, crafts, and art niches. Just remember to add some text insights too. For example, if you have a post about gradient blends in watercolor art, you can create a video that explains the techniques in the first 2-3 blocks, and then moves over to show several great examples that will inspire the viewers.
Other ways to create videos
You don't have to use Animoto, of course.
Adobe Spark is a good option as well, especially if you have your own video and photo content. Unfortunately, they don't offer their own library as Animoto does. That was my main reason for choosing Animoto over Adobe Spark.
Canva also has a video/slideshow editor. I tried that one for 10 minutes and gave up because it was too frustrating for me. I'm sure it works great for others who are used to the Canva interface. I don't use it for creating pins or any other media, and it wasn't intuitive enough for me.
YouTube also offers you a basic video editor, including a nice selection of soundtracks. No video or image library, though. And I'm not entirely sure you're allowed to use the video with their music on another player.
And, there's always good old Windows Movie Maker. It could work, if you have your own media to work with, but it feels antiquated and takes much longer to work with (I've tried).
For my needs, Animoto worked best. Not only was it super easy to use, they included a solid video (and photo) library that's very handy for my needs. While I do have stock photo subscriptions, they don't cover videos. If I had to buy the videos, it would have cost me around $15 per clip. The monthly Animoto subscription fee is only $33, so the video value alone is well worth it.
Whatever you end up using, if you have a site that's monetized with Adthrive, Mediavine, or Monumetric, I would give those video ads a go.
And as always, if you have any suggestions, questions, feedback, just leave me a comment! If you're already monetizing video content, I'd love to hear how that's going for you. Tips for new video formats/ideas – or any other aspect of video monetization – will be most welcome as well!