Q1 Blog Project Status Report (Including Traffic and Revenue Stats)
Yes, I know, I'm posting the report for the first quarter of the year almost six weeks behind schedule.
But I do have a good excuse!
I published my previous post from the airport, on my way to a relaxing family vacation in Italy. I'm afraid that vacation didn't end up very well.
On our last day in the province of Piemonte, we decided to hike in a local nature reserve. It was a gorgeous day out there –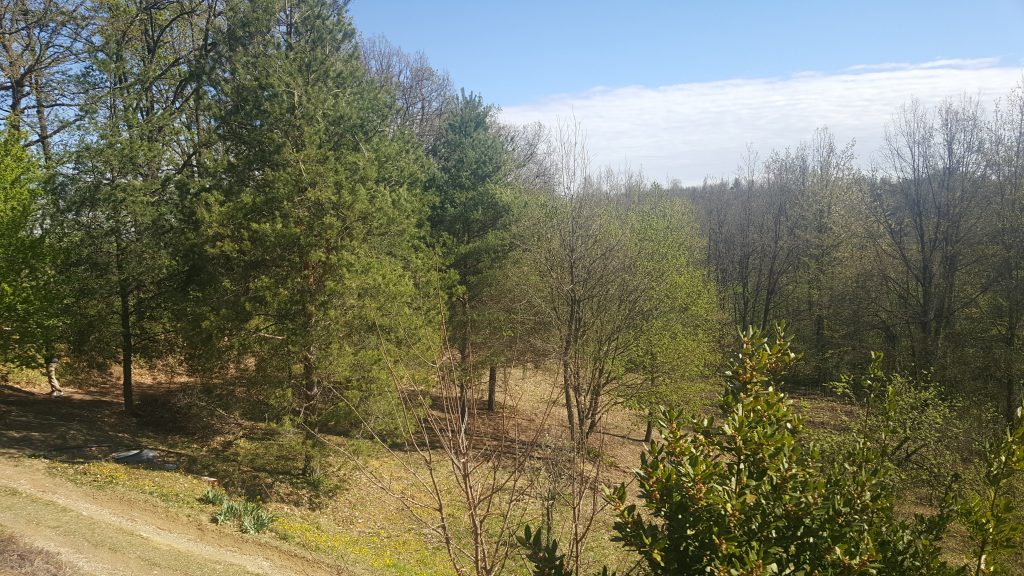 We hiked in the forest until we reached a slope. It seemed a bit steep but not too worrying, so I went ahead and started walking down the path. As it turned out, what appeared to be dry sand, was in fact extremely slippery clay mud. Within seconds, I slipped and heard a nasty sound coming from my right ankle.
We spent the following hour trying to get me out of that stretch of the woods. Aided by my two sons, I hopped on one leg while my husband went to bring the car to the nearest accessible point. Yes, it was painful.
After waiting in the local ER for more than seven hours (!) I was finally released with a fresh cast over my fractured ankle.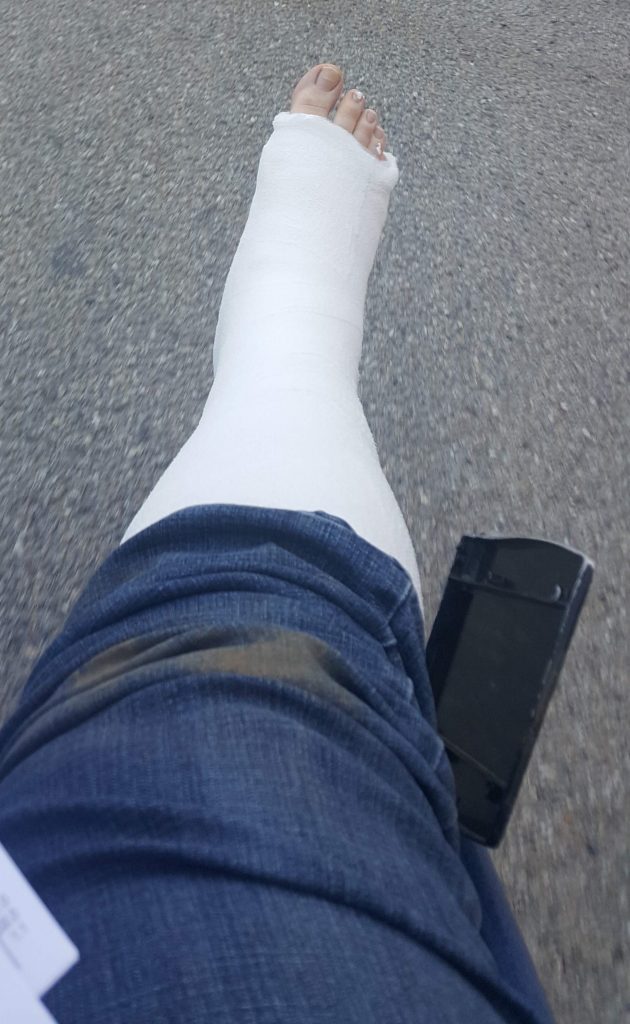 I won't bore you with the long story of how we made our way back home with a broken leg. During the following three weeks, I was treated by local doctors who finally decided on surgery as the fracture wasn't healing well.
Two weeks ago I had an operation where they put 8 pins and a metal plate into my ankle. Between recovering from general anesthesia and the painkillers, bouncing back from surgery took forever.
So, how do you manage websites with a broken ankle?
It's not easy.
I've spent the last six weeks in bed, working from my laptop. On most days, I couldn't work for more than two hours in total. When I managed to focus and work for a bit longer, my neck, shoulders, and back were hurting. Apparently, typing while lying down isn't the most ergonomic position for working.
Yet, I managed to do quite a lot.
With the help of my wonderful VA and other team members, I managed to stay on top of things. In fact, we've had a record-breaking six weeks in terms of the number of published posts across the blogs.
If that's not impressive enough, I actually moved all of my sites to a new server during April.
Which goes to show how important it is to build a great team that you can outsource work to. I could never have done this without them.
Q1 Status Report (Including a Revenue Report)
So, finally, I'm caught up on things to the point where I can post here too. It's time to share the results of Q1 across my content sites.
Note: I have another large site which isn't covered in this report because it's a community (forum) site. I try to keep Yeys.com dedicated to my new content sites venture. My point is – I am an experienced web publisher and I have a constant stream of revenue which allows me to invest in new websites. This isn't something I would recommend for others to do, especially if they're new to blogging.
Right now, I have a total of six content blogs, most of them relatively new. You can read here about my workflow and how I outsource parts of content production to be able to publish around 60 posts each month.
Let's look into each of the sites, starting from the oldest to the newest.
1. The Travel Blog
This site was established in June 2016. It started out as a personal travel blog but I have since pruned some of the earlier content.
I still try to keep a personal tone in this blog, so while I do outsource the bulk of the writing, I write the outlines, the intros and the summaries for each post.
Q1 Stats for this blog

The number of posts column reflects the total number of posts in that blog by the end of that calendar month. It helps give you a sense of the site's size and also of growth.
The plan for this blog is to keep gradually growing it at a rate of 100 posts per year. With a total of 28 posts added in Q1, I'm happy with the results so far.
The increase in traffic is good but keep in mind that this is a very seasonal niche. At least part of that growth is simply due to the increase in the number of searches.
As for monetization, about 75% of revenue comes from display ads, managed via Ezoic. The rest is a combination of Amazon and Booking.com affiliation fees.
Goals for Q2
I'm already seeing a plateau in April which is not good at all, considering the seasonality of the niche. I want to dedicate several hours in Q2 for a re-assessment, looking into which posts work better than others. Following that, I may need to re-structure the content plan.
With that in mind, new content production will slow down until I re-adjust the content plan, so I expect to add a total of 15-20 posts to the site in Q2, most of them in June.
Additional tasks for this blog include –
Adding Viglink to make sure that I'm not missing out on monetization.
Add the new Amazon Content Insights code that tracks down the source of affiliate sales.
This should help me assess which posts make more money and may have some affect on the change in editorial content moving forward.
2. Pet Accessories Blog
I started this site in March 2018 as an experiment. It focuses on a certain line of products (imagine something like dog crates or cat collars). The content is a mix of –
Low quality "product reviews" which are basically summaries of Amazon product descriptions, including pros and cons etc.
Medium quality "Best X for Y" lists. I try to provide some added value to these by including tips for choosing the right one etc.
High-quality thorough guides relating to aspects of the topic (how to choose, how often to clean etc). I wrote most of them myself and I do know a lot about the topic. For the ones I outsource, I create the outline and edit them to make sure they're really very good.
Q1 Stats for this blog

The blog has come out of the sandbox in March. Traffic has been on the climb ever since then (spoiler alert: it more than doubled in April).
The low-quality content is the most aged yet it still brings hardly any traffic. In Q2, I plan on pruning the site and re-arranging the categories to bring forward the best content. Overall, this is a relatively small niche site which I hope to slowly grow to 100 posts in total (after pruning and adding better content).
This blog was monetized in Q1 exclusively via Amazon affiliate links. I've actually added display ads lately and I'm curious to see what that will do in Q2.
Goals for Q2
This site is going to stay small but I want to keep adding fresh content throughout the year. In Q2, I want to keep publishing 2-3 posts each month.
Other tasks include –
Deleting posts that don't bring traffic
Re-structuring the site
3. Automotive Niche Blog
I started this blog in April 2018 so it just turned one year old in the end of Q1. The subject matter is a certain type of vehicles.
Most of the posts are what's known in Income School as response posts, i.e. informative posts which answer a query people search on Google. (If you're new to blogging and don't know what Income School is, check them out here. They have one of the best step-by-step systems for building blogs that make money.) Some are tip lists and a few are "best X of Y" top product lists.
Q1 Stats for this blog

As you can see, this is a larger site and growing faster too. At this point, I'm looking to getting it up to 300 posts covering the same type of vehicles. Then I may expand on to covering additional types of vehicles in the same site (the domain name lends itself well to that).
I began monetizing the site with Ezoic in January. You can see how the system gradually improved revenue. The site makes about 90% of its revenue from display ads and 10% from Amazon affiliate links.
This site is doing very well although I suspect there is some seasonality at play here as well. Another spoiler alert: it more than doubled its revenue in April, so I know it's headed in the right direction.
Goals for Q2
Not only is this a core blog in my business plan, but it's also out of the sandbox and generating revenue. I'll keep adding content to this blog in Q2 at a rate of 20 posts per month.
The blog already has the new Amazon Content Insights tag and Viglink, so it will be interesting to see what kind of new data I'll have by the end of Q2.
4. Pet niche blog
This is an interesting little project focusing on a specific type of small pet. I started working on this site in October 2018 and built it up to exactly 100 posts by the end of Q1. Most of them are response posts but there are some tip lists and "best X of Y" posts.
Q1 Stats for this blog

What you're seeing here is a small niche site gradually coming out of the Sandbox. The trend continues in Q2 very gradually but I'm sure the site will show its full potential by August.
Clearly, there's not a whole lot of monetization going on at this point. What you're seeing there is just a few Amazon sales. The products are relatively inexpensive so the commissions are low too.
Moving forward, I'll be keeping this site at 100 posts for a long while. Should be interesting to see how it does down the road with no updates.
Goals for Q2
I'm hoping to see continued growth of traffic. Sometime in Q2 it will probably be time to introduce display ads.
5. The Gardening Blog
Counting from the launch of this domain, this is the newest site of the six. In fact, you could say it was born in April 2019 but the correct phrase would be "re-born".
Let me explain.
In September 2018 I started a small niche site on a specific aspect of gardening. The first 35 posts went live but then the blog came to a halt. I felt that I had reached the bottom of the barrel. Additional posts would have been a waste of effort on tiny topics that probably don't get enough traffic.
At first, I thought I could branch out to adding semi-related posts about gardening tools but then I figured this would be going off-topic. Instead, I re-packaged the site in April, switching over to a much broader domain name. Moving forward, this will be a large content website.
I moved the site to a new domain and redirected everything properly. So far, things are looking good. Once the decision was made, I wanted to do this as soon as possible. The site was switched over to the new domain during April, despite my limited work time.
Q1 Stats for this blog

You can tell how young the site is in general. About a third of the posts are very new. The bulk of the first 34 posts are very niche-specific too and I'm only now beginning to branch out to new topics.
Overall, the stats are just what you'd expect to see in a site that's young and has such a low volume of content.
Goals for Q2
I am currently working on a detailed new content plan for this site. The idea is to create 3-4 content silos within the vertical and develop them in depth during 2019.
In addition to structuring the content plan, I'm also working on creating new post formats that writers can then use to produce quality content more effectively.
Overall, my goal is to publish 20 posts per month in this blog.
Additional tasks include –
Structuring the categories to suit the new site scope.
Switching the site to the new WordPress template I'm using across the sites (OceanWP with the Elementor page builder plugin).
6. The Home Improvement Site
Launched in 2019, this is a new incarnation (in a new domain) for a small blog that I had going for years. It was a small blog, with lousy content, and it still made about $100 a year from Amazon links, hands-free and with hardly any content. So, I knew this was a niche I wanted to try on a larger scale.
In January, I finally managed to launch this site with a brand new domain. I moved a few of the old articles and redirected the old domain to the new but essentially, I consider this to be a new blog.
The posts are a mix of response and "how to" posts, with "X of Y" shopping guides.
Q1 Stats for this blog

I'm happy with the numbers here. This site is brand new so I don't really care about traffic stats and definitely not about revenue stats. The only thing that matters now is the number of posts.
Goals for Q2
I have a few new post formats for this blog and I plan on creating at least one more. The additional one is more complex and will require adding a graphic designer into the production line, so will take some time to develop properly.
Other than that, this is all about quality content production. I hope to finish 2019 with at least 250 posts on this website which should make for some interesting traffic and revenue stats in 2020. With that in mind, in Q2 I want to maintain a publication rate of 25-30 posts per month.
Q2 Content Plans Across the Board
One of the main reasons for writing this post is to create an overview of my Q2 plans.
In a way, this is a sort of "Board of Directors meeting" blog post. The directors being myself and whoever reads this post. (You're more than welcome to actively participate by providing feedback in a comment below though you won't be getting voting rights!)
So, dear committee, this is what we end up with as the production plan for Q2 –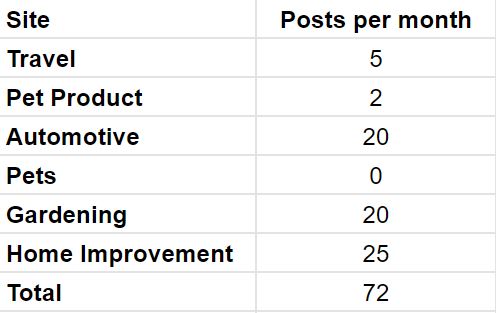 Can I produce 72 posts per month?
Good question.
So far, this is what production looked like in 2019 –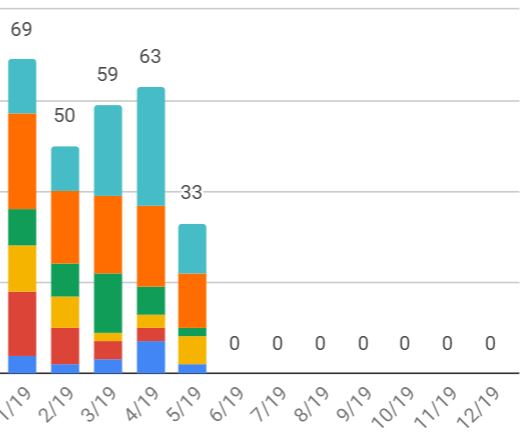 The colors represent the respective blogs discussed above. What matters though is the bottom line.
Of course, this isn't solely about the number of posts. Quality – and length – matter too. However, considering a stable level of quality, it's easy to tell that 72 posts per month is challenging.
The only reason I'm actively planning for 72 moving forward is a new content production service that I'm working with. I plan on publishing a detailed review but suffice to say at this point that I'm very pleased with them as a solution for long-term content production.
I am actually hoping to make it to the 80 posts per month point in the coming months, using the combined resources of my in-house freelance writers team and this new service.
Final Thoughts
My portfolio of content sites now includes six blogs. Four of which I plan on turning into large content sites.
Is that even possible for a single blogger to do?
I guess time will tell. I confess, some days I wonder if maybe I'm biting more than I can chew here. However, considering how well my business functioned during the past six weeks, with me bed-ridden and recovering from surgery, I'm optimistic.
Yes, it's a challenge. It's also a financial risk because I keep investing thousands of dollars each month into the entire operation. And I expect this project to be in the red for at least another year.
If there's one lesson I've learned in the past year is the importance of finding really good people for your team. I currently have several such people working with me and I'm actually hoping to hire another part-time editor this week.
There will be setbacks.
But overall, I'm very pleased with Q1 of 2019 and I have great expectations for the rest of the year.
As the year progresses, I plan on creating more quarterly reports. It should be interesting to see how the sites keep growing and where they're headed.
If you're reading this, I'd love your feedback too. Let me know what you think.
Do you find reading these reports helps you in any way? Any feedback on what you're seeing here? This can be a lonely road to travel, so your feedback and encouragement will be greatly appreciated!