How to improve your traffic by building a large site
A few days ago, I was approached by someone who wants to get into the web publishing business.
His idea was to invest money into content and instantly create two websites, each one with 30 posts. He was hoping that a year later, these two sites will be generating enough revenue to pay for more growth.
I don't think that's going to happen. My suggestion was to focus on one site, write most of the content and try to create a much larger quality site. 30 pages just isn't going to cut it.
It won't create a dent in the Internet.
A small site could have worked well several years ago. I honestly think this is much more of a challenge today. Starting small is fine – yes. But you have to keep working at it and keep growing your site if you want to see actual traffic and revenue.
It's all about making a dent in the Internet
Consider The Internet.
It's that huge virtual space where our audience spends time and money. As web publishers, we want to attract as many of these people to our web properties. We then monetize that traffic in all sorts of ways, but first, we need them to visit the site.
We aim to make "The Internet" notice our site and send us that coveted traffic.
This is where I find the space-time continuum metaphor handy.
What's the space-time continuum?
Note: If you're a physicist, you may want to stop reading here. I am married to a physicist and he was appalled that I would choose this metaphor to describe websites lol. However, I find it helpful. So, if you're a web publisher and aren't squeamish about scientific accuracy, read on.
Instead of trying to explain this myself, here's a quote from Wikipedia:
In physics, spacetime is any mathematical model that fuses the three dimensions of space and the one dimension of time into a single four-dimensional continuum. Spacetime diagrams can be used to visualize relativistic effects such as why different observers perceive where and when events occur differently.
Even if you don't really understand what this means (according to my husband, I don't either), you're probably familiar with the image –
Essentially, what we're seeing is that celestial bodies – in this case, the earth – make some kind of dent in an invisible matrix around them. The more mass the object has – the deeper the dent.
It's really the same thing with websites. When you create a new site or blog, you want to create a dent in the continuum that is the Internet –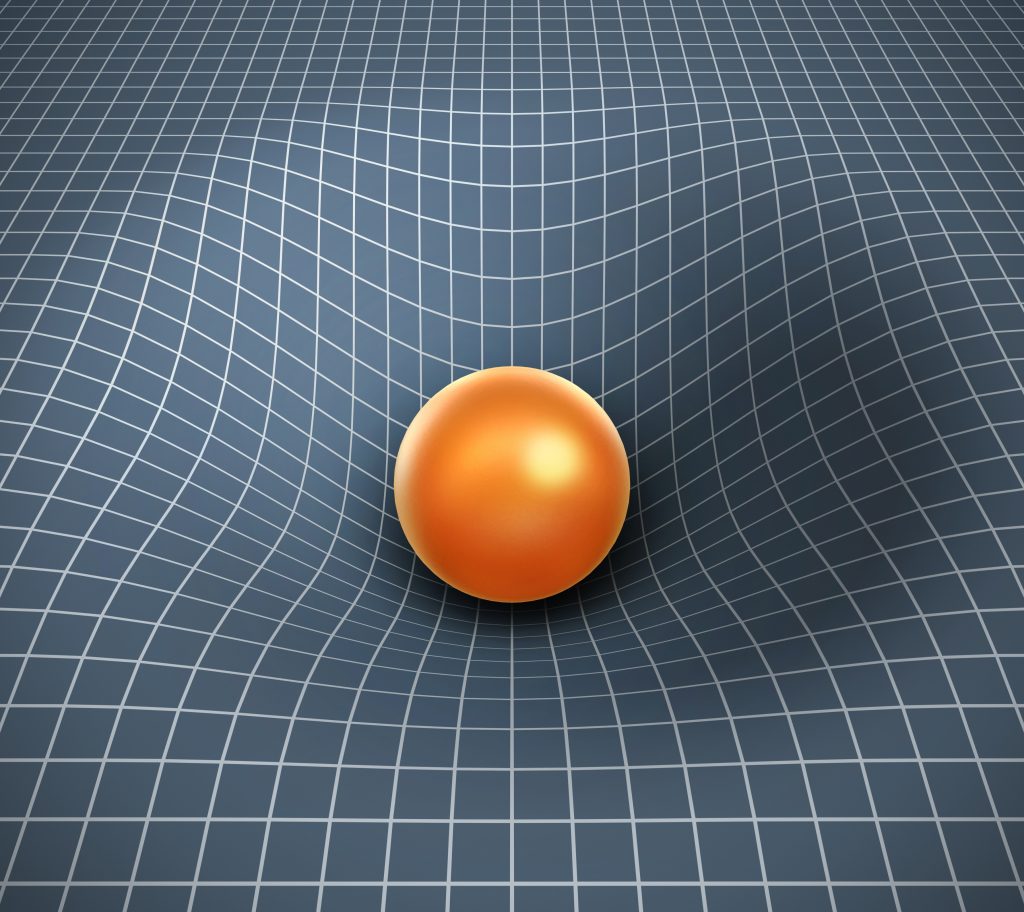 To further continue the metaphor – by creating the dent, you will get your traffic, as visitors in that area will be more likely to gravitate towards your site.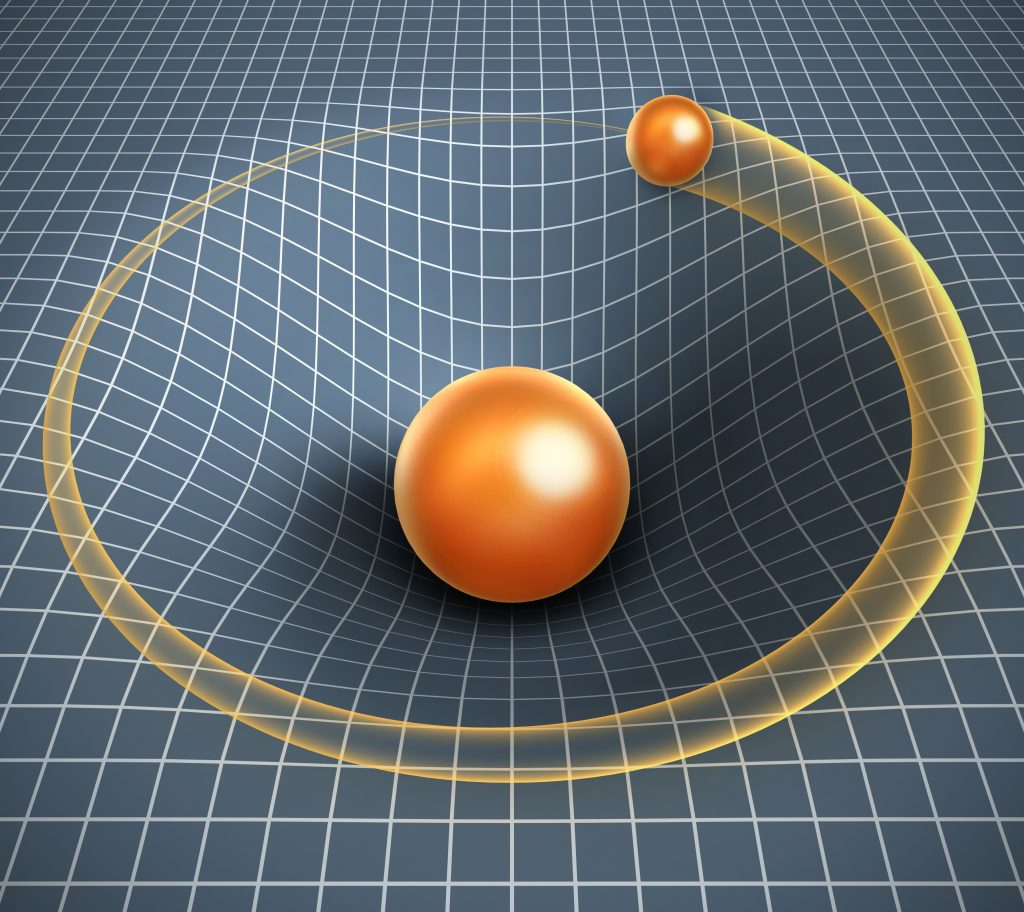 Massive sites create a bigger dent
This is where the metaphor really becomes useful.
Just like with objects in space – the more massive the site, the more of a dent will you create. Here's why.
How the dent is formed
There is no magic at play here. Nor is this a question of actual physical laws. It's just how Google works.
In a very general way, the Internet can be described as made of pages. Each web page has its own weight, determined by the quality of the content.
At this point, Google assesses that weight indirectly by assessing various factors, including links to that page. In theory, a single page can be "heavy" enough to create such a massive dent that Google will send it traffic anyway.
But that's rarely the case.
Google does look at our websites as entities. They're more than just a collection of random pages. Quality being equal, creating a website with multiple pages is going to beat a single page. And these days, the more quality pages you have in a single site, the better.
Here's why –
More aspects of a topic are covered – which means people can reach your site from various pages. That helps create brand awareness, or trust if you will.
Other websites are more likely to link to your pages. Your site simply offers a wider array of answers to specific queries which increases the chance of another writer finding your page and linking to it.
Your own internal linking becomes more substantial – and Google takes those into account as well.
These factors all contribute to what most people call the Trust Factor. And that's where your dent is happening.
Type of content matters
If I may carry on with my metaphor here, the elements which make up your website need to carry enough weight.
Note that I used the word "massive" earlier and not simply "large". Mass is the combined value of volume and weight of the substance.
If your mass is made of 1000 garbage pages, it's not going to work. Each of your pages has zero weight and they'll never generate enough mass to create that dent.
What counts as quality changes from niche to niche. That's where "User Intent" comes into play. You need to figure out what people are looking for in that niche and make sure your little planet is made of these exact same materials.
In other words, inject enough mass into each page if you want to create a site that's heavy enough to create a dent.
Consider the competition
Nearby objects affect your position in the space-time continuum. They cause their own gravitational dents in the matrix which could affect your area, pulling surfers away from you.
In competitive niches, you'll be surrounded by heavyweight objects. Possibly very near you. The area is so dented already, it could be extremely hard – even impossible – to create a significant dent of your own.
Which brings us back to the main lesson here:
Size matters
Unless you can find a relatively empty corner of the Internet, you need to be prepared to create a site that pulls its own weight.
In most cases, that means creating a large website with enough quality pages that give Internet users just what they were looking for.
How many pages is large enough?
That's a great question.
I've been in web publishing for over 20 years now. I remember the days where you could make sites with 5 pages and they did very well. Heck, we even had "one-page wonders".
As the Internet developed, we all adjusted our sites accordingly. A few years ago, a site with 30-50 pages could still do well.
If I had to give a number today, I would say "at least hundreds of pages". It all depends on your niche, of course, and the competition. In some niches, that would still be too small.
Active site promotion can help
I don't do any active "link building" but I do promote my sites on Pinterest. Whatever you do to actively promote your site can help. When done correctly, it can make your site appear more massive.
Is it really, though?
I would argue that unless you back up promotional efforts with enough mass, the effect is bound to be temporary. You have to focus on actually building its weight, rather than just trying to fake it in the eyes of Google.
Apply this concept when planning a website
When assessing your niche, take the competition into consideration and try to analyze what kind of mass their website has. This would be a combination of the number of pages they have and their quality.
Don't be deterred by very large sites. You may just discover that they are not made of very substantial materials. Some are – but some aren't. Just make sure you assess them correctly and be prepared to counter their overall weight with a massive quality site of your own.
Here's an example.
Let's say your niche is "Beauty and Skin Care".
That's a large niche with a lot of potential. However it also has huge heavyweight players. If you want to go for the niche as a whole, make sure you can build a content site with thousands of quality pages in it.
Otherwise, you may want to narrow down to something like "eyebrows beautification". Now you're looking at a much smaller area on the Internet (though still very large).
That area may still be affected by the weight of the giant sites in the overall "beauty" area, but maybe there aren't many good "eyebrow sites" around. You could make your own effective dent by creating a high-quality site about the topic in 150 pages.
In other words –
The larger the topic – the larger your site needs to be
Assuming you're going with quality – the size of your site should match the size of your niche.
Don't try making a general site about pets in only 50 pages. You're unlikely to create a dent in an area of that size with such a small site.
And watch out for micro-niches. They may seem appealing at first. You may see no competition to speak of around you – but if the niche is too small, your overall weight may not be enough to pull traffic away from giants around you, even if they have lower-quality content on the topic.