Why I no longer promote on social media (and the August Report)
I no longer promote on social media. Here's why. (August mini report included too!)
I've tried promoting on Facebook and Pinterest over the last three years, with varying results. Recently, I've made the decision to put a halt to all social media promotion.
I thought this would be a good topic for a post, sharing my reasons with others and hopefully, encouraging discussion in the comments. I learn so much from commenters on this blog and look forward to seeing what people think about social media promotion.
I also have some Ezoic news to share today. Oh, and yes, August has finally ended, so there's a mini report to share too, further down the post.
Table of Contents
Ezoic Customer Week (and Survey)
Before I get into the social media section, here's something that may be relevant to many of you. Starting September 13, Ezoic is holding a special event they call "Customer Week".
During this week, Ezoic will be announcing some new and exciting features and offering webinars with Ezoic executive staff. You can sign up and see updates on Customer Week here.
They're also collecting testimonials from their customers. If you're with Ezoic and would like to take a minute to submit your feedback to them, here's a link to their testimonials contest. They're giving away 25 Timbuk2 tech backpacks for winners, to make this worth your while.
In the interest of full disclosure, I am an Ezoic affiliate (here's my sign-up link) and I am also a member of a small group of publishers that Ezoic likes to get together once a month for updates and program announcements.
And now, back to the social media discussion.
Promoting sites on Social Media
Over the years, I've tried many ways of promoting sites on social media. Facebook, Twitter, Instagram, and of course, Pinterest – I've sunk many hours and a lot of money into them, in an effort to get more traffic.
For me, Pinterest had the best ROI, followed by Facebook. I never managed to get anything back from Twitter or Instagram.
Why promoting on social media is important
I promoted my sites on various social media platforms for two reasons.
First, I wanted to increase the amount of traffic coming into my sites. I figured since I'm investing in creating these beautiful posts, why not drive more traffic to them?
The other reason was that I wanted to diversify my traffic sources. Not just add to them, but make sure that my traffic – and therefore revenue – isn't coming from one source only (Google, in this case).
While I still believe that diversification is important to reducing risks, I will no longer actively seek to promote on any social media platform. At least for the foreseeable future.
This is a good point to remind everyone that I'm just sharing my own experience here. I'm sure there are many people who are still making a killing on social media. As with everything in this biz, your mileage may vary.
The social platforms' strategy
Web publishers have an interesting relationship with social media platforms.
Ideally, this should be a give-and-take relationship that benefits both sides.
When we promote on their network, we're creating content. Hopefully, it's quality content, in the form of gorgeous pins, or attractive Facebook posts. Better content means their users hang around for longer, driving up their profits.
In return, the social network allows us to link back to our sites, and divert a certain amount of traffic back to our sites.
The social network monetizes the content we give them, and in return, we monetize the traffic that they send us. At its best, there is a mutually beneficial equilibrium, where both sides make enough money to keep the symbiosis going.
The Honeymoon Phase
It seems to me like these platforms start out with a long phase during which they encourage web publishers to create content for their platforms by providing more traffic back to our sites.
For years, Facebook used to favor page content in their algorithm. All you had to do was –
Create a nice Facebook page.
Constantly feed it with quality posts, with links back to your site.
Encourage your blog visitors to like your page.
Voila. Facebook would make sure your followers see your updates in their feed. Many would click through and you got your traffic source.
Every web asset (including those by brick-and-mortar companies) had to have an awesome Facebook page, with lots of content. It made sense because that page drove traffic to our sites.
Facebook established itself as the must-have social media platform in everyone's marketing strategy.
A similar process happened with Pinterest.
During its first years, Pinterest devoured pins by web publishers. We all learned to make attractive pins that made their user experience better. We did that because it sent us a decent amount of traffic back.
And so Pinterest too became a "must-have" source of traffic in some niches.
The relationship goes sour
At some point, the social platform becomes stronger and the relationship goes sour.
A few years ago, Facebook adjusted its algorithms. Posts from pages, or pins from users, don't show up on users' feeds as frequently.
At least, not unless you pay to have them featured.
Free promotion on Facebook – and now on Pinterest too – is becoming harder by the day. These social networks outgrew their need for content and moved into the monetization phase.
This brings me to the main reason for me to stop playing the game with these two networks.
Traffic declined substantially
It's that simple. These networks don't send nearly enough as much traffic as they used to.
Facebook does its utmost to reduce the exposure of your content. Outgoing links get demoted in users' feeds.
Pinterest reduced the number of places where your link is showing up. More clicks for the user to get to your site. More hoops to jump through. Users may pin your awesome pins, but they don't click through like they used to.
Not enough control over content
When I publish on my sites, I have full control over my content. I can keep it or remove it as I see fit.
Whenever you publish on a network, be it Facebook, Pinterest, Instagram, Twitter, or YouTube – you're at their mercy.
All your hard work can be reduced to zilch if they decide to ban you.
Why would they? Who knows.
Unless you're a paying customer, you'll have a hard time figuring out what happened, let alone fix things.
I always prefer to own my content and own my traffic. To the best of my ability. And yes, I realize Google owns most of my traffic these days, but in my experience, it's more reliable than any social network.
Prioritizing resources
In the end, the decision to stop pursuing social media came down to prioritizing resources.
Publishing over six hundred posts a month, we simply couldn't keep our social media efforts going as before. I had to make a quick decision – cut down on social media, or cut down on the number of posts.
I could have opted for hiring more VA's to handle the extra load but decided it just wasn't worth it.
The ROI for publishing more content is higher than the ROI for social media promotion. We'll probably end up hiring more VA's but when we do, they'll be working on getting more content published.
When will I pick up social media again
The ability to diversify traffic sources is still very appealing.
Maybe if a new social network shows up, and woos publishers during its honeymoon phase, I'll jump back in. Or possibly one of the existing networks decides to change its ways and send more traffic out.
It could happen, and I'll keep an eye out for that.
My guess is that switching back to social media won't happen in the foreseeable future.
Having said that – the foreseeable future in web publishing could be as short as a few months…
I'd love to hear from others about how they do on social media. I'm sure some web publishers can make it work well. I couldn't. At least, not to the point where it becomes more cost-effective than publishing new content.
And with that conclusion, let me share my stats for August.
The August 2021 Traffic And Revenue Report
August was the same kind of "boring awesome" as previous months. Traffic keeps increasing, and revenue follows suit. This month, we had slightly slower growth in traffic, but RPM rates were higher than in July, so overall, a similar increase in revenue.
Traffic on the niche/content sites went up by about 8% from 2,103,744 to 2,270,995 pageviews.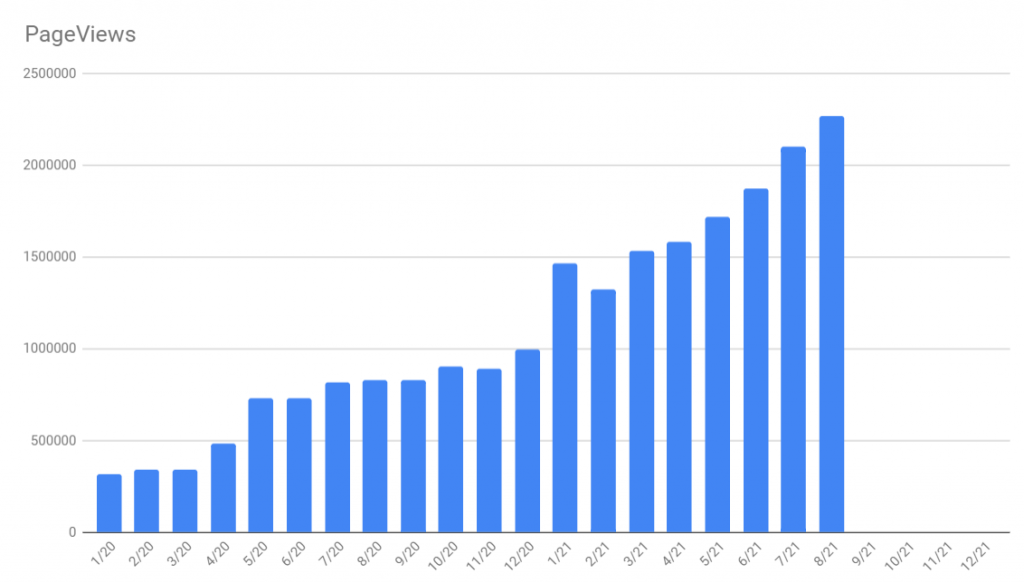 We have an additional forums site that we're keeping out of this chart because it has different traffic patterns. That site brings in an additional 1.3 million pageviews every month.
As for revenue, we went from $83,783 to $90,196. That's an increase of almost 8%, corresponding to the increase in traffic.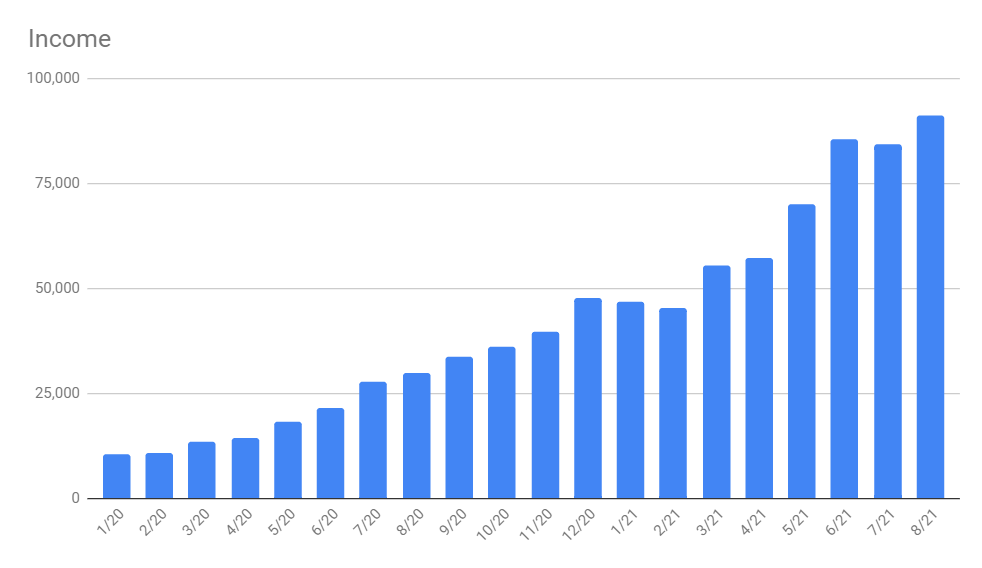 Our expenses in July
As always, this section is more about estimating our costs than tracking actual expenses. I also try to break it down to running costs and investment in content.
This is getting exceedingly more difficult though. As we've become an LLC and have expanded production, there are more overhead expenses.
In previous reports, I used to focus on expenses that would be relevant to readers. For example, I didn't take into account the cost of computers, desks, and chairs. They all show up in our company P&L though. Should I include them here, or not? I'm not sure.
Maybe I should have an additional annual report with more figures. I wanted to mention that though, to explain why the expenses here are mostly estimates.
Running costs
These are the costs we'd have to pay even if we don't publish a single post. I haven't specified them in a while, so here's a rough overview of the breakdown of monthly costs. Some of these are based on annual payments, divided by 12.
Hosting and server admin fees – $800
Software (paid plugins and other tools) – $200
Insurance – $120
One VA (I'd keep that if we were to stop publishing) – $720
Accountants – $500 (we actually pay accountants around $1100 a month and will be paying a few additional thousands at the end of the year for filing. But we won't be paying as much if we were to stop producing content and scaled down to "skeleton crew" mode.)
That comes to a total of $2,340. These would be our expenses if we decided to stop content tomorrow.
As usual, I prefer to round this up to $3K in general expenses. That's on top of the cost of each post. It's probably a bit too much, but I prefer to err on the side of caution.
Investment in Content
So far, I've put the production per post costs at $70 per post. That number includes –
writer fees
editing fees
VA fees
Stock photos
Additional overhead
In August we offered writers a $10 bonus per post, to encourage more writing. So for this report, I'm going to calculate $80 per post for expenses.
And that bonus worked – we published a record number of posts. 601 to be exact.
All in all, our content investment in August came to $48,080.
Adding our running costs brings us to a total of $51,780 in expenses.
The Bottom Line
$90,196 in revenue and $51,080 in expenses brings us to a total of –
A total of $38,416 in profit
That's about $3,000 less than what we made in July, but as long as this is the result of increased investment – rather than a decline in revenue – I'm pleased.
What September holds
Traffic and Revenue wise, September was off to a surprisingly good start. I was expecting the usual beginning-of-month slump in RPM, combined with a holiday weekend traffic decline.
Knock on wood, the last five days have been very good. If we keep up the current pace, we're on track to making $97K in revenue this month. Who knows, if RPM rates and traffic keep increasing, we may be looking at our first six-figures-month? This would be three months earlier than expected.
I plan on taking some time off from work this month, for the best of reasons. When we moved to the US, we left our 19-year-old son behind to finish his master's degree in computer science (yes, he's one smart cookie).
Being away from our Ron is the most difficult thing about this move. Both our sons were homeschooled, so we're very close and not at all used to being apart.
With the rising covid numbers, we weren't sure whether we'll be able to see him this fall. Thankfully, the third Pfizer dose came to the rescue! We're all fully vaccinated now with three doses, so I think this is as safe as you can get these days for an overseas visit.
My son will be here until the third week of September. I plan on sinking my teeth back into work as soon as he leaves, hoping to avoid separation blues.
And here's a teaser: I'm working on a special project with Jon Dykstra that will involve Yeys.com and his Fat Stacks course community.
Stay tuned for more info in my next post! We'll probably announce everything in the Fat Stacks forums first, where I'm an active participant. I would link to the forums, but it's a members-only area. If you already purchased the Fat Stacks course, you should have access. If you haven't, here's my affiliate link.
You can read here why I recommend this course. I wouldn't be here to report almost $100K in revenue today had it not been for that course.