2020 Traffic and Revenue Report
It's finally 2021 and a good time to look back at 2020 and what it's been like for our business. If you've been following my blog, you probably already know what our reports used to looked like throughout the year. I've been publishing detailed reports until September, and they are still available here.
I stopped publishing detailed reports in Q3 due to lack of time. We've increased our production rate around that time and ever since then, I've been super busy. Coming up with 400-500 new topics each month is quite challenging, as you might expect.
Today, I want to catch you up on what's happened during Q4, and specifically December. I've mentioned October and November in previous posts, but it felt like December deserves it's own post, along with an overview of 2020 and a lookout for 2021.
Overall, December was pretty awesome for our business here. We reached an all-time traffic high of 879,260 pageviews across the sites that I've been covering here in Yeys. Not only that, but we've had more $36,066 in revenue from those sites! That was almost $4,000 more than what we made in November, which was a record month for us too.
Mind you, we're not expecting the same kind of revenue in January. Looking at the first week data, traffic is trending up but not nearly enough to offset the drop in RPM rates (typical of Q1). Let's take a look at 2020 as a whole.
2020 Overview
2020 was certainly one for the books. When most people say that, they mean to say it was a dreadful year. After all, it's not every year that we have a global pandemic. Beyond infection rates and the death toll, the economic impact was massive.
Fortunately for us, our own little industry – publishing content and monetizing on the traffic – did quite well. After the initial shock-and-awe phase, traffic boomed and ad rates followed. At least in most niches.
We've seen this with our own sites. While our travel site pretty much crashed, our other sites did quite well, benefiting from higher-than-average RPM's.
Those high RPM's weren't unique to our sites. In fact, you can easily see the COVID effect in Ezoic's Ad Revenue Index. RPM's went down when COVID19 hit the US, and then bounced back and were generally higher than in 2019.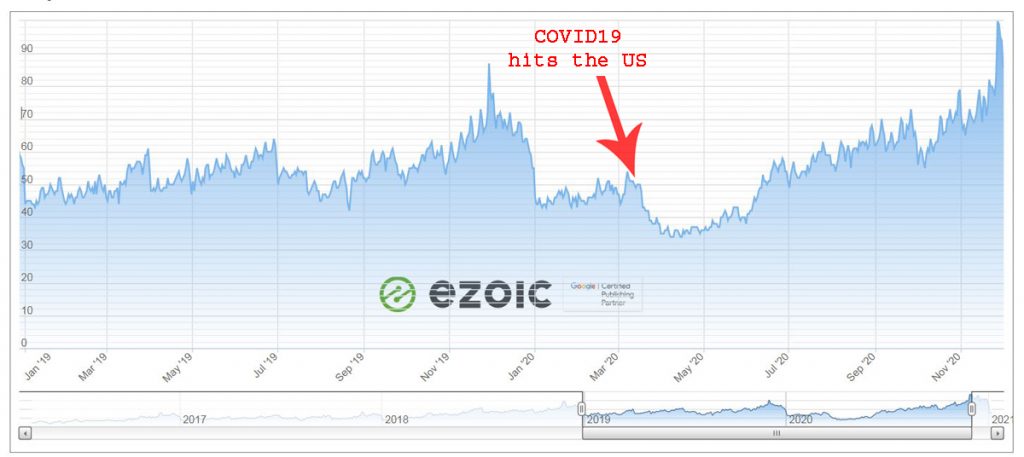 Part of the increase in Q3 could be attributed to the evening out of annual advertising budgets. Companies that stopped campaigns during March, April and May, put that money into Q3 and Q4 instead. But it's also entirely possible that we're seeing a real increase in online advertising budgets, reflecting the fact that people order online more now.
While RPM rates dipped during the second quarter of 2020, traffic boomed in some niches. I blogged about that here, with examples from Google Trends.
How our business did in 2020
When 2020 started, I had this crazy fantasy that we could make it to $20,000 a month in revenue. My husband thought I was being unrealistic. I proved him wrong by June. By October, he left his day job and joined me in managing the business.
This is what our revenue growth looked like in 2020. I still can't believe this gorgeous chart.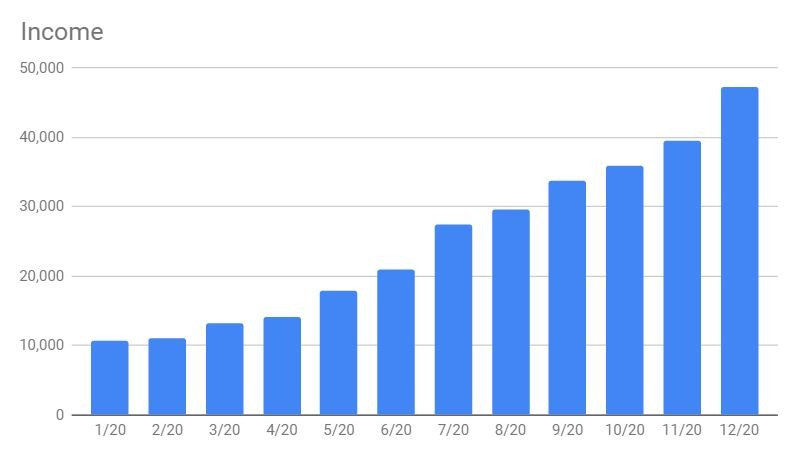 Mind you, the above chart reflects our total revenue, including our flagship site (the one I haven't covered in Yeys reports so far). Which is no longer our flagship site, as it happens. At least two other sites earn more per month.
So yeah, we've actually made over $47,000 in December. I'm still having a hard time wrapping my mind around that figure.
Expanding Our Business
We've been growing the business over the year. Back in January we had four VA's, two part-time editors and around 20 freelance writers. We were publishing around 150 posts per month.
In December, we had six VA's,  three part-time editors and more than 60 freelance writers. We produced a total of 451 new posts. We also have two people – my husband and I – managing the entire operation. As it turned out, we work very well together, complementing each other's skill sets and overall the synergy is good.
Plans for 2021
We want to keep blog posts at the 400-500 posts per month level. We have four new websites that we launched in Q4 and hopefully they'll be coming out of the sandbox later this year.
You'd think that simply managing the business would keep us busy. But just to make sure things don't get too boring, we plan on moving to the US in the summer. We want to expand our operation while having "boots on the ground", so to speak.
Of course, we need the American embassy in Israel to open first. So, COVID plays a role. Fortunately, Israel is moving fast with vaccinations, and I'm happy to say all four of us here (husband, myself and both our teenagers) already had our first dose of the Pfizer vaccine. Bar any nasty mutations, I'm hopeful that infection rates will go down by March, and we can move ahead with our plans.
Let me tell you, moving a business to another country is anything but simple. While we're just a tiny business, there are still tax implications galore. We're sorting everything out using a team of CPA's and lawyers and there's a lot of paperwork to go through.
You could say we're fairly busy these days! And that's also why I am keeping this post short.
Thank you for reading so far, and for being a part of our journey during 2020! Hopefully, there will be more interesting things to share in 2021 as well. I'm going to make an effort to post here regularly. I actually appreciate the opportunity to be able to take a break from my other tasks and write, once in a while.