I was going to keep March "mailing-list-only" but this review – and promotion – were too valuable to miss.
If you are an email subscriber, you already know that I'm switching over from using writers to using AI content. We named this AHA! content.
AHA stands for AI Human-Assisted.
The exclamation mark is there because it's a pretty big move for us.
In other words, we don't automate AI articles but instead use AI to do the heavy lifting while under human supervision and guidance.
I've covered why and how in the email and won't repeat it here. Today, I want to share my review of the AI article generation tool that we currently use: KoalaWriter.
This review is published here on the blog and will also be sent to Yeys subscribers. In a couple of days, I'll send out an additional email – exclusively to subscribers – with a few published examples of KoalaWriter content on two of my sites.
If you want to see KoalaWriter in action on my sites – subscribe to the newsletter.
But, first things first –
Exclusive discount coupon!
Connor from KoalaWriter has introduced LifeTime Deals today. He generously offered Yeys readers 30% off on all plans from Professional and above!
Click here for the LifeTime Deal and use coupon code YEYS to get the discount
Update: Lifetime deals and discounts are no longer available, but you can still buy a subscription for Koala using this link
Disclaimer: I am an affiliate of KoalaWriter. If you're reading this post, you should have figured that out by now, or you might be in the wrong business. Just saying.
I approached Connor from KoalaWriter, asking to become an affiliate after I bought my plan and loved the service. The following is my review and is based on my experience.
As always, I only share what I do and how it's working out for me. Your mileage – and opinions – may vary. And that's ok.
KoalaWriter Review
Before we get into KoalaWriter, the Koala site actually includes two services: KoalaWriter and KoalaChat. Both are based on OpenAI's ChatGPT.
KoalaChat is a ChatGPT-like interface with access to real-time data (aka internet access). Pretty cool if you want to get referenced answers with links that actually work.

While it doesn't accept visual input – yet – you can actually use it to generate image descriptions!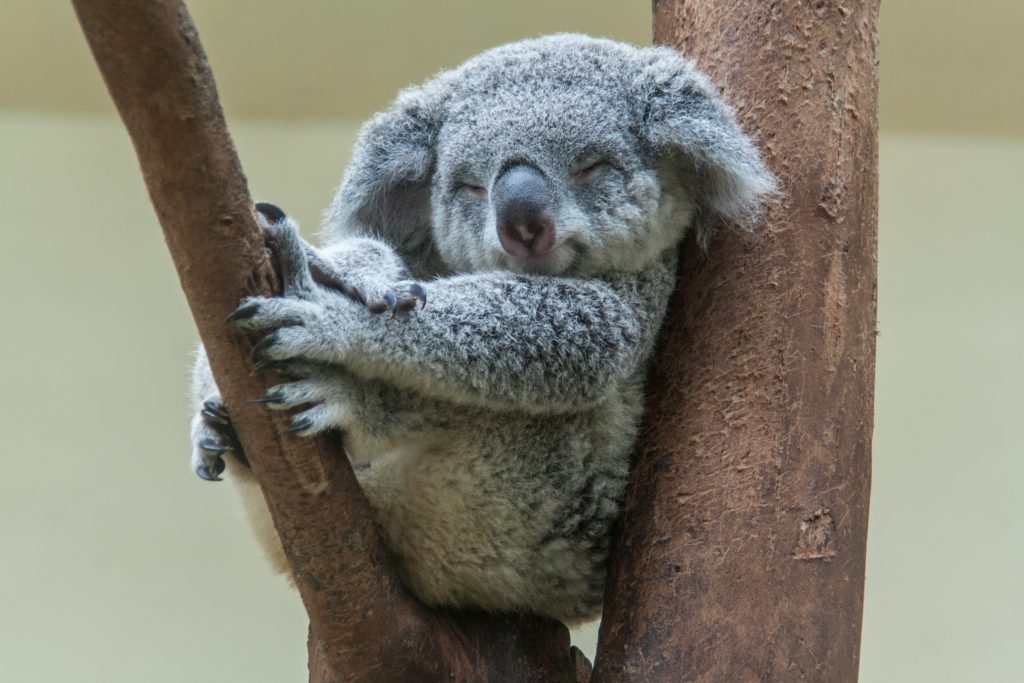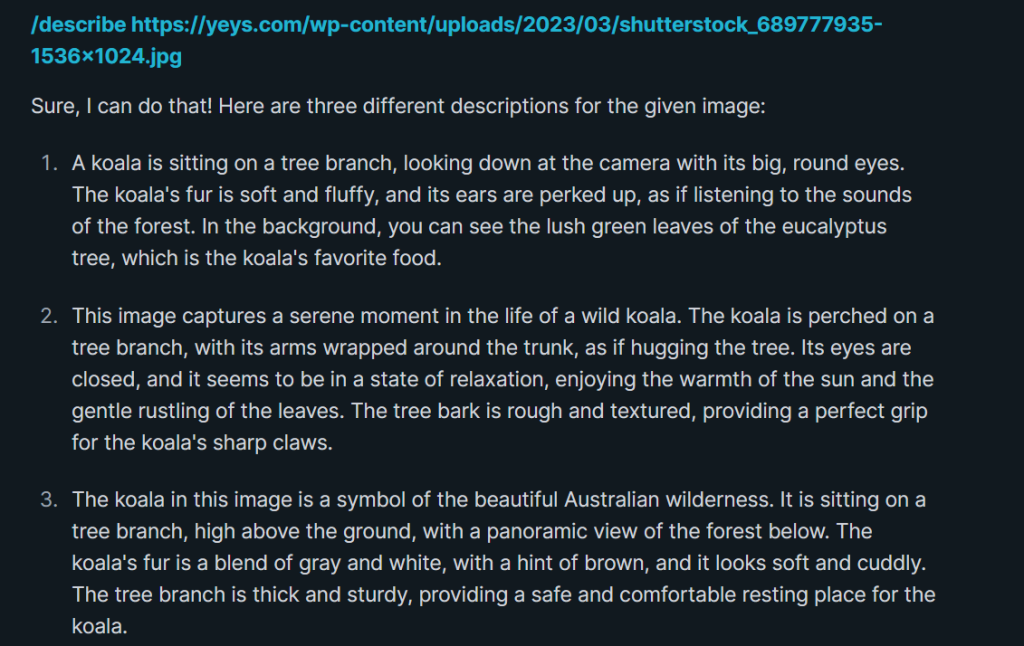 As far as I know, ChatGPT isn't really "seeing" the image, but KoalaChat uses a workaround to get that description. It's worth mentioning because there can be some hallucinations in the description.
But generally speaking, by using real-time data, I found that KoalaChat is less likely to hallucinate.
I can't say that I've used it extensively, though. Just because I was too busy using KoalaWriter.
KoalaWriter and how I use it
I chatted with KoalaChat and drilled down on a specific topic to find the common questions people ask about it. I didn't even use Google auto-complete or check for competition to decide on the topic.
Who cares when the cost to produce the article is so low? If the topic sounds good, I might as well give it a try.
Once I had my question, I headed over to KoalaWriter and used the form. I like to fill in the various parameters, but it would actually create a decent article even if you didn't.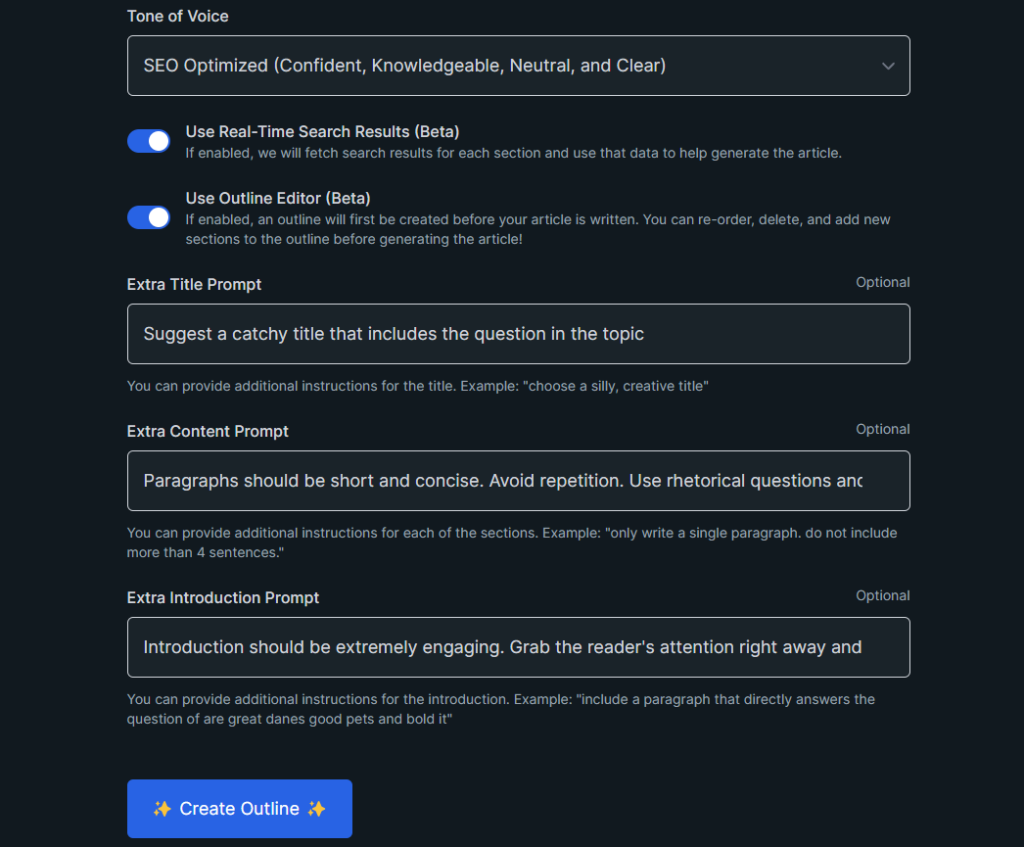 If you want to know what the topic was and what the full additional prompts were, I'll be sharing those in my next email to subscribers.
Next, I clicked on Create Outline.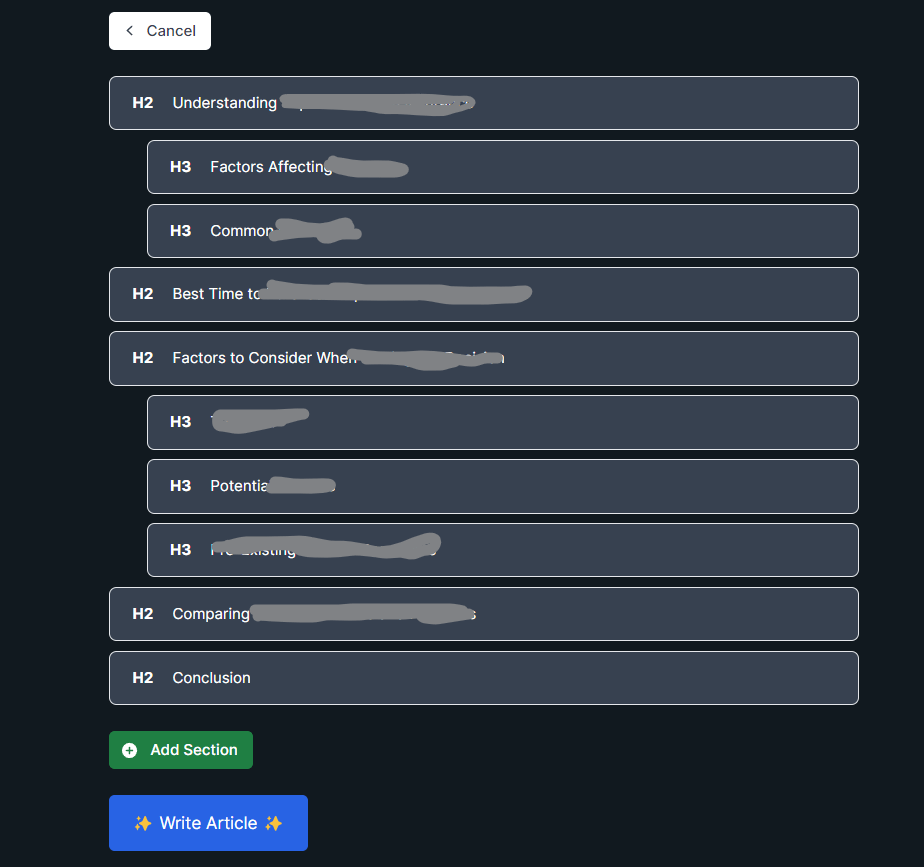 The full screenshot will be shared in my next email – I prefer not to have it out here on the blog, sorry!
I decided to adjust that last heading. I don't like the generic "Conclusion" heading. I changed it to something that re-focuses on the question with a recap.
And then I hit that blue magic button that says "Write Article."
And voila! KoalaWriter delivered what I consider to be a high-quality article. The kind of article I would have paid a human writer around $80-$100 to deliver. And it would have taken them several days to fully research and write.
Fact-checking KoalaWriter
I tend to trust GPT4 because it was built to excel in conciseness. KoalaWriter also uses online information, so there are links in the article to reference the claims.
And just to be sure, I broke the article down into a few sections and asked Bing to check them for me. Bing fact-checked and was happy with all of the sections (not surprising, I guess, considering this is also a GPT4 manifestation).
I should mention here that I have had KoalaWriter texts fact-checked by two experts so far.
Checking for Plagiarism
I ran the text through a plagiarism checker too. Just to be on the safe thing. It came out as original. Again, not surprising.
What about an AI Detector?
I did not run the text through an AI detector. If anyone wants to do that, they can. I'll share the URLs of a few of these posts in my email.
But guess what? I even added an acknowledgment in the article stating that the article was written with ChatGPT's help. I see nothing wrong with that. Credit where credit's due. And I believe that's actually in line with OpenAI's TOS.
What I love about KoalaWriter
It boils down to a single line –
KoalaWriter generates better content than our average writer – at a fraction of the cost.
I could use ChatGPT to create an article, but then I would need to use a few more prompts and possibly clean up the text a little bit more. KoalaWriter is easier and more suited for scaling.
Connor – the developer behind the Koala – is a member of the FatStacks forums (members only). He understands content websites (aka niche sites) and created a tool that's tailored for publishing blog articles.
At the same time, it's not fully automated. Or at least, I don't use it that way. I still adjust prompts to better fit my preferences and needs.
That's why I call this AHA – AI Human Assisted content.
The Koala keeps evolving
Connor keeps adding features. What's more, he is open to feedback. I was discussing the importance of outlines with him just last week, and here it is now.
I like that. Both the fact that there's constant improvement and the speed and efficiency with which he implements them.
The price is fantastic
Actually, it's more than that. I think it's dirt cheap for what you're getting here.
If you grab the lifetime professional plan, even if you're only using this for a month, you're only paying half a cent per word.
The rest is free. For life. You get 60+ articles a month for free, forever.
And if you apply the YEYS coupon, you're getting a 30% off on that price (applies to the Professional plan and above).
My only reservation
AI moves forward incredibly fast.
Right now, KoalaWriter is my tool of choice. What happens next? I don't know.
That's why I calculated the deal's worth based on a month's usage. For me, getting this quality of articles so conveniently and at that price is unbeatable. The rest is gravy (and there's lots of it!)
BTW my hunch is that Koala will remain the best tool for my needs for months to come. Based on how good Connor is with constantly updating and improving it.
Wrapping this up with my CTA's
Click here to grab your Lifetime Deal of KoalaWriter. Use coupon code YEYS for a 30% discount.
And if you want to view the results on two of my sites, including the full prompts I used, hurry up and subscribe to my mailing list. That email is coming out in a couple of days.