My Work Routine and How I stay Focused (or try to!)
Sharing my daily work routine and some productivity tips that help me stay focused
I didn't think I'd have the time to squeeze in another post this month, but a blog reader asked about it, and I figured, hey, why not turn the answer into a post. After all, I don't have to research anything – just share my own experience.
Thanks for providing me with the idea, AdamS!
Your Mileage May Vary
If I'm ever going to get a tattoo, it will say:
Your Mileage May Vary.
I'm about to turn 50 in July. Over the years, I've learned how different people can be from one another. What works for me won't necessarily work for you and vice versa. It's true in web publishing and in life in general.
I thought I'd open with that little bit of insight because I'm about to share some personal experiences and tips and tricks that work for me. Some may apply to you; some may not. If you read about anything here that resonates with your, I hope it encourages you to give it a try. Worst case, you've tried something that didn't work for you.
Work Routine Challenges
If you think that I'm kind of an efficient work machine – you're wrong. I don't consider myself a very efficient person. Effective – yes. Efficient – so, so.
You see, I am officially diagnosed with ADHD. I get distracted very easily. I sit in front of a window with a view of the local lake, and I literally get distracted when a pretty bird goes by (and they do pretty frequently).
Unfortunately, health reasons prevent me from using ADHD medication. Some days, I'm okay with it. My brain is flying in all directions, and I come up with some creative ideas for the business. Other days, I just need to sit my butt down and come up with topics, and I really wish I could pop one of my son's pills, but I can't.
On the bright side, I have developed some coping mechanisms during decades of dealing with my funny brain. I'll share them here.
My Work setup
Alas, I don't have an actual office room. I have an office space, and it's located in the areas where the dining room or family room is supposed to be.
I have plenty of room around me, and I don't share this space with anyone, but there's also no wall separating it from the other common areas in this house.
That means that whenever my husband or son gets to the kitchen (which happens hundreds of times a day, it seems), they're "in my office." I really like them, so it's fun to have someone drop in and talk to me.
My desk setup
Here's my current workstation –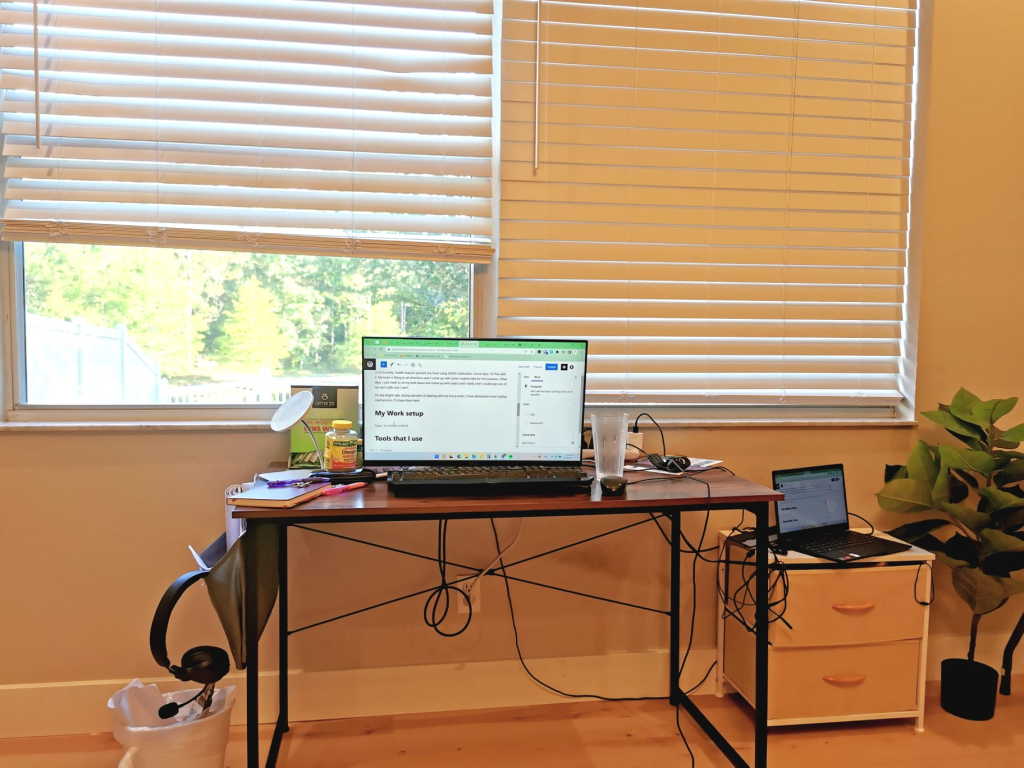 It's very bare-bones. I have a laptop and a docking station with a screen, a keyboard, and a simple mouse. There's a webcam on the desk and a headset hanging on the left.
The green box by the wall is for lens wipes for my glasses. You can also see my omega-3 pills. I don't know if they really help with anything, but I sometimes take them – when I remember to.
The empty glass there is where I had my ice coffee this afternoon. I typically have a glass of water next to me. Sometimes I get a decaf diet coke.
The notebook there isn't for work. It's for when I make phone calls. I have to draw stuff and doodle when I'm on the phone.
Full disclosure: I also eat by my desk. It's a terrible habit, but I like to use that time to read blogs, forums, or Twitter. Just eating without a screen is torture, so I might as well do something useful.
I do have a decent chair. Nothing fancy, but a decent office chair with armrests and adjusted for my height.
My tip for setup: My screen is on an adjustable mount arm. That allows me to keep moving it around as I change my posture. Also, it's best to keep the screen lower than your eyes. If you keep looking straight ahead or up, your eyes get dry faster.
Tools that I use
Okay, moving on from my gorgeous desk.
I have just a couple of tools that I use to keep focused.
1. My to-do list
I use Clickup for my to-do list.
Before I used Clickup, I used Toodledo. Before that, I used a notebook, but that didn't work out very well because it was challenging to maintain. I tend to just doodle over the paper, and it gets messy.
Clickup works best for me because my daily to-do list is fully integrated with our task management environment. I blogged here about how I use Clickup to run my business.
Let's say one of our employees needs my input on something. They know that the best way to quickly get my full attention is to create a Clickup task and assign it to me with that day's date.
I arrange my tasks in the same way. Whenever I need to do anything, I create a Clickup task and assign it to myself with a date. Always.
This is what my to-do list for today looks like –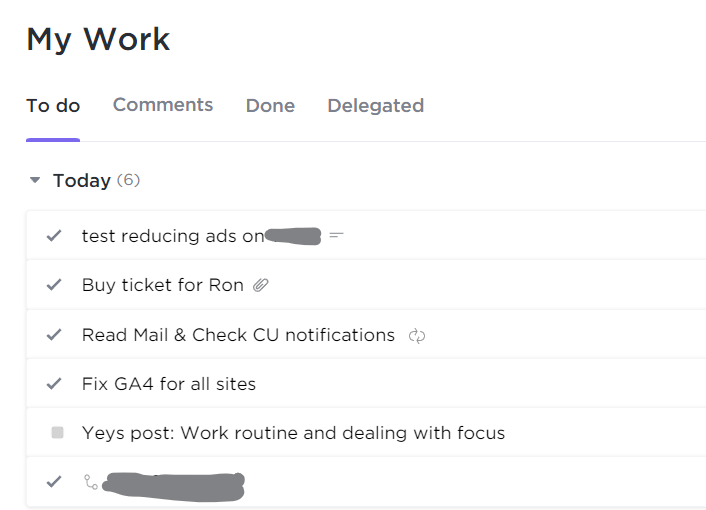 If I'm in a rush and don't have time to create a task, then I do this –
1. Hit "R" on Clickup to bring up the reminder box.

2. Type in something in the reminder.
3. Hit enter or save.
Voila. A reminder shows up on my to-do list for that day. When I get around to it, I can now turn that into a task (or just complete whatever it was if it's a small thing to do).
2. Using Timers
You can't see it in the photo there, but there's a small Google home thingie on my desk. Like an Alexa or Siri.
Sometimes I use the Pomodoro technique. I just say, "Okay Google, set a timer for 25 minutes". Then I start working away. It creates a sense of time pressure, increasing adrenaline levels, which can help me focus.
It would work just as well with a smartphone, but I like talking to my Google thingie. Whenever it replies, it reminds me what a long way AI still has to go and how we still need humans to write our content.
The Pomodoro technique loses its edge over time, so I can't use it all the time. I keep it for difficult times.
My Work Routine
AdamS asked me to share my daily routine, including how many days/hours a week I work. Here goes.
Daily Routine
Most days, I just wake up in the morning. The exact hour varies. It can be as early as 5am or as late as 8am.
I know 8 am doesn't sound "late" to those of you who are in your 20's or even 30's. Trust me, it's late when you're in your late 40s. The body's biological clock changes over the years, making it difficult to sleep in the mornings.
Rant: We have an annoying red cardinal that comes over my bedroom window and apparently shoots laser guns at other birds precisely at sunrise. It sounds like this –
The stupid thing (and I love animals!) stays there long enough to make sure we get up and then moves on to the next house.
I'll skip my morning bathroom routine if you don't mind.
I then go downstairs and make myself a cup of coffee. I had a Moka pot, but its seal broke down, so I had to throw it away. We're moving to a new place next month, so we're downsizing, and I'm not buying a new one just yet. For now, it's either drip coffee or instant.
I have a fantastic cup for the coffee though! Mediavine sent me a cool thermos and a couple of thermic cups when we became premiere publishers –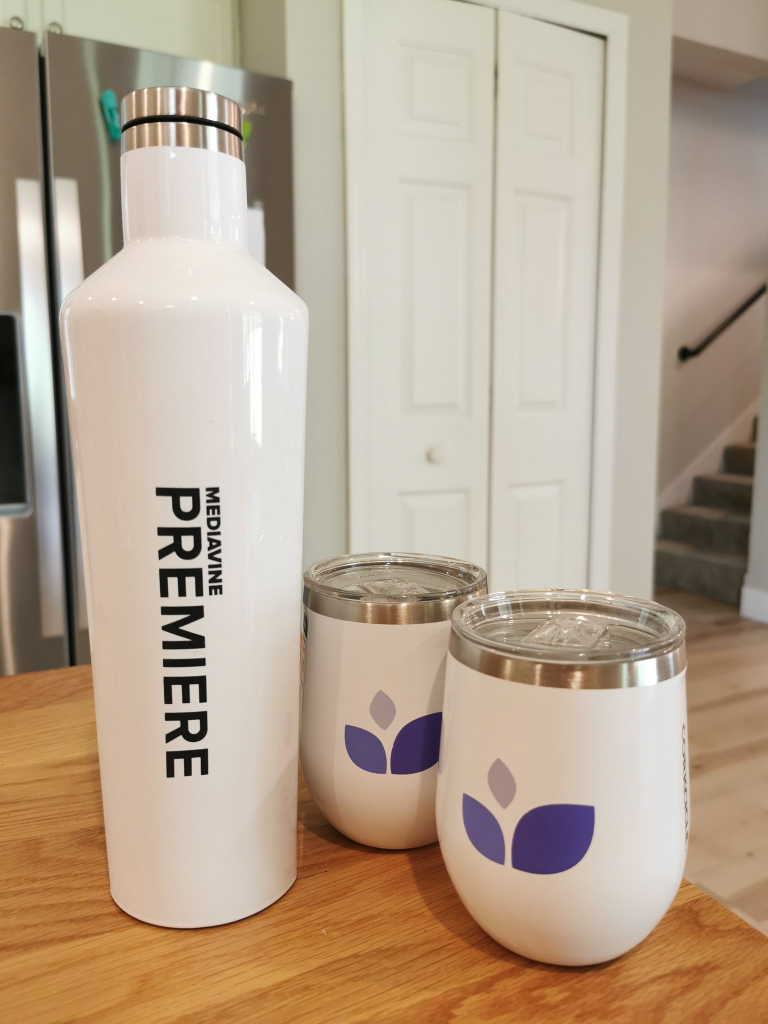 Those metal mugs keep the coffee hot forever. I'm a slow coffee sipper, so this is nice.
Coffee in hand, I go to my computer and start my routine. It goes like this –
Check emails
Check Clickup notifications
Check my Skype chat channels
Look at my to-do list
And I just take it from there.
Once a week, it's Zoom Calls Day. That's when I have routine zoom calls with our Head of Production Division, Head of Publication Division and COO. I wear a nicer shirt for those, and I put on some makeup if I'm in the mood (although the filters are usually enough).
Here are some examples of tasks that I am dealing with this week –
Find new topics for a bunch of our sites
Add GA4 views to all of our Google Analytics properties
Test some ad optimization tweaks on Mediavine
Switch one of the sites from Google Suite emails to Mailgun
Test optimizing 2-3 posts for revenue
Go over a new post format that our Head of Publication is working on
Buy a flight ticket for my son who's joining us in the US in August (woohoo!)
Talk to our accountants about end-of-year reports (yuck!)
Work hours
It changes from one day to the next. I don't have set hours, except for those planned zoom calls.
I typically take time off in the middle of the day to take a nap.
I also take at least one hour every day for exercise. Three times a week, I do my Pilates routine. The other days I walk outside. We're currently in Florida, so walking outside is becoming more challenging and has to be done early in the mornings.
Next month we're moving to a house in Ilinois with its own 2 acres of forest land! I plan on hiking in our own backyard – it should save time on driving to and from a trailhead.
Days of the Week and Holidays
Typically, I work 7 days a week. That's not a good thing, as it can lead to burnout. I am familiar with the signs of burnout, so I just work until I feel like burnout is around the corner, and then I take a day or two off.
When I say I take a day off, it means I still do the following –
Read my emails, check our Skype channels, and check Clickup notifications. And reply to anyone in our organization who needs my input.
Once in a while, we take the day out to do something more "touristy," like drive to one of the beaches or springs in Central Florida. Or we might head out to watch a rocket launch. But generally speaking, I am by my desk at least 8 hours a day, seven days a week.
I do hope to be able to reduce my hours within a year or so. I'm training a couple of new employees on how to find topics. If that works out – which remains to be seen – I should be able to decrease my workload quite significantly.
Of course, my ADHD brain has already come up with plans for new projects once I become available, so I guess we'll see!
Tips and Tricks
AdamS also asked this –
How do you avoid distractions and stay focused day in and day out (e.g avoid time wasting mobile phone apps or getting distracted while looking for keywords etc).
So, the answer is –
I don't.
I don't stay focused day in and day out. I don't even stay focused throughout a single day. I waste time on my phone, and I get distracted. All. The. Time.
I've learned to accept that.
Getting organized and sticking to my to-do list helps me stay focused most of the time, but yeah, I waste time sometimes. I think we all do?
Elon Musk's Twitter feed shows that wasting time on social media doesn't mean you can't become rich! Or send people into space!
Still, you need some amount of focus when you work. So here's what's helping me –
Using a Top-down approach
One thing that helps me stay focused is using a top-down approach to projects.
I create an outline for the project (usually in my head, sometimes typing it out) and then use that to break it down into manageable tasks.
It's very similar to the way I write a post. The outline comes first. I create a list of headings and then fill in the content under each one.
Projects are just like that – you should always be able to break them down into manageable bites.
Finding the time in the day that works for you
As I mentioned earlier, my hours are flexible. Over the years, I've learned which hours work best for me for specific tasks.
For example, it's usually easier for me to focus on writing in the evenings, so that's when I write posts for Yeys.
Playing Music
Music helps me concentrate. I need happy beats and preferably high volume. I don't use music all the time, but when I need a pick-me-up to focus, I tell the Google thingie to play one of my upbeat playlists on Spotify.
I think the music gives me an adrenaline boost, and that helps me focus.
With some tasks, movies/TV can help. Especially horror shows. The dumber, the better. Ghost Adventures is my favorite. All that shouting, ominous music, and jump scares are great for little adrenaline boosts. And I don't have to use an iota of my brainpower to follow the show. It can just run there in the background.
Taking lots of breaks
ADHD can also make me hyperfocused on some tasks. I need the adrenaline boosters for repetitive, monotonous tasks, sure. But when it comes to something interesting, I can quickly lose track of my surroundings and hyperfocus.
It's good, and it's bad. Physically, working non-stop is bad for me. My eyes dry up, and I get headaches. To avoid that, I force myself to take short breaks. Just walk up to the fridge and re-fill my glass of water. Maybe stretch a little.
Every couple of hours, I'll go outside and check out the pond to see what's happening. There's always something interesting going on outside. A few days ago, my husband walked out to take a picture of a huge Eastern Lubber and almost stepped on a large black racer (that's a snake). Lucky him. I wish I could see it, but it was gone by the time I went out.
Letting go – some days just don't
I don't think anyone can keep the same level of focus day in and day out? Or at least, I don't know anyone who can do that. If you can, leave me a comment and tell me what your secret is.
I've come to accept that some days just don't work out. Or they just don't. Period.
Sometimes I don't even know who or what is to blame. It could be circumstances. It could be me. I just know that I'm having a very difficult time getting things done.
And that's okay. I've come to accept that.
Don't tell anyone, but I sometimes just pop on something on Netflix and sit down to crochet for a while.
It's All Work in Progress
I started this post by saying that your mileage may vary.
I should add that my mileage also varies. Not just between days but also over time. The way I manage my business and how I stay focused keep evolving and changing. I keep changing.
The bottom line is: What worked for me in the past may not work in the future. And also, I may find new ways to work effectively. Who knows, someday I may even learn how to work efficiently too!
I hope you found something helpful in this post. I'm curious to see if any of these techniques can help others. I know they're not much, but they've helped me build a successful business, so maybe they're not totally useless. If you did find any of this helpful, please leave me a comment to let me know.
I'm always eager to learn more from other web publishers! So if you have productivity tips of your own to share, I'd LOVE to hear them! Let me know in a comment how you manage to make more out of your work hours.