Everyone knows that great content is crucial for the success of a blog. By creating awesome quality posts, you're far more likely to get social shares and organic incoming links. Sounds like an easy-to-follow formula?
Ahh, but only if you can identify what makes a blog post really great for your readers. And trust me, that is not easy.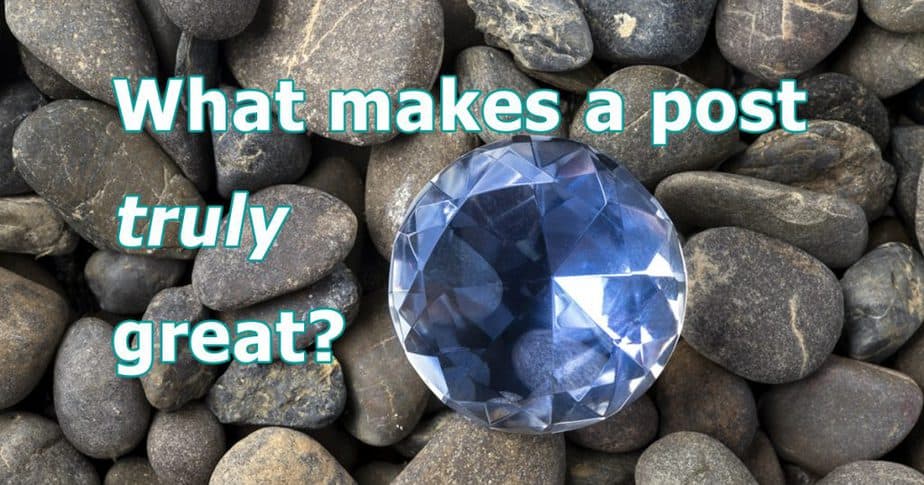 Why great content matters
Whether you are trying to get your traffic through social media channels or via Google SEO, there's one rule that always holds true:
~ Offer great content ~
Great content pretty much markets itself. All you need to do is jump start viral sharing. If you have enough of a following, that will pretty much happen by itself. Once great content starts "making the rounds" it becomes viral because people want to share the awesomeness with their friends.
Great content is also the cornerstone of SEO. Ideally, other bloggers will link to your post just because it's so absolutely and irresistible awesome. All of these organic links will eventually make Google realize what a gem your post is, pushing it up in the search results. Bingo!
What makes a blog post really awesome?
How can you tell if a post is really awesome?
Lots of recipes for writing great blog posts out there. I'm going to briefly cover the most commonly discussed aspects and then tell you why they're not necessarily important. They mean absolutely nothing when it comes to determining how great your post is, and I'm going to show you why.
First, the attributes which people often mention as important. These aren't meaningless on their own. It's just that following these rules won't necessarily help you.
1. Post title
We've all been told that a great post title can make or break a post. People have short attention spans, so you have to carve out a title that will be compelling enough for them to click. There are tons of tutorials out there on how to craft the perfect post title. Here's one of my favorites, an oldie but goodie!
2. The length of your post
The Yoast SEO plugin recommends 300 words as the minimum length for a blog post. I've seen successful posts that were shorter. I've also seen many which were much much longer.
I think the current trend is to write extremely long blog posts. I guess there are SEO experts out there who think a lot of verbiage might convince Google that your post is truly awesome.
3. Readability & voice
There are ways to determine how easy it is to read your post. I'll mention Yoast SEO again because its free version comes with a built-in readability checker. Which is kinda cool, really. It means you can instantly see how your text measures up to commonly accepted standards of readability.
Your style also reflects your  writing "voice" though that is a more intricate concept. Finding your voice goes beyond issues of grammar or the average number of words in a sentence.
4. On-page SEO
On page SEO is basically a question of having the right amount of keywords and key phrases in your text. Finding that goldilocks zone of not too little and not too much. It's also about where these keywords are placed in your text and in the page code.
5.  The Visuals
A picture is worth a thousands words. And an infographic has those thousands words in the picture. Surely having such great visuals in a post will make it go rival, right?
It's all about providing value
The bottom line of these parameters? They all try to gauge the amount of value a blog post provides for the readers.
Because in the end that's all that really matters: Was the post valuable to the reader? Precious minutes were spent reading it so were they time well-spent?
We tend to equate value with money. Hardly the case here. Yes, an awesome post can help your readers get more money. For example, it can teach them how to place ads in the way that gets them more revenue. Or it can offer a list of the best-converting affiliate programs in their niche. These types of posts certainly can have monetary value attached to them.
However, posts can offer other kinds of value.
A blog post can warn you about something. For example, it can tell you about the latest recall of baby food or warn you about a disease in a travel destination you were considering.
A blog post can offer you just cool trivial information which you can then tell your friends about and look really smart about it.
A blog post can simply make you laugh and help you pass the time while you're waiting in line for something.
These are all valuable posts for those reading them. At least they can be. It depends on who's reading them and when.
Which brings me to my main point –
Who determines what really makes a great blog post?
Who's to say what makes a post awesome? Your audience.
They – and only they – are judge and jury to this question. Not your colleagues, not your friends, not our Mom and definitely not you.
Find what's valuable for your readers.
One of the things I've learned is that what I see as valuable in terms of content can be very different from what the blog's niche audience sees as great content.
Let me give you a few examples.
Example #1
Posts that try to scare you about something, especially those with an emotional title, can be great for some audiences.
"Just One Bite Of One Of These 17 Foods Can Give You Cancer" is a post that can be great for some audiences. Some people crave this kind of information and will gladly pass on to their friends any post that explains how lemons are 1000 times better than chemotherapy.
Now, if you ask me – or any one of my skeptic friends – these posts belong in the trash bin. A very literal trash bin. They should never see the light of day. They are nothing but stupid clickbaity scaremongering.
But hey, who am I to judge? For the right audience they are super quality posts. The kind that gets shared and linked to.
(I would never write them myself, mind. I'm just saying many people find value in them).
Example #2:
I really don't like LOL pictures. I mean, I like some of them but I think most are garbage. When LOLCats started out, I was appalled. Surely everyone will see these are low-quality images with terrible typography and horrible texts?
Turns out, most people love them. They couldn't care less about the images being low-quality. They love catspeak. They even love the use of the Impact font. For the right audience, LOLcat pictures rock. They make awesome content.
It's not just the images. Turns out people are ok with texts that are barely legible if you pretend they were written by a cat. There are successful bloggers out there who write blogs from their cat's point of view. And these cats aren't really good at grammar or spelling either. So much for readability.
These posts get shared in social media. There is obviously a wide audience who finds great entertainment value in them.
Know Your Niche & Your Audience
That's really the bottom line.
Don't try to measure up to what blogging tutorials tell you are the golden standards.
There are no golden standards. You can have a post that has –
The worst OnPage SEO
A title that doesn't meet any of the criteria for writing catchy titles
No visuals.
The wrong length of text (or none at all, if you're going with visuals only).
Terrible grammar and spelling.
It would still get shares and incoming links and land you tons of targeted traffic.
In that sense, it would a GREAT blog post! Your audience loves it – even if it doesn't meet the strict criteria placed by other bloggers.
And in the end, that's what matters.
Don't get me wrong. I am not saying you should start producing posts which you feel are junk. More likely than not, your audience will think they're junk too and you can kiss your returning visitors goodbye.
What I'm saying is that you shouldn't stick to blogging standards someone else tells you about while ignoring your audience's preferences. Experiment with types of posts that seem popular in your niche. See what people actually like and try to provide them with that they feel is valuable.