Reaching $100K in monthly revenue
Yay! Finally making six figures a month in revenue! What a lovely finale for these reports.
This is going to be a super short blog post. I just set up my timer here and gave myself 30 minutes to write it.
Why?
I'm super busy. Honestly, I can't recall a time in my life when I've been this busy. For starters, we're moving to a new home this week. As you can imagine, that alone cuts into my work time like crazy.
You may recall that when we moved to the US three months ago, we made the decision to move into a fully-furnished AirBnB type rental so we can hit the ground running and keep working right away.
Now it's time to move into a long-term rental. And furnish it from scratch, too. Yikes!
The good news is that we have several days for making the move, starting tomorrow. The bad news is that yes, I'll be out of commission for several days, moving stuff between two places.
You'd think that we'll have nothing to haul, coming from a fully-furnished place. But you'd be wrong. We managed to buy a bunch of stuff, including office furniture. AirBnB accommodations rarely have fully operational office rooms, so we created our own here.
But it's never just one thing, is it? When it rains, it pours. I found that to be particularly true here in Florida. We are also dealing with several other issues that I won't bore you with. I can tell you they are time-consuming as heck.
And then there's this small issue of actually running my ever-growing web publishing empire.
And now I'm seven minutes into typing this post, so time to talk about the latest traffic and revenue stats.
A super brief report for September
Sorry, no time to go into too much detail this time around. I just had to share the fantastic news though –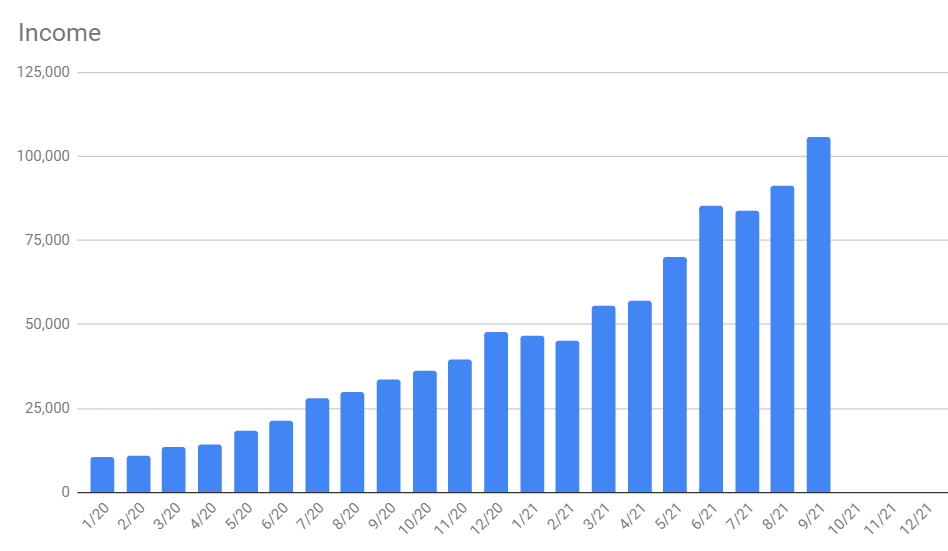 Yup! We made it past the $100K point in revenue!
$105,782 to be exact.
September exceeded my expectations with an increase of more than 17% in revenue from the previous month's total of $90,196.
While some of that was thanks to our continuous and steady growth in traffic, I think we were also seeing the effect of the end-of-quarter higher RPMs too.
As always, I don't have an exact breakdown of our expenses. We managed to publish 518 posts in September, so we probably had around $45,000 in expenses based on my usual formula (you can see the breakdown in last month's report).
Future Plans for Yeys
This will be my last report of our overall revenue figures.
When I started these reports, I wasn't making any profit at all. In fact, I was investing a lot of money into the business and ending my reports in the red. Month after month. It took a leap of faith to keep on investing.
The reports I shared documented the growth of some of the sites from infancy. I think many people appreciated seeing that and understanding how slow the process can be.
I consider myself extremely fortunate to have experienced this growth over the past two years. I've moved from writing my own content on 2-3 blogs into creating a company with 9 full-time employees and dozens of contractors.
I've come to the point when my daily dealings are very different than what they used to be when I started out. The challenges of running a company are a far cry from those of working on my own. Most of them are unique to my setup and shouldn't really interest most of this blog's readers.
The reports I'm going to share
I still want to continue blogging on Yeys, and I know that everyone loves reports. I was inspired by other people's reports and learned a lot from them. I'd like to keep sharing with this wonderful community moving forward as well.
However, instead of sharing the overall business bottom lines, I plan on sharing a couple of specific sites, tracking them once again, from their infancy. I have a few that are relatively new and would make good case studies for people who are getting into web publishing.
So, don't cancel your email subscriptions just yet!
I won't commit to a timeline at this point. I'm hoping to launch the new reports in the coming few months, but I don't want to make any promises. It will have to wait until I have more of that oh-so-precious commodity: time.
With that in mind, my timer is about to buzz, so I need to wrap up this post. My apologies for it being so short but I'm hoping this last overall report will help inspire others in their journey too. As always, let me know what you think – but please know that it could take me a while to check comments. Thank you in advance for understanding!
p.s. I mentioned a special project with Jon Dykstra of Fat Stacks in my last post. That is still on! I talked to Jon and he was very understanding about having to postpone our special event. I hope we'll still get around to doing that in 2021, but if not, early 2022 it is!
One more plug-in for Jon's wonderful courses here. If you haven't tried them out yet – do. They helped me to get to where I am today. You can read more about them and other courses and tools that I use right here.