Should writers be Americans-only? [& February Mini Report]
We currently hire only American writers. Is that wise? Here's what I think at this point (along with a quick report on February).
If you've read my post about how we hire freelance writers, you know that when hiring, we target only American writers. Not only native speakers of English but writers who actually grew up in the US and are native speakers of American English.
Why? Is that smart? Should we change that? I know it's a sensitive subject for some people, but I think it's worth discussing as it may have significant implications for any web publishing business. And since I haven't done it yet, I'll also attach a quick recap on February here, and what traffic and revenue were like.
Why we only work with American writers
I've learned over the years that this is a sensitive topic for some people. I can see how mentioning a country, rather than a language, may seem to carry some nationalistic overtones.
Let me clarify at the beginning of this discussion that for me, this is purely a business decision. Thrilled to be living in such a global day and age, I'm happy to be working with people from all over the world. Our server admin is from Scotland, we work with developers from Bangladesh and India, and our awesome VA's are from the Philippines.
What's more, I'm not an American myself. We live in Israel and I'm not even a native speaker of English. I wouldn't hire myself as a writer, although I have written some of our content (I write everything on Yeys.com too).
With that out of the way, here's why only hire American editors and writers.
Targeting a US audience
Our business model is based on monetizing traffic using display ads and some affiliation revenue. We currently monetize mostly with Mediavine, Amazon, and Ezoic. When checking revenue stats, it's easy to see that US traffic is far more valuable. This is what it looks like in Mediavine –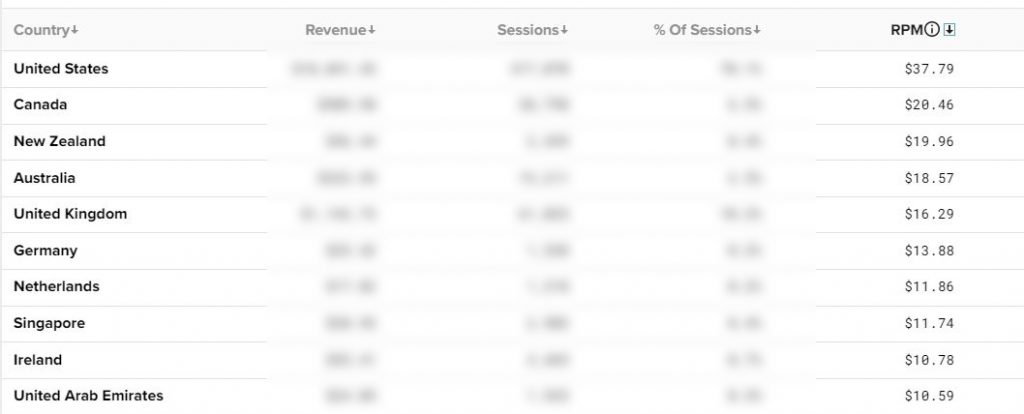 And it's a similar picture over at Ezoic –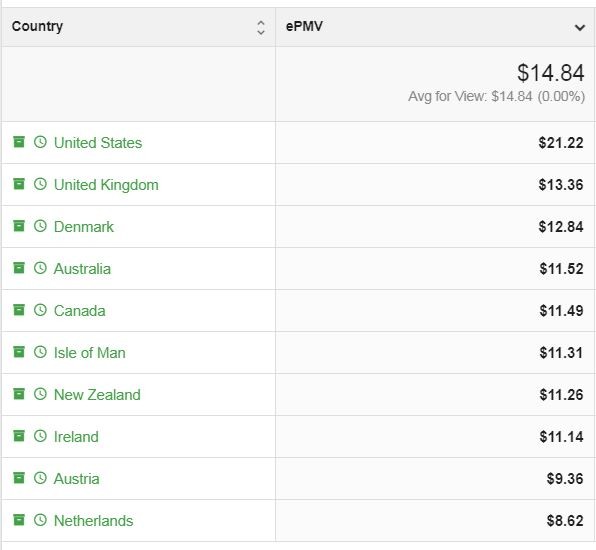 Clearly, getting US-based traffic to our posts is important. We get more money when that happens. A lot more. What's more, if you don't have at least 70% US-based traffic, you might have a hard time getting accepted into Mediavine or Adthrive. Ezoic is happy to monetize any kind of traffic (not just English-speaking) but as you can see, the RPM's are just lower with non-US traffic.
How to get US traffic?
That's a great question, and it's been on my mind a lot. We actually have a problem with a couple of the sites not meeting the 70% US-traffic goal, limiting our choice of network to Ezoic alone. Ezoic isn't a bad option, but a. I don't like that options are limited and b. as you can see, it means overall RPM rates are lower.
Obviously, a good way to make sure you're targeting the US market is by making sure to use American English. The right kind of spelling and the right kind of words and – to some degree – the right kind of grammar.
Some people say that's easy to do. Maybe. It's definitely not easy for me. I learned English in school and then took a degree in English Literature at university. My English teachers over the years came from the US, the UK, Australia, South Africa, and Canada. I traveled in the UK, Canada, and the US quite a lot. I watch a lot of British, as well as American, TV. I can easily tell accents apart – at the country level – but I'm sure my own English is mixed. And my accent is just plain old "struggling foreign speaker".
Going beyond the language
Even if your writer can imitate American English to perfection, there's a cultural issue at play too.
I've traveled a lot in the US, and yes, I know there's a lot of regional cultural differences across the country. Some even go as far as saying there are separate mini-nations within the United States. However, as diverse as it is, the United States is still one country, with a distinct cultural flavor. And my impression – having traveled in 45 states to date – is that there's also a distinct commercial flavor.
For example, the difference between a British and an American perspective on vehicles goes way beyond trunk vs. boot, or which side of the road you're driving. It's not just a matter of the stereotypical American "truck culture", either. There are so many other nuances in how vehicles are perceived in either country: Who drives what, at what age, how, and when, etc.
Vehicles are just an example, the same differences apply to so many aspects of daily experiences, most people never stop to even consider them. That's why myself – and many other web publishers that I know – prefer to work only with American writers. It's not that they're better, they're just more likely to write in a way that's helpful to an American audience. And that's the audience we want to attract to our websites.
How we make sure writers are actually American
When we publish an ad looking for writers, we ask that only people who are native speakers of American English apply. This requirement is clearly stated all over the place: In the ad itself, on our landing page (twice!), and even at the top of the application form. Impossible to miss.
But how do we know if these people really are from the US?
The first filter is in the form itself. We ask them to state where they're from originally and where they're located now. Most people are honest – and possibly haven't bothered to read our ad at any point as they are trying to apply to as many ads as possible. They just state where they're from and we can disqualify their application at that point.
We did have a problem with a couple of writers lying their way into our system. We had three indications that they weren't who they said they were –
They submitted texts that were clearly non-Americanized (using kilometers and kilograms, for example).
PayPal required additional verification steps when we paid these people (something that can also happen with American freelancers, so we don't go by that alone).
Finally, we checked the IP addresses for suspicious accounts.
At some point, we decided to filter applicants using interviews and that solved the problem. These interviews take about half an hour, and we don't expect the writer to tell us too much about herself or himself. We use the time to talk to them about our who we are and walk them through the workflow that we have, showing them how we use Clickup. These interviews ended up helping writers to start working with us right away, and overall, seem to get them to write more and stay with us for much longer. I think there's a better sense of commitment when they get to know us as people, not just a remote work supplier. And it also helps us make sure they are in fact Americans.
Is an American editor enough?
Our production workflow includes an editing phase. Our editors read each post and use a checklist to make sure every requirement was met. We currently have three editors – all of them Americans. That helped us catch those non-American writers.
I'm at a point where I wonder if maybe a good American editor would be enough. Could we use non-American cheap offshore writers, train them properly and hire them to produce content that would possibly be less-than-stellar but good enough for an American editor to go over and fix in under an hour of work time.
I don't have a good answer yet. If anyone reading has tried that, I'd love to hear how that went.
February 2021 Report
Finally, if you've been following this blog for a while, you're probably wondering how our business is doing these days. In case you're new to this blog, here's the mandatory recap –
I'm Anne and together with my husband we own and manage a portfolio of 15 content websites. Our team includes three editors, six VA's, and over 60 freelance writers. We publish around 400 new posts every month, investing a total of around $30,000 into our business.

During 2019 and 2020 I published detailed traffic and revenue reports, detailing our journey from making zilch (and losing quite a bit) to the current point. I no longer publish detailed reports, simply because I don't have the time for that anymore. Instead, I try to publish one post on Yeys every month and tuck an overview of the previous month's stats at the end of that post.
February 2021 traffic and revenue
February is never much fun to report, simply because it's three days shorter than December and January. There's a built-in decrease of about 10% just because of that. What's more, this being the first quarter of the year, RPM rates are still sluggish and traffic patterns in our more seasonal sites are still very "blah".
But, it is what it is, so here goes.
February's Traffic Stats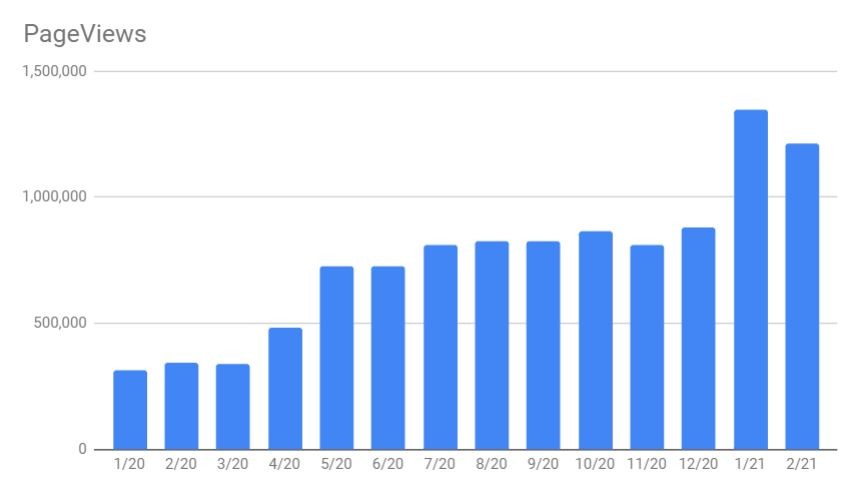 Traffic went down from 1,347,343 in January to 1,210,538 pageviews in February. That's actually about the expected 10% decline that comes from February being a short month, so traffic stayed pretty much stable. That doesn't make me very happy, considering the amount of content we published over the past six months. I was expecting to see a 10% increase, despite it being a short month.
As far as I can tell, we weren't hit by some penalty or algorithm update. Our posts still rank high, but search volume is down. I'm hoping this is just some kind of seasonality at play here. Still, not fun. It's the same boring plateau in March so far and I'm seriously dopamine-deprived here.
February's Revenue Figures
Things were a bit better in terms of revenue. We moved from $46,205 to $44,693. Revenue was going down, but not in correlation to the traffic decrease.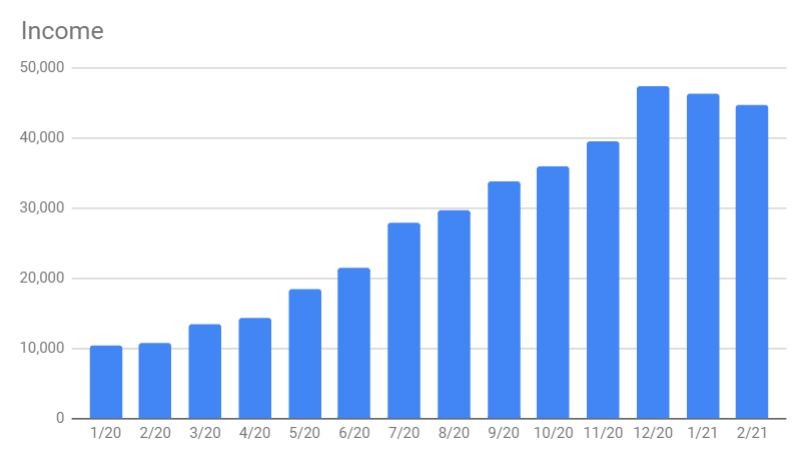 Actually, my husband created this "dopamine chart" for me, where he adjusted revenue to 30-day increments.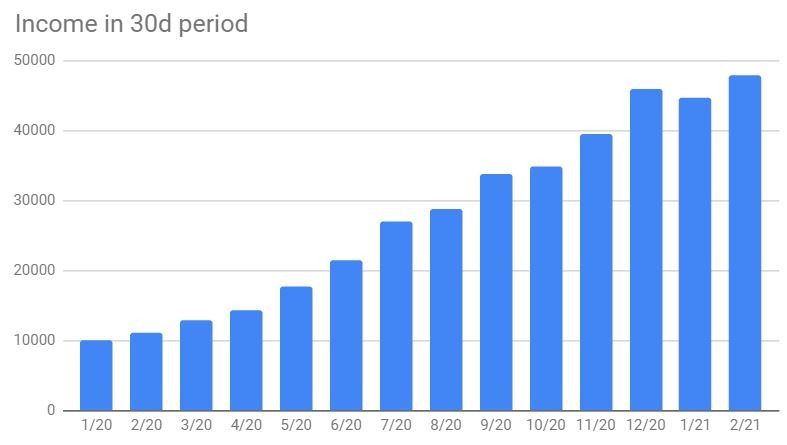 What this basically means is that daily revenue was pretty good in February. The best we've had so far. It also means that if you disregard the December holidays fluke, we're on track with the same monthly growth trend.
In terms of expenses, we published 406 posts during February. With that in mind, we're still at the $28K monthly costs for content. This figure includes writing, editing, stock photos, and VA work. If you add in things like hosting, software, and general business expenses, we are at the $30-31K mark.
By the way, general business expenses are growing. In February, we finally finished incorporating as an LLC in the US. We hired an accounting firm in NYC and they're not cheap, but came highly recommended for our unique situation, so hopefully, they'll be worth the expense.
So, nothing too exciting. The expected February Blues. March isn't looking much better, mind you. Just the same grind as before. I think we'll have yet another increase in revenue numbers but I don't think it's going to be very dramatic. I am ready for Q1 to be over!