March 2022 Monthly Traffic & Revenue Report
Sharing traffic and revenue stats for March - along with my insights.
I meant to post this report sooner, but I wanted to look into some of the stats in more detail, which took longer than expected. Analyzing the traffic and revenue of these sites was not too complicated. It was just a matter of finding the time to do that.
But now that I have, let's get the monthly report on the road!
A quick recap for those who are new to this blog: I own a portfolio of more than 20 content sites, monetized mostly using display ads. I began my journey about five years ago. Today, my business makes more than $140K in monthly revenue (yup! that was the number for March!).
I documented my progress in this blog, including detailed monthly reports covering all of my sites. In 2022, I switched to reporting traffic and revenue only for four new sites.
You can read the initial report here. That post also includes more information about my web publishing business and an FAQ. Please check it out first if you have any questions.
My system in a nutshell
The usual recap. My system is not very complicated.
Find suitable topics.
Create good content.
Scale by outsourcing, using a good workflow.
Rinse, repeat.
I blogged here about my workflow.
If you want to learn how to find suitable topics and produce the right content, check out the courses on my resources page.
I won't repeat each site's story – only the basic stats. Please refer to the initial report to learn more about a site.
What happened in March 2022
I had my numbers for this report earlier in March. The results were not what I had hoped they would be. Two of the four sites seemed to plateau whereas they should have been growing.
I wanted to take the time to dig into the stats and see what was going on. Basically, I followed the protocol that I described here:
First, I checked the domain on Google Search Console and made sure everything was ok (it was). Next, I sampled the low-performing posts to see what was going on. I tried to see whether they ranked high for queries with too-low a search volume, or if they failed to rank.
I'll share my thoughts on each site in this report.
Site #1
Niche: General (the site does have a unifying theme)
First post was published on April 2, 2021
Number of published posts: 210

Monetization: Display ads + Amazon
December 2021 Traffic: 49,788 pageviews
January 2022 Traffic: 68,936 pageviews
February 2022 Traffic: 60,689 pageviews.
March 2022 Traffic: 68,213 pageviews.
February was on the low side, after a good January. March seems to put us back in the same place we were two months prior.
It's difficult for me to assess what's going on with this site because there are several factors at play –
Seasonality – The site is exactly one year old, which means I don't have good data from the previous year. Some posts on this site are seasonal in nature – both in terms of weather and holidays.
Global affairs – we saw a decline across our sites in February around the time Russia invaded Ukraine.
Natural growth trajectory – it's difficult to determine the effect of the previous factors with a site that's on a strong growth curve.
Overall, the posts seem to be ranking quite nicely. Average traffic per post was just above 300 pageviews during March. That's a good average for our sites.
Here's a screenshot of the site's overall traffic over the last year: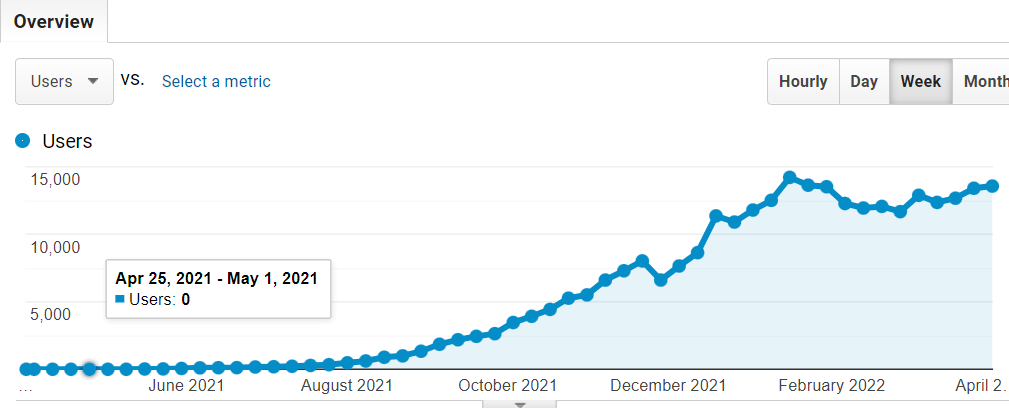 I included the first week and a half of April in the above chart. Is the site just stabilizing back, or is there some growth left to be had? We'll know in a few weeks' time. Either way, traffic is fine.
Revenue stats
Traffic is important, but revenue is the bottom line for me.
December 2021 Revenue: $1639.30
January 2022 Revenue: $1,546.57
February 2022 Revenue: $1,449
March 2022 Revenue: $1,763
A record month for this site so far. If you look at the revenue per day, it's pretty steady. With March being a long month, the bottom line was higher.
Site #2
Niche: Home & DIY

First post was published on June 11, 2021

Number of published posts: 228
Monetization: Amazon & display ads
Traffic in December 2021: 12,548 pageviews
January 2022 Traffic: 24,789 pageviews
February 2022 Traffic: 30,179 pageviews
March 2022 Traffic: 39,956 pageviews
Traffic looks good on this site. Last month I was wondering if it was hitting a plateau but now it looks like that was the effect of global affairs. In March, growth continues as it should.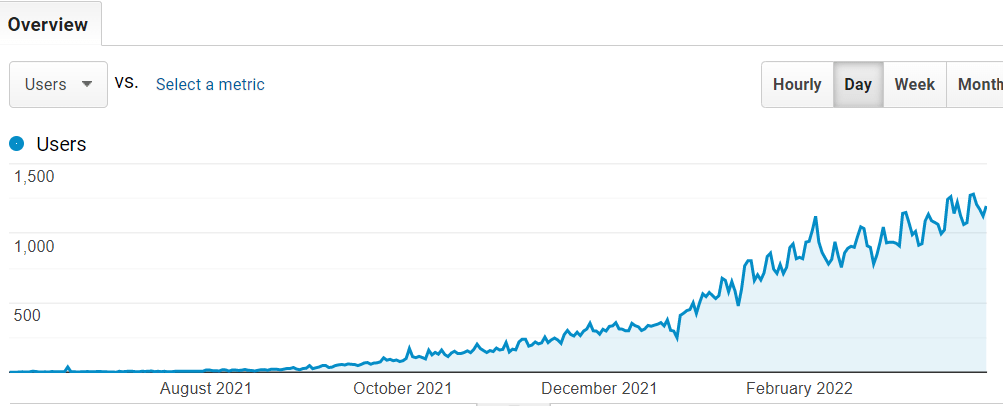 Revenue in December 2021: $77.48
Revenue in January 2022: $379.69
Revenue in February 2022: $1,131
Revenue in March 2022: $1,624
RPM is steady. The growth in revenue is due to the increase in traffic.
Site #3
Niche: Pets

The first post was published on May 18, 2021

Number of published posts: 119

Monetization: Amazon
Traffic in December 2021: 6,208 pageviews
Traffic in January 2022: 11,997 pageviews
Traffic in February 2022: 11,353 pageviews.
Traffic in March 2022: 11,910 pageviews
This is one of the two sites where I'm not liking the numbers very much. The site generates an average of 108 monthly pageviews per post. That is on the low side.
I checked and there are no penalties or any issues showing up on Google Search Console. After running the analysis, I believe the problem is with the niche being too competitive.
That's why I don't like the pets niche.
Many web publishers create sites around things they love. Pets are lovable, there's no denying that. And so we have this influx of sites about pets, specifically dogs and cats. It's very difficult to find longtail queries that haven't been covered already.
We may add more content to this site, but probably not right away. Considering the competitive niche, and just how busy I am, I prefer to work on topics for our more profitable sites at this point.
Revenue stats
Revenue in December 2021: $11.66
Revenue in January 2022: $45.95
Revenue in February 2022: $47
Revenue in March 2022: $291.52
We added display ads to this site in late February. March was the first month where the site was fully monetized. RPM settled around the $25 point – typical for the niche. The combination of low traffic figures and less-than-stellar RPM means that each post makes under $3 per month.
During the AMA I held a couple of weeks ago, some people asked me if I had any sites that failed. Site #3 is a great example of a site that I don't consider to be a success.
And yet, left untouched, the posts will still make $36 a year each. We would be in profit after 2.5 years. Two years later, we would have doubled our money. Still not a terrible investment, IMO.
Also, I hope I'll have some time later in the year to inspect the posts more carefully and maybe come up with a batch of content that will help push the site forward.
Site #4
Niche: Home & DIY

The first post was published on August 23, 2021

Number of published posts: 216

Monetization: Amazon
Traffic in December 2021: 2,044 pageviews
Traffic in January 2022: 2,736 pageviews
Traffic in February 2022: 1,985 pageviews
Traffic in March 2022: 2,612 pageviews
This site bothered me the most. Based on my experience, it should have at least 10-15K pageviews per month by now.
Instead, the site seems stuck.
I checked, and the domain looks ok. Pages are indexed and Google ranks most of them just fine.
As far as I can see, it's a mix of pages that rank very high for low-volume queries and pages that rank low for medium-volume queries.
Also, with this being a home & DIY niche, seasonality could be playing a role here.
I'm going to cheat here and give you a sneak peek of April's stats in the following chart –

I'm happy to say that the site seems to be doing better already. Slightly better. It's still much lower than I would have liked it to be, but I'm hoping it may turn out to be a late bloomer.
In Summary
Going back to the AMA, several people asked me what my secret sauce was.
I don't have one. I just keep on publishing – and on average, it works out ok.
As this report shows, a portfolio of sites can be a mixed bag. Some sites do better than others. Some develop faster than others. There are runts in every litter.
If you're in the early stages of your web publishing journey, I hope this report helps you see that it's not always an easy path to follow.
As always, I'd love to hear from you! What was your March like? Did you see an increase in traffic and revenue? Or maybe not? Leave me a comment and let me know!