September 2022 Report & A Little Experiment
Monthly case study update (warning: it ain't pretty!)
Hey, guess what? It's October, and I already had another post published this month!
I'm hoping to be able to put more time into Yeys moving forward. With the emphasis on the word "hoping." Let's see how it goes.
My recent interview on the Niche Pursuits channel brought many new visitors to this blog. The traffic on Yeys more than doubled, and – interestingly enough – Google traffic to this blog has also doubled.
If you subscribe to my mailing list, you also know that I'm looking into sharing more of my experience in a course or two. We'll see how that goes.
For now, I am here today to share two things –
The monthly report on my four case study sites for September [spoiler: it's not a pretty sight)
An interesting little "experiment" that I launched last month.
Let's start with the report. Unless you don't care about the report, in which case, use the table of contents to jump right to the next section.
Table of Contents
Here for the reports? Here's a recap
My husband and I own a portfolio of more than 25 content sites, monetized mainly with display ads. Our web publishing business makes over $180K in monthly revenue.
I documented our progress in this blog, including detailed monthly reports covering all our sites. In 2022, I switched to reporting traffic and revenue on four new sites.
You can read the initial report here. That post includes more information about our web publishing business and an FAQ. Please check it out first if you have any questions.
Our system in a nutshell
We have a simple system –
Find suitable topics.
Create good content.
Scale by using effective SOPs, workflows, and routines.
I blogged here about the workflow.
If you want to learn how to find suitable topics and produce the right content, check out the courses on my resources page.
I won't repeat each site's story – only the basic stats. Please refer to the initial report to learn more about each site.
How The Google Updates Went
Ok, time to address the theme of this report: the recent Google updates.
All four sites were hit by the algorithm updates.
The so-called "helpful content update" has hit several of our smaller and younger sites, including the four that are covered in this report.
Moreover, RPMs were low in September. Lower than we had anticipated for the last month in a quarter, but there you go.
Fortunately, our big sites made it through the updates unscathed and so overall, we still made more than $180K in revenue last month.
My take on the Helpful Content Update
This was one of the strangest updates I've seen from Google to date.
The pre-announcement was strange.
The name is strange (Wasn't Google supposed to rank helpful content higher since 1998? Why is this a new thing?)
The back-to-back updates were strange.
And yeah, the results are strange.
We use the same kind of content across our websites. We're always aiming to satisfy the search intent and provide helpful information to our readers.
In fact, this is the very first paragraph in the guidelines for our writers –
Your goal is to provide the reader with the best possible answer to their query. When writing for us, you can forget about SEO, keyword density, etc. Just focus on the user and try to help them in the best possible way.
It's always been like that. There's nothing new about trying to be helpful to the users.
And here's the thing about the outcome of the update: Some of our sites were hit. Others were not.
All of them have the same quality of content. By the same team of writers and editors.
So, yes, a very strange update.
But again, we're sailing through in terms of revenue and profit, so I'm grateful for that. I'm just sorry to have to share such a dismal report with you here today.
Site #1
Niche: General (the site does have a unifying theme)
The first post was published on April 2, 2021
Number of published posts: 221

Monetization: Display ads + Amazon




A drop of nearly 30% in traffic for site #1 – despite the additional drip of content during the last three months.
Revenue followed suit with a similar decrease.
Site #2
Niche: Home & DIY

The first post was published on June 11, 2021

Number of published posts: 239
Monetization: Amazon & display ads

It's a similar picture for site #2. Traffic is down by approximately 35% with a similar drop in revenue.
Site #3
Niche: Pets

The first post was published on May 18, 2021

Number of published posts: 119

Monetization: Amazon

Special circumstances: I created the site on an aged domain I've had for about 20 years as an in-house experiment. I knew the domain was clean, and all incoming links were on topic.
Poor site #3 – it was just flexing its wings when Google hit and traffic dropped by about 40%! Again, revenue followed suit.
Site #4
Niche: Home & DIY

The first post was published on August 23, 2021

Number of published posts: 214

Monetization: Amazon
Site #4 keeps slowly growing but is still at the low end of the traffic spectrum.

Site #4 took a 20% hit in traffic – not as bad as the other sites in this report. It's also proving to have higher RPMs than the other sites. Overall, it's not doing too bad, considering the traffic hit with revenue staying more or less stable.
What's next?
For these four sites – I don't plan on making any changes.
There is no problem with the content on the sites – it's as helpful as any other piece of content that we produce. Since other sites in our portfolio were not affected by the update, I don't see how changing the content would help.
As far as I can see, site age is one potential factor that might be at play. Our older sites faired better than our newer sites.
The new sites will grow older eventually.
Besides, at the rate that Google is spewing out updates, I don't think a November update is out of the question. And who knows what that will do.
SEO-wise, we'll continue to produce the best content we can and hope that Google will catch up.
Beyond Google Traffic
Relying on a single source of traffic has always felt risky to me. I think things will only get worse on the Google front.
Here's why.
Google used to be a mere search engine but in recent years it's trying to become more than that.
The Big G wants to become an informational hub where people get direct answers. Without ever clicking through to view another website.
I don't blame them. Even at this point, if people don't click through to visit an informational site in the search results, they are more likely to click on a Google ad. Keeping people on Google means more money for Google.
I get that.
I don't like it – but I get that.
The only answer for us as a company is to diversify our traffic sources. And that's something I've been working on for several months now. I may share more in future blog posts.
The "Great Content" Experiment
Some publishers seem to be taking Google's messages at face value. They believe that the recent "Helpful Content Update" is about content quality.
Personally, I don't believe Google can tell the quality of the content on a web page. At most, they can *maybe* weed out some content aggregators. And even that wasn't easy for them to do.
Let's face it, Google is easy to manipulate.
That's why the link-building industry is still alive and kicking.
If you've been following this blog, you know that we never buy links or do any link-building of any kind. We rely 100% on our content to naturally attract links. We also hope that maybe Google will someday be able at some point to evaluate articles.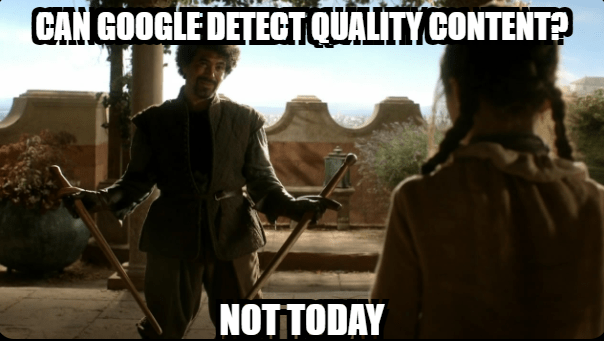 So, how good should content be?
I believe in the old saying –
Perfect is the enemy of good.
The content on our sites isn't perfect. It's often just decent.
We train our writers to properly research questions, find reliable sources, and create an engaging article that matches the search intent.
Our content tries to be "good enough" but it will rarely be amazing. For most questions, I don't think that's needed. Content needs to be helpful and help solve a problem.
Some people think that content needs to go beyond that and have a lot of added features that should – in theory – make it stand out from the competition.
These bells and whistles can include –
Elaborate guides that cover multiple aspects of the question
Experts weighing in on the question first-hand
Unique images and videos
Infographics
Tables, surveys, and other special features.
I have tried producing "top content" items in the past. Including investing in articles by experts. As always, we tested that approach by comparing "top content" articles with "regular" ones.
So far, it hasn't worked: Those articles haven't faired any better than our regular content. Google didn't care, one way or the other.
Which I always felt was a shame.
I think I know how to produce top-notch high-quality content. It wouldn't be hard to scale that. If I knew that Google would actually be rewarding us for the effort, then sure, why not.
Giving top content another go
Since we haven't tested top quality in a while, we're embarking on a new experiment. We'll be creating a bunch of super articles with all the bells and whistles. Of course, those articles will still focus first and foremost on user intent.
Here's what we did so far –
Creating one really good article as an example (more on that one in a bit)
Putting together a think tank that includes our top editors and writers
Choosing a bunch of lucrative search phrases
Think Tank sessions to come up with outlines and ideas on how to make the very best guides out there on those topics.
We're now working on producing those content items. It's going to take a while because, at this point, our system is not geared up for the process. But we'll get there.
The articles will be published on established sites that Google seems to like.
The phrases are somewhat competitive. But we deliberately chose queries where we felt we could create something that would be significantly better than anything the competition has to offer.
In all likelihood, these articles will rank on the first page of Google. But will they outrank the competition?
We'll see.
(In case it wasn't clear, I really hope they will. Nothing would make me happier than to be able to confidently invest in great content, knowing that Google will reward that.)
First Case Study
So, that first piece of content that we created as an example?
The query has been targeted by at least a dozen sites already but most of them provided lacking – and sometimes wrong – answers. It's a topic that I know a lot about, from personal experience.
I wrote the article myself and it –
Provides a very good answer (personally checked by yours truly) in an easy-to-follow way
Includes multiple original photos and two original videos
Includes a unique infographic that's helpful and on-topic
Written in an informative and engaging style.
And don't just take my word for it.
I showed the article to two publishers whose opinions I value.
Twitter's NicheSiteLady is a successful web publisher that uses a different strategy than mine. She goes after competitive terms and creates a small number of high-quality articles each month.
Not only did she think my article was great, but she also gave me a few pointers on how to improve the introduction and make it more engaging. I applied her suggestions. Thanks again, NSL!
Jon Dykstra is a mega-publisher that I probably don't need to introduce. He has strong opinions on what constitutes great content.
He loved the article. In fact, when I mentioned the experiment on the Fat Stacks forums, Jon wrote –
I did read this particular article on one of Anne's sites and it's really, really good. It was long but interesting from start to finish. I was compelled to read it entirely. It answered the topic very well. Lots of unique photos. It's on an established site. It doesn't target too difficult of a keyword. If it doesn't hit #1, it goes to show Google can't perfectly distinguish best content. It's by far the best article on the topic.
Full disclosure: Jon has a vested interest in the article's success. We're meeting for dinner three weeks from today (we're both attending the same conference). I told Jon that if the article makes it to the first page of Google by then, dinner's on me!
To clarify –
I do believe the article will eventually make it to the first page of Google. I just have a feeling it won't make it to the top five. I hope I'm wrong!
I am not sure the article will be on the first page in three weeks' time but I'll be happy to buy Jon dinner if it is! After all, his course had a huge part in pushing me in the right direction.
I'll keep updating on this little case study in future updates over the coming months.
Current status
The article was published on September 9, 2022
As of today (October 6) it's ranking at #13 for the target phrase
Search traffic for September: 43 pageviews

Keep your fingers crossed for this one to work! Nothing would make me happier than to see killer content outrank mediocre content.
Leave me a comment and let me know what you think.
Do you think this article will make it to the top 5 spots on Google? Do you think it will get on the first page of Google in three weeks' time? Will Jon get that free dinner (which he totally deserves!)
These questions and many others will be answered on the next episode of Soap my next monthly report.