Why I don't use KD [And the June 2022 Report]
Here's why I don't use the KD metric (and what I use instead)
A few days ago, I tweeted about KD (keyword difficulty) scores and why they're not necessarily an indication of the level of competition.
The replies turned into an interesting little discussion, with some people asking what I thought a good alternative would be to the KD score.
My answer was too long to fit into a single tweet, so I want to try and address it here in a post. And I'll also share the monthly report about four of my sites.
Why I don't use KD scores when choosing topics
My go-to method for finding new topics is good old Google Autocomplete. I do use Ahrefs occasionally when I run out of topics and need some new ideas.
When filtering Ahrefs results, I pretty much ignore that colorful column of KD (Keyword Difficulty). In other words, I don't deliberately pursue low-KD terms. Nor do I avoid high-KD terms.
Let me try and explain why.
As always, everything in this post is just my opinion, and your mileage may vary.
If you think I'm wrong, leave me a comment and explain why. I'm always looking to learn, and nothing would make me happier than improving my keyword analysis methods.
Automated keyword research?
My definition of a perfect topic is pretty much this:
Lots of searches but no other site competing over the query.
When I encounter a topic like that, I know I hit gold. I get a dopamine rush. It's the best thing ever.
I happily settle for low competition topics – with only 1-2 sites going after the same query.
The golden nuggets are out there. The question is, how do you find them?
We're looking at two aspects here –
High search volume (potential traffic)
Low competition (easier to rank your content)
There are many tools out there that offer ways to predict both of these aspects. Ahrefs is one of the more popular ones.
You can use Ahrefs to find keywords/topics in various ways and generate reports with tens of thousands of potential queries.

But how to choose which topics to cover on your website?
The metrics most people look at are Volume (or traffic potential – that one makes more sense to me) and Keyword Difficulty.
In theory, you could filter the above list of 120,739 keywords generated for "Golden Retriever" and narrow the list to those with high search volume yet low competition.
I went ahead and limited the report to Keyword Difficulty of 5 and lower and a search volume of at least 100. I also filtered for questions because I deal with informational websites.
Voila – I have my list of topics for a new niche site!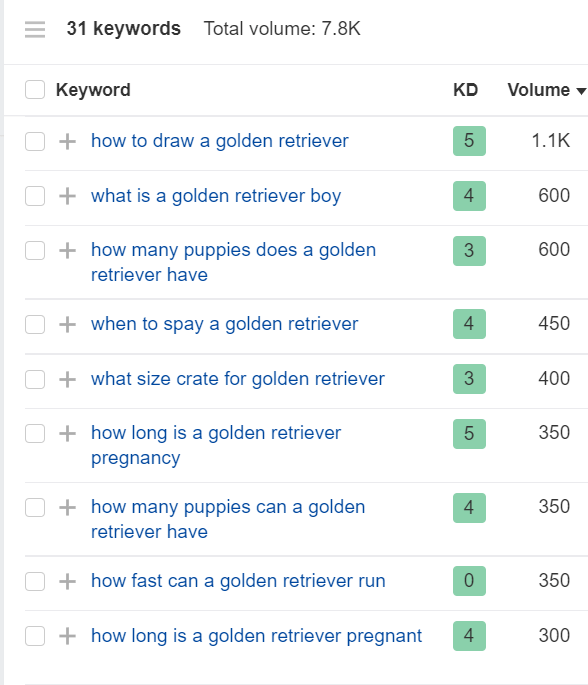 Keyword difficulty is all bright green here. It shouldn't be a problem to rank with a new site, right?
Well, not really.
I wouldn't rush to buy a Golden Retriever domain just yet. Not based on this list, at least.
Here's why.
Why the KD score is problematic
The KD metric is tempting because assessing competition levels can be so tricky. I can see why relying on a precise scale with colorful grades is appealing.
But those colors can be misleading. They don't reflect the level of competition.
And here's the thing. If you read Ahrefs' blog post on KD, you'll see they actually say as much. They don't suggest using it blindly or taking the score at face value.
What Ahrefs does is simple enough –
Here at Ahrefs, we use a simple method for calculating KD. We pull the top 10 ranking pages for your keyword and look up how many websites link to each of them. The more links the top-ranking pages for your keyword have, the higher its KD score.
Unfortunately, the backlinks profile is not the only factor at play. When assessing the competition, there's more to look at.
Title/post relevance matters
People want a quick answer to their questions. Google wants to deliver the best possible search results for a query.
Therefore, Google prefers low DR pages that answer the specific question over high DR pages that don't.
IMHO, whether or not a topic meets the user's search intent is the most important thing. Keyword Difficulty can be bright orange, and I would still go after that query if no other site has answered the question.
Niche authority seems to matter.
I sometimes see niche-specific sites win over larger, more general sites with the same post title. It's not always the case, and with so many other variables at play, it's hard to tell.
If it is a factor, then if your site is more focused, it may be able to compete against high DR sites that are more general in scope.
Low DR sites can easily outrank high DR sites
I'm seeing this more and more lately.
Both sites have on-topic pages. The content is similar, and so is the level of niche authority.
And yet, the low DR sites rank higher than the high DR sites.
I'm not sure why this is happening. It could very well be that the low DR site had a focused link campaign promoting the specific article.
Or it could be something else with the complex Google algorithm.
All I know is that I see it more often these days.
Low KD does not mean low competition.
The bottom line is that KD in itself is not a good way to assess how likely you are to rank for the term. Even Ahrefs tells you as much.
KD merely reflects the backlink profiles of the top 10 sites in the SERPs.
Low KD means those sites may have relatively few quality backlinks. They may still have –
On-topic content
High-quality content
Niche authority
Enough links to outweigh a new site anyway
And most importantly: There may be quite a few of them!
Even KD zero doesn't mean you're dealing with low competition.

I just Googled the question. Guess what – one snippet + 8 existing sites hit the search intent heads on. These sites have a Moz DA of 11 to 35. For a new site, that's a lot of competition.
Could you compete over this query?
Maybe. Just be prepared for a struggle. This is not low-hanging fruit in my book.
So, what's my alternative to KD?
Ahrefs is a great tool. I do use it occasionally when I run out of ideas for topics.
However, I analyze each query manually by Googling the question and reviewing the top 10 results.
Do they address the search intent?
Are they good quality?
Are the sites known players in the niche?
I still haven't found an automated tool that can answer the above questions. If you know of one, please let me know in a comment.
Is my method foolproof?
I wish it were.
Depending on the niche, I can probably get half of our content to rank in the top 3 places on Google. Maybe 70% to rank on the first page. The rest of the posts are duds.
The model still works for me because I just need an average of 300 pageviews per post to make a decent profit.
I have found that my ability to assess queries improved over the years.
Keep in mind that I have published more than 15,000 posts to date. I constantly go over Google Analytics and see the results.
I think that by looking at what worked and didn't work, I developed some level of intuition. In other words, there's value in being experienced.
Speaking of looking at what worked and what didn't, let's move on to this month's report.
The June 2022 Monthly Traffic and Revenue Report
A quick recap:
I own a portfolio of more than 20 content sites, monetized mainly with display ads. Today, my web publishing business makes more than $190K in monthly revenue (Yes, that number kept going up in June!).
I documented my progress in this blog, including detailed monthly reports covering all my sites. In 2022, I switched to reporting traffic and revenue on four new sites.
You can read the initial report here. That post includes more information about my web publishing business and an FAQ. Please check it out first if you have any questions.
My system in a nutshell
My system is not very complicated.
Find suitable topics.
Create good content.
Scale by outsourcing, using a good workflow.
Rinse, repeat.
I blogged here about my workflow.
If you want to learn how to find suitable topics and produce the right content, check out the courses on my resources page.
I won't repeat each site's story – only the basic stats. Please refer to the initial report to learn more about a site.
Site #1
Niche: General (the site does have a unifying theme)
The first post was published on April 2, 2021
Number of published posts: 210

Monetization: Display ads + Amazon




Traffic went down in June. I blame the Google update. Our larger sites increased in traffic, so I'm not complaining. Overall, June was our best month in terms of traffic and revenue.
However, some of the smaller sites were hit by the update, including site #1 and site #2 in this report. I should not be complaining since these two sites only lost around 5% of their traffic. So many web publishers suffered much more significant losses.
Fortunately, June has high RPM rates, so site #1 actually made a little bit more money – with less traffic.
Site #2
Niche: Home & DIY

The first post was published on June 11, 2021

Number of published posts: 226
Monetization: Amazon & display ads

It's a similar story with Site #2, with a decline in traffic due to the algorithm update. Here too, higher RPM keeps overall revenue relatively high.
We decided to pump some more content into both sites during Quarter 3. They justify the additional investment with a "dollar pet post" average of $8-$9. Whatever we put into them will start to turn a profit in under a year.
Site #3
Niche: Pets

The first post was published on May 18, 2021

Number of published posts: 119

Monetization: Amazon

Special circumstances: I created the site on an aged domain I've had for about 20 years as an in-house experiment. I knew the domain was clean, and all incoming links were on topic.

This site remains stable. We didn't notice any effect from the algorithm update here, and higher RPM rates meant more money came in. Yes, overall, the revenue per post is low.
Site #4
Niche: Home & DIY

The first post was published on August 23, 2021

Number of published posts: 214

Monetization: Amazon

Site #4 keeps slowly growing but is still at the low end of the traffic spectrum.
I'm glad site #3 and site #4 are included in this report. It helps to show that not all sites are successful right away. I feel that I managed to avoid a survivor bias by randomly selecting four sites to follow this year.
If you're new to web publishing, you should be aware of that. Too many people try to sell you a course by showing off their successful sites. The ones that don't do so well remain out of sight.
That's why I promote courses by Jon Dykstra and Morten Storgaard. Both share site reports on their blogs/channels without cherry-picking sites after the fact.
So, there you have it. That was the report for June 2022 on these four sites.
As always, I'd love to get feedback from readers!
I'd love to hear more about your keyword research experiences – the good, the bad, and the ugly! Let me know what you think about keyword research tools. What are your favorites, and how do they compare when assessing keyword difficulty?